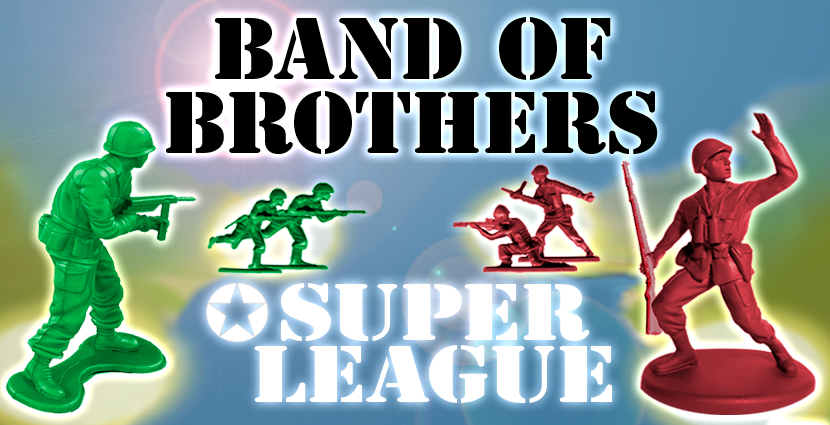 Season 10 is Ongoing. For 'LIVE' Season 10 League Tables and Results go here (Note, Page has Multiple Tabs):
https://docs.google.com/spreadsheets/d/1p8NopcJwcy-F9pm4s6YuMPE148DDpYBs5tCda26gC_g/edit?usp=sharing
Season 11: To Join the Super League, Join Here:
https://www.conquerclub.com/forum/viewtopic.php?t=238640
THE RULES
Get in on this
CC Event
TROOPS!
Join this
FLAGSHIP
Tournament.................................
A Full Season lasts
2 CALENDAR MONTHS
- January + Febuary
- March + April
- May + June
- July + August
- September + October
- November + December
A Tournament that will run for
YEARS
.........................................
A Tournament that has already had
OVER 80,000 (Eighty Thousand)
games played in it.............
Currently, their are
270 PLAYERS: 27 Leagues of 10 Players.........
Come Join, work your way through the Divisions to become
CHAMPIONS
of the
RISK Super League
. You are playing for
RISK GLORY
and
PRIZES
!!!!
CC are sponsoring this Event, and will pay these prizes EVERY SEASON!!, so it is worth your while to climb your way to the top. And to recognise the most succesful Event / Tournament to ever take place on CC, they are making Season 10 very special with a BOOSTED PRIZE POOL:
1st: Premier Champion =

+ 1800 Conquer Credits
2nd: Championship Champion =

+ 600 Conquer Credits
3rd: League 1 Champions =

+ 400 Conquer Credits
4th: League 02 to League 30 Champions = 180 Conquer Credits
But the fun is, are you good enough to make it to the top???
To join, pick your Favourite Map (For 2 Player Games) and Reply to this Thread. You will start in the lower Leagues..............Can you rise to be a Premier League Risk Player?
To give you an idea of what you are in for. Follow the link below for 'LIVE' League Tables and Results from Season 9. NOTE, there are multiple tabs on the page:
https://docs.google.com/spreadsheets/d/1p8NopcJwcy-F9pm4s6YuMPE148DDpYBs5tCda26gC_g/edit?usp=sharing
To get your name added to the starters for Season 10, just reply on this forum with your HOME MAP choice!
***NOTE: Some Maps are BANNED, SEE BELOW (The slowest Maps on these settings). Pick a HOME MAP that
IS NOT
on the list.
Previous Seasons
CHAMPIONS
are below:
-
Season 1,
WINNER: Shoop76
-
Season 2,
WINNER: UKEY
-
Season 3,
WINNER: Shoop76
-
Season 4,
WINNER: Loose Canon
-
Season 5,
WINNER: big jumbo
-
Season 6,
WINNER: Pajarito
-
Season 7,
WINNER: Tin Trumpet
-
Season 8,
WINNER: Mass Miracle
-
Season 9,
WINNER: Craig25
TOURNAMENT FORMAT:
This is a League Format. Each League will have 10 Players. Every Season, 3 will be Promoted and 3 Relegated.
Finish 1st: You get Promoted 3 Leagues
Finish 2nd: You Get Promoted 2 Leagues
Finish 3rd: You Get Promoted 1 League
Finish 4th to 7th: Remain in Current League
Finish 8th: Get relegated 1 League
Finish 9th: Get relegated 2 Leagues
Finish Bottom: Get relegated 3 leagues
***Premier League will have 6 players relegated: Bottom Drops 3 Leagues, 8th and 9th Drop 2, 5th,6th and 7th Drop 1.
As a NEW SUPER LEAGUE PLAYER, you will start in one of the bottom 4 Leagues. This Tournament will run for years. You have plenty of time to work your way to the TOP!
LEAGUE GAMES:
- You play a HOME and AWAY Match versus every Opponent in your League.
- So that is 18 Match Ups Per Season.
- 4 Games per Match Up.
- 2 Games on a HOME MAP + 2 Games on a Random Map
HOME MATCH:
- You are the Green Army for HOME games.
- 2 Games on Map of your Choice (Your Home Map)
- 2 Games on Random Map
- You accept Game Invites Last - Can move immediatly taking full advantage of your opponent not getting any snaps!
AWAY MATCH:
- You are the Red Army for AWAY games.
- 2 Games on Your OPPONENTS HOME Map
- 2 Games On Random Map
- You accept Game invites 1st - Your opponent gets to start as soon as they accept game invites.
SCHEDULE:
The Kick Off - 1st Match Set Up of Season - 3 Match Days are set up (12 games)
Match Day 4-Match Day 7 - 1 Match Day (4 games) is set up on a Monday, and 1 on a Thursday
Mid-Season Madness - Match Day 8 - 10 - 3 Match Days are Set Up (12 Games)
Match Day 11 - 15 - 1 Match Day (4 games) is set up on a Monday, and 1 on a Thursday
Match Day 16+17+18 - 3 Match Days are set up to complete the Season (12 games)
MATCH DAY SET UP DATES:
M01 - 03 Nov 2022
M02 - 03 Nov 2022
M03 - 03 Nov 2022
M04 - 07 Nov 2022
M05 - 10 Nov 2022
M06 - 14 Nov 2022
M07 - 17 Nov 2022
M08 - 21 Nov 2022
M09 - 21 Nov 2022
M10 - 21 Nov 2022
M11 - 24 Nov 2022
M12 - 28 Nov 2022
M13 - 01 Dec 2022
M14 - 05 Dec 2022
M15 - 08 Dec 2022
M16 - 12 Dec 2022
M17 - 12 Dec 2022
M18 - 12 Dec 2022
SCORING:
This is where it gets really, really good!!!!
4-0 WIN: 3 Points
3-1 WIN: 2 Points
2-2 DRAW: 1 Point
1-3 LOSS: 0 Points
0-4 LOSS: 0 Points
TIE BREAKERS:
1. Points
2. Goal Difference
3. Highest Number of 4-0 Wins
4. Highest Number of 3-1 Wins
5. Lowest Total Game Duration of All the CURRENT Seasons games***
***All Start Times of Games will be 12:00 CCT on the Match Day Set Up and will be the same for all players. It is this time and not the actual start time of the game that is used to calculate Game Durations.
***Where Games are closed as Predicted Result, Completion time is counted as 23.59 CC Time on the day the Season Ends.
SETTINGS:
Players: 2
Auto
Seq
FR
Adj
Fog
REST SEASONS:
Each Season lasts 2 months. You are commited to playing 4 out of 6 Seasons in a Calendar Year. So, for 2 Seasons every year you can take a Rest Season where you hold your League position and do not need to play.
***
TO ENTER:
Reply to this post with:
HOME MAP CHOICE
Some Maps ARE EXCLUDED (the slowest Maps on these settings with an average round time of over 12 Rounds):
1982
2011 World Cup
Antarctica
Baseball
Clandemonium
Conquer Man
Conquer Rome
Das Schloss
District of Alaska
Eurasia
Feudal Epic
Feudal War
Hive
King's Court
King's Court II
Knights
Labyrinth
Monsters
New Zealand
Peloponnesian War
Rail South America
Rorke's Drift
Spanish Armada
Trafalgar
USA 2.1
WWI Gallipoli
ALL SEASONAL & BETA MAPS
JOIN NOW TROOPS!
Team Responsible for Tournament Creation:
Craig25
SoftBelly
Anila8
Bilbo1_OC
RomLOL
#ForThePlayers
#PayTheMan
Previous Seasons League Winners:
BoBSL: Match Day 12
Morning Troops
Match Day 12 will be set up by Anila8 later today. Check out the 'S10 Results and Fixtures' Tab on the Scoreboards to check out who you are playing.
Until the games KICK OFF, let's see who is making the HEADLINES in the SUPER LEAGUE:
League 22 Average Rank: 1911 Runners: 9 Prize: 180 Cr
This is the League containing the Highest Ranked New Players to the Super League from Last Season. At the start of the Season it contained no fewer than 6 Players Ranked Above 2000! One of them is 'El Presidente' Mad777 who reached the heady heights of the 2nd Top Super League back in the day. So, I expected him to start his renewed campaign with a bang. But it's not working out that way. It's the 1st Seed *Pixar* who is absolutely nailing it in his 1st Campaign. 6 Match Ups Complete and 6 Victories see's him on 12 Points! That's a HUGE 5 points clear of his closest rival gambler21210 who is way way back on 7 points. And only then comes Mad777, Only 6 points after 5 Match Ups means he is going to struggle to get a Multi-League Promotion never mind win the League. There's still time for it all to change though.........
League 13 Average Rank: 1812 Runners: 10 Prize: 180 Cr
Avi8or 'Is Flying' Again. Played 8, 6 Victories and 2 Draws see's him still an INVINCIBLE and the HEAVY FAV to take down his 3rd Super League Title in a row. The 4th and 3rd Seeds Bishyup & DJ1985 are the only players left who can potentially cause him any problems. Bishy is 4 Points behind having played a Match Up more, and DJ is 6 behind having played 1 less.
League 10 Average Rank: 1753 Runners: 10 Prize: 180 Cr
1st Seed itstheGeneral has found himself in Super League 10 without actually winning any Leagues yet! But this Season, that is almost definitely going to change. 20 Points, 8 Wins, 1 Draw, Invincible, 6 Points clear. It's not even mentioning the rest in this contest, it looks like they are all playing for the Double Dunter Spot!
League 06 Average Rank: 1943 Runners: 10 Prize: 180 Cr
This is the way to do it. Another late starter in the Super League, 4th Seed aad0906 is looking to complete a 5 Timer. That is Take Down his 5th League Title in a Row! He's already won League 18, 15, 12, 9 and this Season he is on 20 Points after 10 Match Ups. 6 Points Clear and this is another League that could be wrapped up before the Christmas Decorations go up..................................
The Championship Average Rank: 2175 Runners: 10 Prize: 600 Cr
'The Mouth' Clanlord Carl is on the brink..........'The Goat' Shoop76 has hit form just in time for Clanlord Carl coming into his League. And, he is absolutely creaming him! Shoop on 16 Points after only 8 Match Ups is looking to put an end to 'The Mouths' 7 Timer! Having equalled 'The Knifes' 6 Timer it looks like he is going to fall here. But, 'The Knife' lost his uveaten run in the Premier, Carl's is about to end in the Championship, and get this, it looks like he is involved in a major battle to even get Promoted! Keefie is 1 Point clear of him in 2nd Place. With 3 getting Promoted, Carl is back in 3rd on 12 Points. But having played 3 Match Ups less, molespe is only 2 points behind him...............This could be HUMILIATION for the MOUTH if he loses his un-beaten run and also misses out on Promotion to the Super Leagues Top League! Only time will tell.........
Premier League Average Rank: 2502 Runners: 9 Prize: 1800 Cr
This Seasons Premier looks like a 2 horse race now. Craig25 'I take no shit' is potentially in line for being the 1st player to 'Do The Double', that is winning 2 Super League Premier Titles in a row. 17 Points after 9 Match Ups is heavy scoring in the Premier, a League that is typically tighter than a Badgers Arse. big jumbo 'jet' is my closest rival. 2 Points behind having played a Match Up more, there is daylight between us. BUT, It's top versus 2nd in Match Day 12, if 'The Jet' beats me, it blows this Title Race Wide Open.......................
- HOME MAP CHANGES
- REST SEASONS
- TOURNAMENT WITHDRAWALS
Are open. To do any of the above, follow the link below and tell us what you want by posting on the forum:
GOOD LUCK!