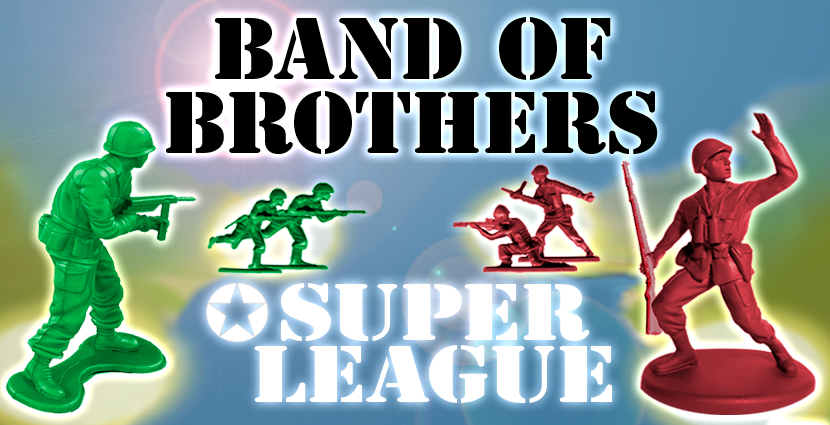 Season 10 is Ongoing. For 'LIVE' Season 10 League Tables and Results go here (Note, Page has 4 Tabs)
:
https://docs.google.com/spreadsheets/d/1p8NopcJwcy-F9pm4s6YuMPE148DDpYBs5tCda26gC_g/edit?usp=sharing
THE RULES
Get in on this
CC Event
TROOPS!
Join this
FLAGSHIP
Tournament.................................
A Full Season lasts
2 MONTHS
A Tournament that will run for
YEARS
.........................................
A Tournament that has already had
OVER 90,000 (Ninety Thousand)
games played in it.............
Currently, their are
280 PLAYERS: 28 Leagues of 10 Players.........
Come Join, work your way through the Divisions to become
CHAMPIONS
of the
RISK Super League
. You are playing for
RISK GLORY
and
PRIZES
!!!!
CC are sponsoring this Event, and will pay these prizes EVERY SEASON!!, so it is worth your while to climb your way to the top:
1st: Premier Champion =

+ 1200 Conquer Credits
2nd: Championship Champion =

+ 180 Conquer Credits
3rd: League 1 Champions =

+ 100 Conquer Credits
But the fun is, are you good enough to make it to the top???
To join, pick your Favourite Map (For 2 Player Games) and Reply to this Thread. You will start in the lower Leagues..............Can you rise to be a Premier League Risk Player?
To give you an idea of what you are in for. Follow the link below for 'LIVE' League Tables and Results from Season 10. NOTE, there are 4 tabs on the page:
https://docs.google.com/spreadsheets/d/1p8NopcJwcy-F9pm4s6YuMPE148DDpYBs5tCda26gC_g/edit?usp=sharing
To get your name added to the starters for Season 11, just reply on this forum with your HOME MAP choice!
***NOTE: Some Maps are BANNED, SEE BELOW. Pick a HOME MAP that IS NOT on the list.
Previous Seasons
CHAMPIONS
are below:
-
Season 1,
WINNER: Shoop76
-
Season 2,
WINNER: UKEY
-
Season 3,
WINNER: Shoop76
-
Season 4,
WINNER: Loose Canon
-
Season 5,
WINNER: big jumbo
-
Season 6,
WINNER: Pajarito
-
Season 7,
WINNER: Tin Trumpet
-
Season 8,
WINNER: Mass Miracle
-
Season 9,
WINNER: Craig25
TOURNAMENT FORMAT:
This is a League Format. Each League will have 10 Players. Every Season, 3 will be Promoted and 3 Relegated.
Finish 1st: You get Promoted 3 Leagues
Finish 2nd: You Get Promoted 2 Leagues
Finish 3rd: You Get Promoted 1 League
Finish 4th to 7th: Remain in Current League
Finish 8th: Get relegated 1 League
Finish 9th: Get relegated 2 Leagues
Finish Bottom: Get relegated 3 leagues
***Premier League will have 6 players relegated: Bottom Drops 3 Leagues, 8th and 9th Drop 2, 5th,6th and 7th Drop 1.
As a NEW SUPER LEAGUE PLAYER, you will start in one of the bottom 4 Leagues. This Tournament will run for years. You have plenty of time to work your way to the TOP!
LEAGUE GAMES:
- You play a HOME and AWAY Match versus every Opponent in your League.
- So that is 18 Match Ups Per Season.
- 4 Games per Match Up.
- 2 Games on a HOME MAP + 2 Games on a Random Map
HOME MATCH:
- You are the Green Army for HOME games.
- 2 Games on Map of your Choice (Your Home Map)
- 2 Games on Random Map
- You accept Game Invites Last - Can move immediatly taking full advantage of your opponent not getting any snaps!
AWAY MATCH:
- You are the Red Army for AWAY games.
- 2 Games on Your OPPONENTS HOME Map
- 2 Games On Random Map
- You accept Game invites 1st - Your opponent gets to start as soon as they accept game invites.
SCHEDULE:
The Kick Off - 1st Match Set Up of Season - 3 Match Days are set up (12 games)
Match Day 4-Match Day 7 - 1 Match Day (4 games) is set up on a Monday, and 1 on a Thursday
Mid-Season Madness - Match Day 8 - 10 - 3 Match Days are Set Up (12 Games)
Match Day 11 - 15 - 1 Match Day (4 games) is set up on a Monday, and 1 on a Thursday
Match Day 16+17+18 - 3 Match Days are set up to complete the Season (12 games)
MATCH DAY SET UP DATES:
M01 - 29 Dec 2022
M02 - 29 Dec 2022
M03 - 29 Dec 2022
M04 - 02 Jan 2023
M05 - 05 Jan 2023
M06 - 09 Jan 2023
M07 - 12 Jan 2023
M08 - 16 Jan 2023
M09 - 16 Jan 2023
M10 - 16 Jan 2023
M11 - 19 Jan 2023
M12 - 23 Jan 2023
M13 - 26 Jan 2023
M14 - 30 Jan 2023
M15 - 02 Feb 2023
M16 - 06 Feb 2023
M17 - 06 Feb 2023
M18 - 06 Feb 2023
SCORING:
This is where it gets really, really good!!!!
4-0 WIN: 3 Points
3-1 WIN: 2 Points
2-2 DRAW: 1 Point
1-3 LOSS: 0 Points
0-4 LOSS: 0 Points
TIE BREAKERS:
1. Points
2. Goal Difference
3. Highest Number of 4-0 Wins
4. Highest Number of 3-1 Wins
5. Lowest Total Game Duration of All the CURRENT Seasons games***
***All Start Times of Games will be 12:00 CCT on the Match Day Set Up and will be the same for all players. It is this time and not the actual start time of the game that is used to calculate Game Durations.
***Where Games are closed as Predicted Result, Completion time is counted as 23.59 CC Time on the day the Season Ends.
SETTINGS:
Players: 2
Auto
Seq
FR
Adj
Fog
REST SEASONS:
Each Season lasts 2 months. You are commited to playing 3 out of 6 Seasons in a Calendar Year. So, for 3 Seasons every year you can take a Rest Season where you hold your League position and do not need to play.
***
TO ENTER:
Reply to this post with:
HOME MAP CHOICE
Some Maps ARE EXCLUDED (the slowest Maps on these settings with an average round time of over 12 Rounds):
1982
2011 World Cup
Antarctica
Baseball
Clandemonium
Conquer Man
Conquer Rome
Das Schloss
District of Alaska
Eurasia
Feudal Epic
Feudal War
Hive
King's Court
King's Court II
Knights
Labyrinth
Monsters
New Zealand
Peloponnesian War
Rail South America
Rorke's Drift
Spanish Armada
Three Kingdoms Of Korea
Trafalgar
USA 2.1
WWI Gallipoli
ALL SEASONAL & BETA MAPS
JOIN NOW TROOPS!
Team Responsible for Tournament Creation:
Craig25
SoftBelly
Anila8
Bilbo1_OC
RomLOL
#ForThePlayers
#PayTheMan
Previous Seasons League Winners:
BoBSL: Match Day 14
Bonjour Mes Amis
I am feeling very French today for some reason.................But this is not some recent new found love for France. The History of Mutual Respect between France and Scotland spans many centuries. And it in fact led to an alliance between the 2 countries. Called, 'The Auld Alliance'. Nothing brings two nations together like a shared dislike of another one! Scotland and France were brought together by their shared interest in controlling England's aggressive plans for expansion.
It really is a simple concept. Imagine 3 player game of Risk where 2 of the players think the other player is a bit of a Dick. So the '2 good guys' make an alliance against the 'bad guy'. That best demonstrates 'The Auld Alliance', Scotland and France being 'Good Guys' and England being the odd man out..............
Random History Lesson over...................Match Day 14 will be set up by Anila8 later on today. Check out the 'S10 Results & Fixtures' Tab on the Scoreboards to check out who you are playing. For today's HIGHLIGHTS, let's take an in-depth look at a League Table and also Check in on the INVINCIBLES!
INVINCIBLES:
Wow, This Season KICKED OFF with 27 Leagues. We are down to only 15 Players remaining unbeaten in the Season. Here are a few of them:
- Craig25 'Takes no Shit' - 11 Match Ups un-beaten in the Premier League. That is pretty immense going. Sadly, it could be coming to an end shortly versus 'The Knife'....
- bamage 'is doing the damage' - this Season. An ex-Premier League RISK Player has went 12 Match Ups un-beaten in League 03. 6 Points clear and it looks like he will move up to the Championship in style!
- Dusty21 - A late starter in the Super League. This is his 2nd Season, he won League 23 last Season and this Season he has went 12 Match Ups un-beaten. But remarkably, he is only in 2nd position in his League. 9 Wins and 3 Draws and there is a player 1 point in front of him although he has played a Match Up more. But if this un-beaten run continues, I doubt Dusty21 will be staying in the Double Dunter position for long!
- And here are the other 12 Players in the running to be a Season 10 Invincible:
Coors1
Handsomewhitecat
bobzimmerman
Runeldo
Avi8or
DJ1985
Faro
conquerhero
Guderian09
Bada0Bing
Crowley
lmodena
League 11 Average Rank: 1641 Runners: 10 Prize: 180 Cr
Sitting 6th in the Usain Bolt Cup is Super League 11. Having completed 66.7% of all of their Match Ups so far. And it's a 2 Horse Race to take the Title between the 2nd and 8th Seed. Tviorr (2nd Seed) leads the way on 22 Points after 13 Match Ups. But get this, Free Syrian Army, Ranked a HUGE 550 Points LOWER than Tvior is giving the 2nd seed a great run for his money. FSA is a wizard on his HOME MAP of Stalingrad so that should not come as a surprise. But, he's got 2 points to make up on Tviorr if he wants to challenge him for the Title! the middle of the Table is interesting. Although there is a HUGE 7 point Gap between the middle of the table and the Top 2 Players above. There are only 2x1 League Promotions up for grabs here, as you move up the Leagues, extra promotion spots become few and far between. And there are 5 players all fighting to take 1 of the Promotion spots to keep them moving in the right direction in the Super League: ccateacher, osujacket, c c, the warrior65 & irishman13. After that, we are into the Relegation Dog-Fight. Sweed dreams & General Roy could easily play themselves out of trouble, but they need to start picking up points PRONTO! Sir Mr Timothy looks DOOMED in the MOON DOOR Position. 4 Points adrift, he is going to have to pull off an escape act of HOUDINI proportions to avoid a 3 League RELEGATION!
Okay Troops, more to come on my eternal love for France, my spiritual 2nd home in the coming days. Until then, Good Luck in Match Day 14!