Sydney Metro




Current Version 24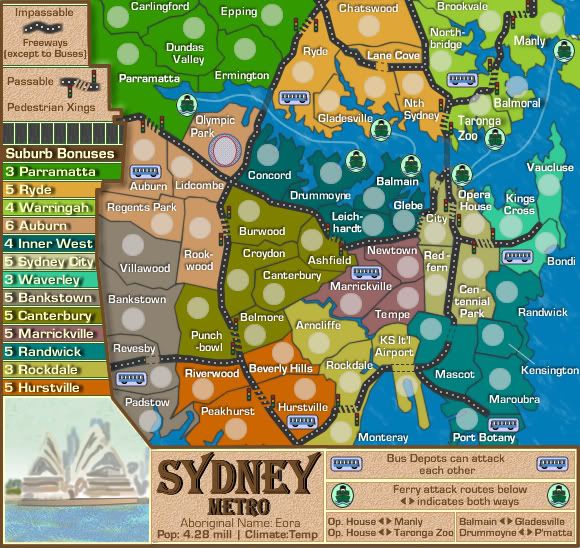 Original Map
Why?
Raising the Aussie Flag - patriotism!!!

This is the former Sydney 2000 map, that i made several months ago, but was abandoned.
I would like to resurrect it, in a simpler form "classic style" because it was simply too complicated for the minds of most CC players to get around the attacking methods in the Olympic version.
Number of Territories
Parramatta - 6 (now 5)
Ryde - 5
Warringah - 5
Auburn - 5
Inner West - 4
City - 3
Waverly - 4 (now 3)
Bankstown - 4
Canterbury - 5 (was always 6)
Marrickville - 3
Randwick - 7 (now 5)
Rockdale - 4
Hurstville - 4
Total 59 (now 56)
The continents are structured around several of the local government areas in Sydney.
13 continents in total
Unique features
This map obviously uses the harbor as a barrier, but also uses the freeways as a barrier except where there are pedestrian crossings.
This concept of using a pedestrian crossing should not be too complicated for CC players to comprehend.
Uniqueness
Obviously the location.
Let's hope I can get this one into play.
Com'mon Aussie Com'mon!!!
Size:
Small 580w x 548h
Large 750w x 709h