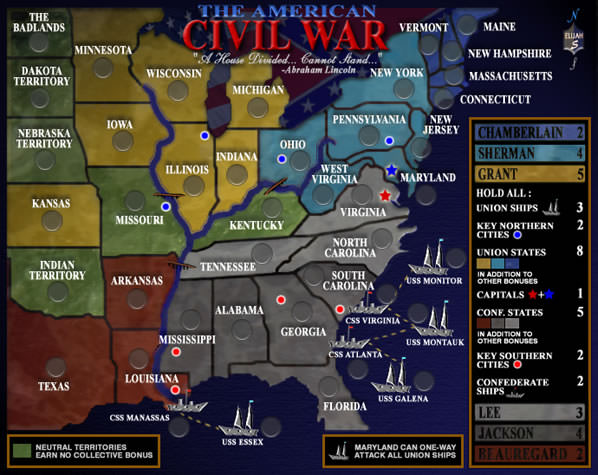 NOTE: This is a series of tournaments
This will be a massive tournament project that will consist of 64 qualifying tournaments that will see each winner advance to Kuma's CC Grand Championship Tournament
If you would like to be sent a notification when future qualification tournaments are posted, be sure to PM me and let me know.
Here are the basics on both tournaments:
QUALIFYING TOURNAMENTS
We will run 64 qualifying tournaments, each on a different map. Each will use the exact same settings and will be 4 player games with a max of 32 entrants. The focus for this tournament will be
AMERICAN CIVIL WAR
Settings for all maps: Auto / Sunny / Escalating / Chained / Sequential
Winner and second place in each game move on until there is a final group of four. Winner of that match wins the qualifying tournament and advances to the Grand Championship once all the qualifying tournaments are finished. The runner up will be saved as a reserve should the winner not want to compete in the grand championship
GRAND CHAMPIONSHIP
Format will be 1 vs. 1 in an NCAA Tournament style bracket with each match consisting of a match on the map that each of the participants won on. Should the matches be split, a tiebreaker will be run on a random map. Winner advances.
The Players
crazycolin
General Roy
james12345678
shoop76
uckuki
rjhankey
Leatherhead
Eternal Shadow
heatz
whitestazn88
magneto_acolyte
GlobeSmack
Zorbas
shaggybb
nzk
Deadpool
traffic133
Moya
The Mantis
Evil Semp
mwaser
Jester1974
Copernicus
Fuzzy316
Steve The Mighty
TODRICH
Soldier4Christ
hagardunor
biggz
Nailer X
DBandit70
kuma32478