Battle for the Spice Islands - Updated 6/24/2014 - Version 22 - Page 11
Number of Territories - 33 Regions/9 Fleets - 3 Armadas/10 Sea Passages/5 Ports/3 Major Ports/4 Continents/Spice Islands - 4 Spices
Special Features - Inset Maps, Navies, Spices, Ports
What Makes This Map Worthy of Being Made? - Historical significance based on Wallace Map of the Malay Archipelago 1869 and the Dutch East India Company, Special Game Play, Lack of Maps of this region of the world
NEW NEW CHANGES: Lowered Bonus for Oceania. Changed border of Siam/Burma. Renamed Malasia to Sarawak.
NEW CHANGES: Changes to Legend/Rules. Renamed Continents. Lowered Bonus for Oceania. Changed color of Ocean and South Sunda slightly. Changed font to more reflective of period.
The Dutch East India Company - Vereenigde Oost-Indische Compagnie or VOC, (United East India Company) Chartered in 1602.. It is often considered to have been the first Multi-National Corporation in the World and it was the first Company to issue stock. It was also arguably the first Mega-Corporation, possessing Quasi-Governmental Powers, including the ability to Wage War, Imprison and Execute Convicts, Negotiate Treaties, Coin Money, and Establish Colonies. Western European Powers Dominated the Malay Archipelago during this period relying on superior arms and naval power.
Made Fleets 1-Way Attack Ports to emphasize the Fleet's power in this part of the world, similarly with the exception of Burma and Malaka the Continents can not attack each other - without going to sea. You CAN leave a Port via a Sea Passage. Sea Passages are -2 armies per turn visa-a-via 'Napoleonic Europe Map' So if you have any armies over 1 you will lose 2, if you only have 1 army it will remain - this is intended to model the high cost and risk of open ocean voyage, Fleets do not receive bonus unless they possess a Spice as without cargo Fleets are expensive to maintain. 3 Fleets of same get +1 bonus to reflect naval might. Sea Passage 1 or SP1 has 2 spots on this map - by the Spice Islands in the upper or main map and in the lower right inset map of the Spice Islands, this is how I move between maps. Best I came up with... Victory Conditions can be reached by holding an Armada (3 Fleets of the same suit) Spice Monopoly (All 4 Spice Islands) and 1 of the 3 Major Ports outside the Spice Islands
Hopefully above information is reflected in the map - if any thing is unclear, I will attempt to clarify. Suggestions welcome.
Large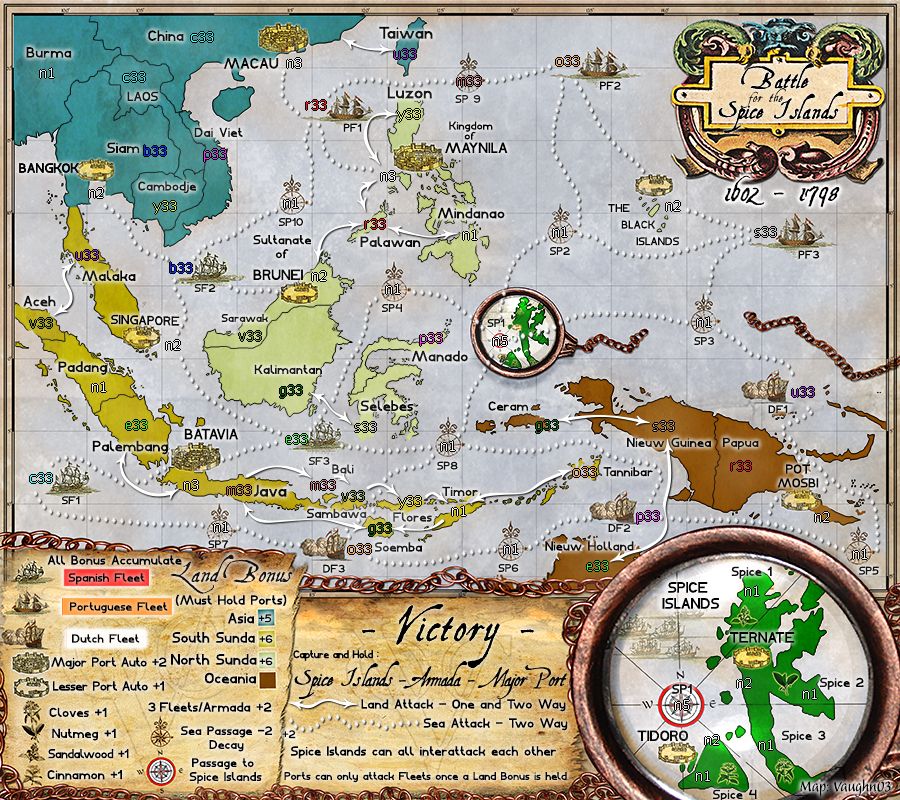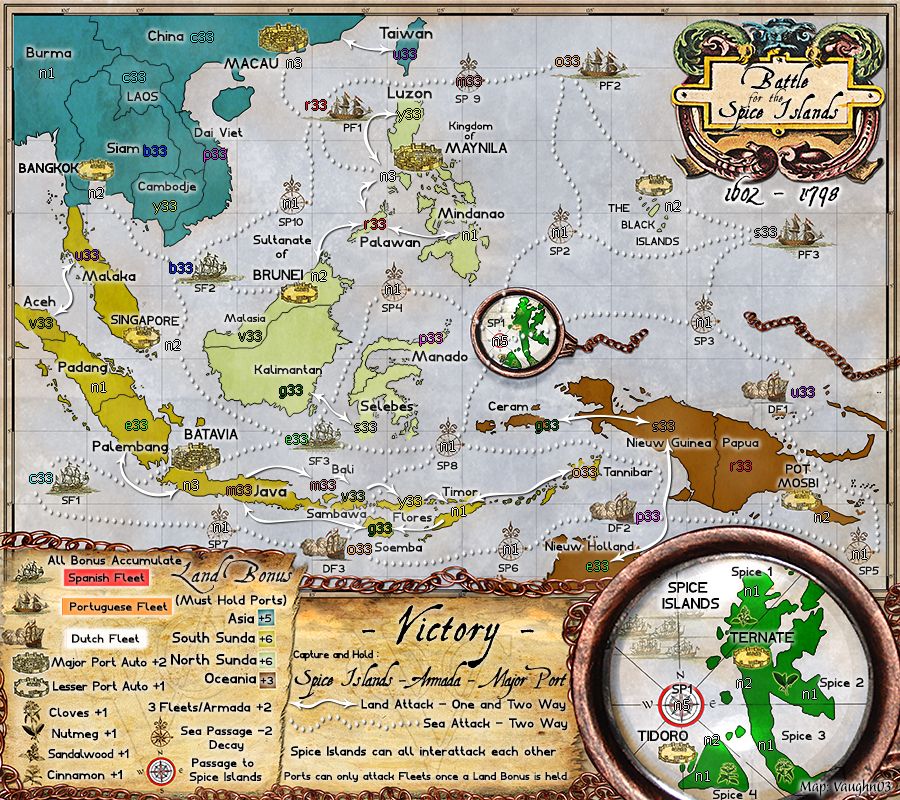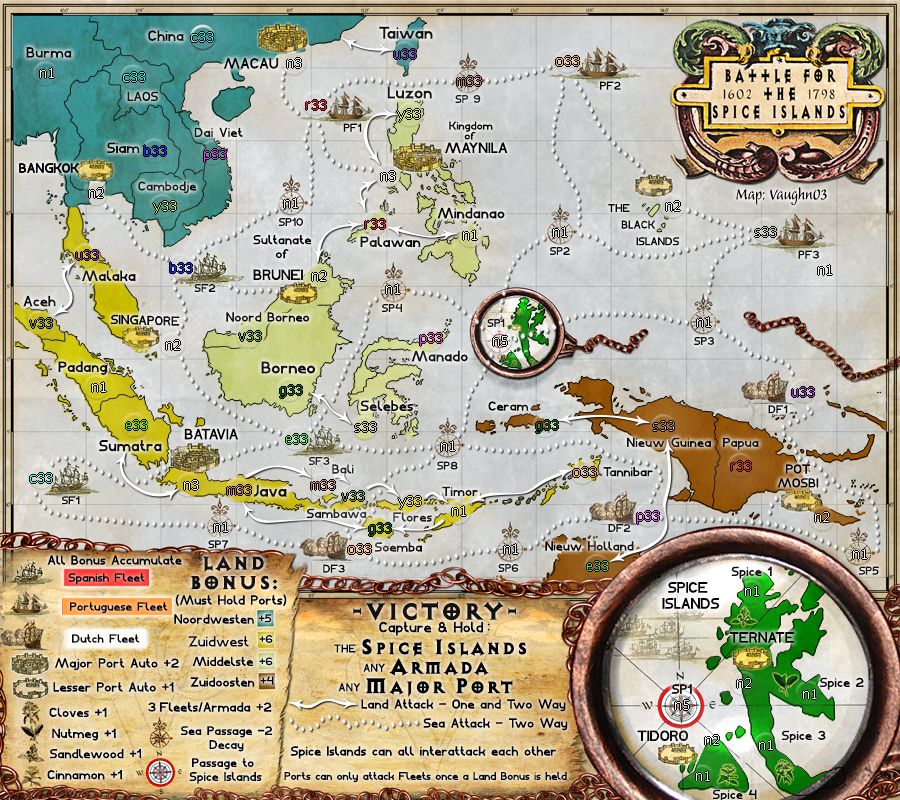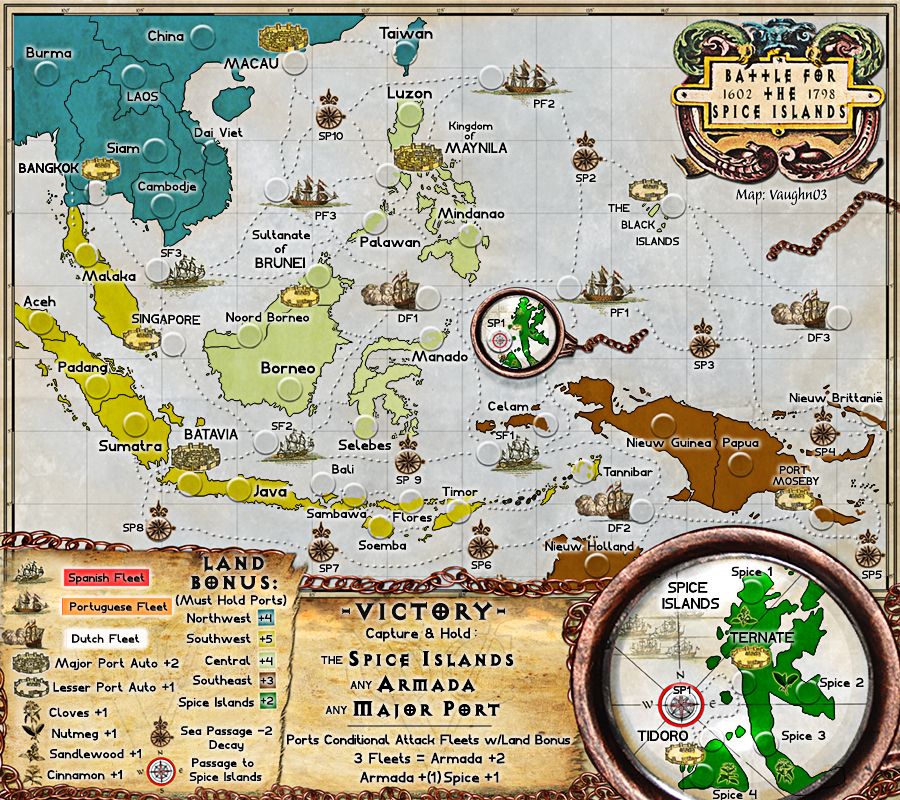 [bigimg]]http://i1309.photobucket.com/albums/s622/dvaughn03/RingofFirer13_Type_zps63b4730f.jpg[/bigimg]