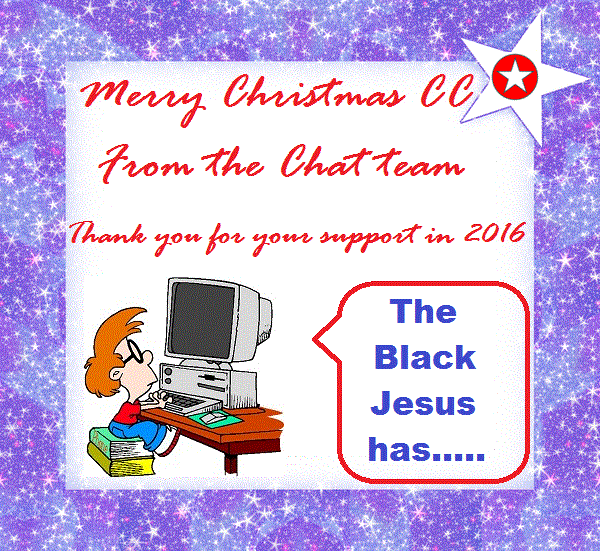 For being a positive influence in Chat for 2016.
Merry Christmas to the following CC members:
1 Month Premium +

General Contribution Medal
Serbia
Hooch

General Contribution Medal
Chatters Quote Book 2016
(Unfortunately

ALL

the logged chat on the U.S.A. election involved Chat Violations and will not be part of the 2016 Quote Book.)
Words of Wisdom from CatchersMitt14
Some blasts from the past
Thank you all for a great 2016, hope you enjoyed that read.
Be sure to join us for the Chat Events in 2017
BUT BEFORE THAT

....



....
Here is a clue to the upcoming Christmas 2016 Scavenger Hunt starting BOXING DAY 26 December 2016!!..........
*As an early incentive.... We offer this:
250 Credits

to the first person to highlight the

ERROR

above... and

WHY

.


(you must post your answer in this thread, and it MUST be the answer I am looking for)
250 Credits

to the first person to name the

MYSTERY

Chatter.
(RETIRED and EXISTING MODS ARE EXCLUDED FROM ENTERING THIS ONE !! )
(My word is final with these prizes, IF no winners, event will close 30 December 2016)
On a personal note, THANKS to CatchersMitt14 for being a good sport..... or is that sort? ...

dot dot dot comma comma dot