Official Monthly Challenge for May 2017
Brought to you by the Community Team
.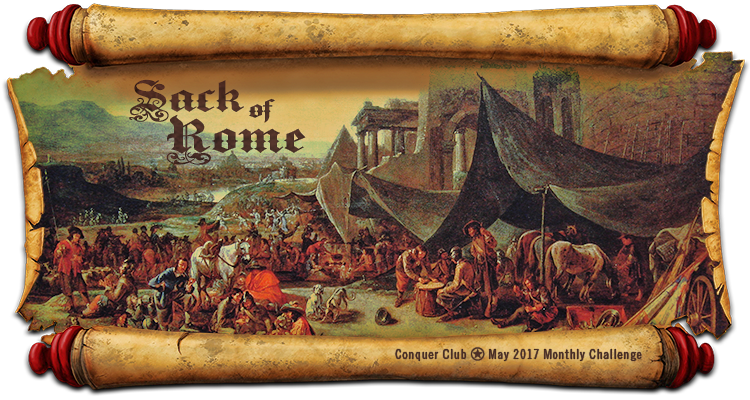 CLICK HERE TO JOIN WAITING GAMES - BRONZE
HistoryofInformation wrote:Troups Loyal to Charles V Sack Rome, Marking the End of the High Renaissance: On May 6, 1527 an army of Spanish Catholics and Lutherans beholden to Holy Roman Emperor Charles V, and led by Charles III, [Duke of Bourbon] marched into Rome. For eight days these unpaid troops looted and pillaged the city, inflicting especially harsh treatment on priests, monks and nuns, forcing the Pope to flee the Vatican, and destroying art and smashing statuary. During the occupation of the city more than 2000 bodies were disposed of in the Tiber River, and another 10,000 were buried in Rome and its environs.
Source: HistoryofInformation
NO SIGN-UPS REQUIRED
SETTINGS
Maps:
Holy Roman Empire
Players per game:
5+
Game Type:
STANDARD, TERMINATOR, ASSASSIN
Initial Troops:
ANY
Play Order:
ANY
Spoils:
ANY
Reinforcements:
ANY
FOG:
ANY
TRENCH:
ANY
Round Limit:
20, 30, OR 50
Round Length:
Casual [24 Hour]
MEDAL CRITERIA
100 points
are required for a CA Medal;
ANY combination of tokens
.
Each

BRONZE

Token is worth 5 points -

WIN on HOLY ROMAN EMPIRE


------------------------------
Each

PLATINUM

Token will multiply your score by a factor of 1.25 -

JOIN PLATINUM LIST GAME
PLATINUM LIST
GAMES WILL BE ADDED TO THE LIST PERIODICALLY AT THE WILL OF THE MODS.
ANY MOD MAY ALSO PROVIDE PLATINUM GAME NUMBERS AT THEIR LEISURE IN VARIOUS PLACES ACROSS THE SITE OVER THE COURSE OF THE MONTH.
100 Platinum token maximum this month.
Platinum games will only drop platinum tokens. You cannot receive both a bronze and platinum token from the same game.
Games struck through on the list are filled.
MAY SCOREBOARD
Notes