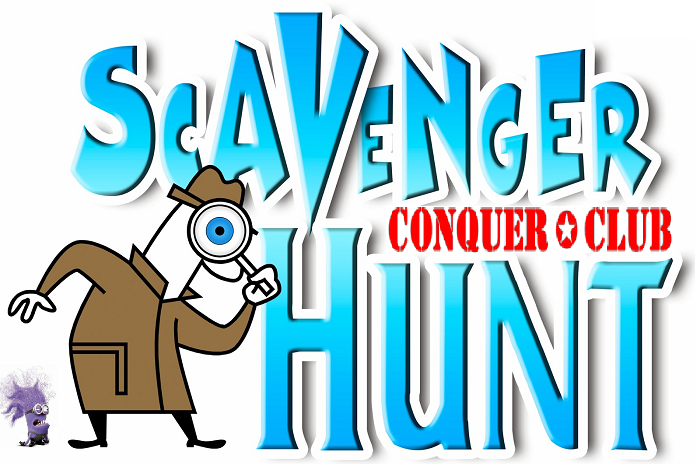 How it will work

:
The complete Scavenger Sheet will comprise of 50+ Scavengers.

5 scavengers

will be released in this thread daily at around

07:00 CC time

.
Some Scavenger items may be questions that require 100% correct answers.
You will have 24 hours to send the days Scavenger list to Razorvich via PM.
A minimum of

5+ Scavenger

items will only be accessible in either Global or The Chat Rooms and will vary in point value.
These Scavenger items will have a reduced time frame for your submitted answers.
Time frames for these will be released upon activation.
Instant Credit prizes may be up for grabs for the "Chat Scavenger Items"
Your first entry is your only entry

NO EXCEPTIONS.

Chat Mods are the only ones that cannot enter this event.
Tags

:
When you see this:

[image]

the requested item must come in Img or BigImg tags and display the image.



When you see this:

[youtube]

the requested item must come in youtube tags and the video must work.



When you see this:

[link]

the requested item must come in url tags and link to the requested topic.



When you see this:

[game]

the requested item must come in game tags and link to the requested game.



When you see this:

?HUH?

A question or puzzle to solve
The Scavenger Quest

:
A chest of Treasure has been hidden in the forums.. put together the clues to find the

Treasure
Scoring

:
Each Daily Scavenger item will be worth

1 point

Global and Chatroom Scavenger items will vary in score and may also attract other instant prizes
__________________________________________
Scoreboard Prizes

:

+ 2000 Credits - 1st

+ 1200 Credits - 2nd

+ 800 Credits - 3rd

+ 1000 credits - 1st to find the
Scavenger Treasure

- Finding all 4 Forum Scavengers
__________________________________________
Please be aware of the following

:
__________________________________________
AS A FINAL WORD

.....
For every 6 correct Daily Scavenger Items you submit to Razorvich, you will receive 1
treasure
Clue
The #turperbuoco Medal (MVP 500 Credits) +

will also be up for grabs
This is what the Scavenger Treasure looks like:
EDIT:
LATE ENTRIES
I am happy to take past days entries, there will be a

0.5 point late fee per days entry.
GOOD LUCK !