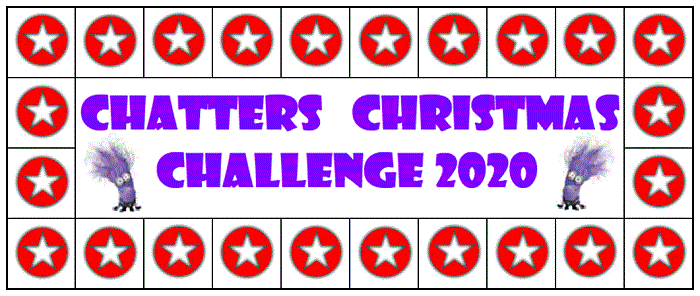 There has been a 2020 Treasure Chest hidden somewhere in the Forums.




(You don't want to know how long it has been out there and no-one has found it yet LOL)



This year there is just one image to find.

Impossible to find you say? .....no.....

To help you out there will be a little competition in this Forum Thread, as well as chat.
How it will work
By 08:00 CC Time, each day I will post in this forum thread a simple task for you to complete.
For participating you can claim a spot the Prize Grid.
What's on the board?
Everything from "Instant Prizes", "Scavenger Clues" and admission to one of the "Event Games"
Instant Prizes

- Will be paid out Daily.

Event Game Challenge

- Admission to one of SIX Challenge games



Clan Triple Game Challenge

- Take on the Clans with a Random Team.

Chatter Game Challenge

- Take on one of the Chatters in a 4 Player game.



Or in Shannons case a poly2 (Someone had to be

difficult

different)
POINTS TO REMEMBER
You can only reply ONCE per day
Instant Prizes are just that, I will attend to them ASAP when I get home from work daily.
You can only claim 1 (one) spot in a Challenge Game.


IF you find a double, you get another pick.
That double location can then be broadcast in Chat or to your friends as you see fit.

If at the end of time and the games are not filled...

I WILL FILL THEM

from the active Forum entrants.
Obviously those involved as a HOME CLAN MEMBER cannot join their own game but are welcome to participate in others,
Games will be created when filled.
Prizes up for Grabs

+ 1000 Credits - First to find the 2020 Christmas Treasure


+500 Credits - Second to find the 2020 Christmas Treasure


+250 Credits - Third to find the 2020 Christmas Treasure

+ 200 Credits for the winner/s of a Challenge Game (Home Clan teams that win receive a Contribution Medal)

- Win 2 or more Challenge Games
Chatters get nothing if they win, and will receive even less if they lose