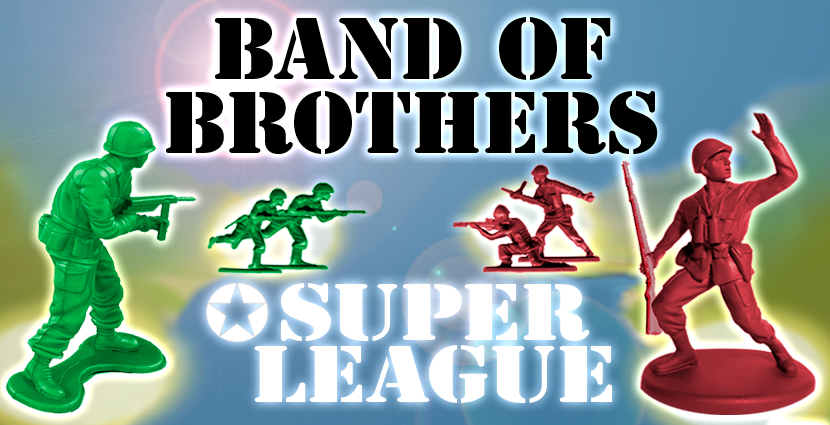 Season 12 is Ongoing. For 'LIVE' Season 12 League Tables and Results go here (Note, Page has 11 Tabs, The 1st 3 are the important ones!)
:
https://docs.google.com/spreadsheets/d/1p8NopcJwcy-F9pm4s6YuMPE148DDpYBs5tCda26gC_g/edit?usp=sharing
THE RULES
Get in on this
CC Event
TROOPS!
Join this
FLAGSHIP
Tournament.................................
A Full Season lasts
2 MONTHS
A Tournament that will run for
YEARS
.........................................
A Tournament that has already had
OVER 100,000 (One Hundred Thousand)
games played in it.............
Currently, their are
280 PLAYERS: 28 Leagues of 10 Players.........
Come Join, work your way through the Divisions to become
CHAMPIONS
of the
RISK Super League
. You are playing for
RISK GLORY
and
PRIZES
!!!!
CC are sponsoring this Event, and will pay these prizes EVERY SEASON!!, so it is worth your while to climb your way to the top:
1st: Premier Champion =

+ 1200 Conquer Credits
2nd: Championship Champion =

+ 180 Conquer Credits
3rd: League 1 Champions =

+ 100 Conquer Credits
To give you an idea of what you are in for. Follow the link below for 'LIVE' League Tables and Results from Season 11. NOTE, there are several tabs on the page, 1st 3 Tabs are the important Ones!:
https://docs.google.com/spreadsheets/d/1p8NopcJwcy-F9pm4s6YuMPE148DDpYBs5tCda26gC_g/edit?usp=sharing
Previous Seasons
CHAMPIONS
are below:
-
Season 1,
WINNER: Shoop76
-
Season 2,
WINNER: UKEY
-
Season 3,
WINNER: Shoop76
-
Season 4,
WINNER: Loose Canon
-
Season 5,
WINNER: big jumbo
-
Season 6,
WINNER: Pajarito
-
Season 7,
WINNER: Tin Trumpet
-
Season 8,
WINNER: Mass Miracle
-
Season 9,
WINNER: Craig25
-
Season 10,
WINNER: Craig25
-
Season 11,
WINNER: ESQuire
TOURNAMENT FORMAT:
This is a League Format. Each League will have 10 Players. Every Season, 3 will be Promoted and 3 Relegated.
Finish 1st: You get Promoted 3 Leagues
Finish 2nd: You Get Promoted 2 Leagues
Finish 3rd: You Get Promoted 1 League
Finish 4th to 7th: Remain in Current League
Finish 8th: Get relegated 1 League
Finish 9th: Get relegated 2 Leagues
Finish Bottom: Get relegated 3 leagues
***Premier League will have 6 players relegated: Bottom Drops 3 Leagues, 8th and 9th Drop 2, 5th,6th and 7th Drop 1.
As a NEW SUPER LEAGUE PLAYER, you will start in one of the bottom 4 Leagues. This Tournament will run for years. You have plenty of time to work your way to the TOP!
LEAGUE GAMES:
- You play a HOME and AWAY Match versus every Opponent in your League.
- So that is 18 Match Ups Per Season.
- 4 Games per Match Up.
- 2 Games on a HOME MAP + 2 Games on a Random Map
HOME MATCH:
- You are the Green Army for HOME games.
- 2 Games on Map of your Choice (Your Home Map)
- 2 Games on Random Map
- You accept Game Invites Last - Can move immediatly taking full advantage of your opponent not getting any snaps!
AWAY MATCH:
- You are the Red Army for AWAY games.
- 2 Games on Your OPPONENTS HOME Map
- 2 Games On Random Map
- You accept Game invites 1st - Your opponent gets to start as soon as they accept game invites.
SCHEDULE:
The Kick Off - 1st Match Set Up of Season - 3 Match Days are set up (12 games)
Match Day 4-Match Day 7 - 1 Match Day (4 games) is set up on a Monday, and 1 on a Thursday
Mid-Season Madness - Match Day 8 - 10 - 3 Match Days are Set Up (12 Games)
Match Day 11 - 15 - 1 Match Day (4 games) is set up on a Monday, and 1 on a Thursday
Match Day 16+17+18 - 3 Match Days are set up to complete the Season (12 games)
MATCH DAY SET UP DATES:
M01 - 01 May 2023
M02 - 01 May 2023
M03 - 01 May 2023
M04 - 04 May 2023
M05 - 08 May 2023
M06 - 11 May 2023
M07 - 15 May 2023
M08 - 18 May 2023
M09 - 18 May 2023
M10 - 18 May 2023
M11 - 22 May 2023
M12 - 25 May 2023
M13 - 29 May 2023
M14 - 01 Jun 2023
M15 - 05 Jun 2023
M16 - 08 Jun 2023
M17 - 08 Jun 2023
M18 - 08 Jun 2023
SCORING:
This is where it gets really, really good!!!!
4-0 WIN: 3 Points
3-1 WIN: 2 Points
2-2 DRAW: 1 Point
1-3 LOSS: 0 Points
0-4 LOSS: 0 Points
TIE BREAKERS:
1. Points
2. Goal Difference
3. Highest Number of 4-0 Wins
4. Highest Number of 3-1 Wins
5. Lowest Total Game Duration of All the CURRENT Seasons games***
***All Start Times of Games will be 12:00 CCT on the Match Day Set Up and will be the same for all players. It is this time and not the actual start time of the game that is used to calculate Game Durations.
***Where Games are closed as Predicted Result, Completion time is counted as 23.59 CC Time on the day the Season Ends.
SETTINGS:
Players: 2
Auto
Seq
FR
Adj
Fog
REST SEASONS:
Each Season lasts 2 months. You are commited to playing 3 out of 6 Seasons in a Calendar Year. So, for 3 Seasons every year you can take a Rest Season where you hold your League position and do not need to play.
***
TO ENTER:
To join, pick your Favourite Map (For 2 Player Games) and Reply to this Thread. You will start in the lower Leagues..............Can you rise to be a Premier League Risk Player?
But the fun is, are you good enough to make it to the top???
To get your name added to the starters for Season 12, just reply on this forum with your HOME MAP choice!
Some Maps
ARE EXCLUDED
(the slowest Maps on these settings with an average round time of over 12 Rounds):
1982
2011 World Cup
Antarctica
Baseball
Circus Maximus
Clandemonium
Conquer Man
Conquer Rome
Das Schloss
District of Alaska
Eurasia
Feudal Epic
Feudal War
Hive
King's Court
King's Court II
Knights
Labyrinth
Monsters
New Zealand
Peloponnesian War
Rail South America
Rorke's Drift
Spanish Armada
Trafalgar
Trench Warfare
USA 2.1
WWI Gallipoli
ALL SEASONAL & BETA MAPS
JOIN NOW TROOPS!
Team Responsible for Tournament Creation:
Craig25 - Creator
SoftBelly - Graphics
Anila8 - Excel
Bilbo1_OC - Commentator
Clanlord Carl - Commentator
#ForThePlayers
#PayTheMan
**
Commentary will be made on the Tournament. So you will receive CC Mails containing the HIGHLIGHTS and COMMENTARY throughout the time you participate in the Super League.
***If you do not want to recieve Commentary mails Our preferred choice is you:
- Filter Out Commentary Mails.
- Delete them.
- Ignore them.
- Play the Tournament as described.
- Do not Enter the Tournament.
****After that EXPLICIT Warning, if you still want to Enter, Post on the Tournament Forum
with your entry
that you do not want Mails and
EVERY EFFORT
will be made to accomodate your request........We promise not to mail you by mistake on purpose and start CC WAR II
*****The speed of this Tournament will Progress at the speed of the Many, not the few. If it becomes clear that there are a couple of games/players slowing down the progress of the Tournament. Organisers retain the right to predict the outcome of there remaining games to allow the next Season to progress. Predicted Scores will be final. 300 Players will not continuously await the outcome of a few players games.
Previous Seasons League Winners:
BoBSL: MATCH FIXING SCANDAL!
Season 13 Review:
What a Season that Season 13 has been! 8,604 Games Worth of Super League Drama..................Producing...........
- Our 1st Player to win The Premier League 3 Times:
Shoop76 'The Goat'
- Still the ALL TIME Super League Hall of Fame Leader being DOUBLE MUNTED down to Super League 01:
Craig25 'aka Lex fuc*ing Luthor'
- A MATCH FIXING SCANDAL (read on), Player shall now only be referred to as:
'The Fixer'
- A 6 TIMER, A Player who has SCUDDED 6 Leagues on the Trot:
aad0906 'The Butcher of Stalingrad'
- Another 6 TIMER:
Avi8or 'Is Flying'
- A Third 6 TIMER:
'Lucky' luxbock
, although it appears there is nothing Lucky about it.....
- A 5 Timer:
Dusty21 'Slim'
- A 4 TIMER:
'The Gubber' gubarretto
- Another 4 Timer:
Faro 'The Egyptian'
- A Third 4 Timer:
*Pixar* 'The Movie Maker'
-
28 Super League CHAMPIONS!
- Another Missed Opportunity by
Clanlord Carl 'The Mouth'
to win a solitary Premier League RISK Title......
SEASON 13 CHAMPIONS:
Premier League – shoop76
Championship – big jumbo
League 1 - weaselshane
League 2 – Devante
League 3 – gubarretto
League 4 – Avi8or
League 5 – luxbock
League 6 – orangeblssmspcl
League 7 – uckuki
League 8 – yonstineru
League 9 – Ghosteagle
League 10 – Faro
League 11 – Dusty21
League 12 – Darin44
League 13 – *Pixar*
League 14 – cakebatter
League 15 - hmsps
League 16 – plurple
League 17 - Kaiser_Tottenham
League 18 – anonymus
League 19 – adban
League 20 – Furio
League 21 – sdh
League 22 – hjelp
League 23 – fletchers11
League 24 – PereiroSaus
League 25 – dar2play
League 26 - rsmareglia
Absolutely AMAZING that you Guys and Girls have contributed to around 110,000 Super League Games over 14 Seasons! So
CONGRATULATIONS
to
ALL!
For all
NEW PLAYERS
in Season 14, Follow this Link to see last Seasons Results. The link contains
'LIVE' League Tables
and Results throughout the Season. So in about 4 Weeks time you will be slicing, dicing, analysing these on a Daily basis, so you might as well add it to your
BOOKMARKS
right now:
https://docs.google.com/spreadsheets/d/1p8NopcJwcy-F9pm4s6YuMPE148DDpYBs5tCda26gC_g/edit?usp=sharing
MATCH FIXING SCANDAL:
However, it should be noted that the Season ended with a highly contentious attempt at Match Fixing in the Super Cup, the Sister Tournament to the Super League. Where 166 Players have been battling out for
RISK GLORY
and a 10 League
SUPER DOOPER PROMOTION
in the League! But, with big prizes comes big temptation! And it was all too much for 1 Player who attempted to
MATCH FIX
his way into the
KNOCK-OUT ROUNDS
............
As a Result, The Player who shall only be known as
'The Fixer'
here was deducted 3 League Points and has been
UN-MASKED
in an
EXPOSEE
in the return of everybodies favourite Newspaper......
'THE DAILY SCUDDER'
. So....
READ ALL ABOUT IT
on this link:
https://drive.google.com/file/d/1jhQJKQP5wPN5i6NsgceppT8p7K3QyEEd/view?usp=drive_link
SEASON 14 PREVIEW:
The Super League Welcomes 8
NEW PLAYERS
to The Super League Party and a
returning player
who has realised that The Super League is indeed where
THE PARTY IS!
The New Players as ever start their Super League Journey in one of the bottom 4 Leagues and start to climb that slippery slope to Super League
STARDOM
from there.......
This brings us up to 280 Players spread across 28 Leagues:
PREMIER, CHAMPIONSHIP & Leagues 01-26
Premier League Average Rank: 2526 Runners: 8 Prize: 1200 Cr
This Season is by far the best chance to win a
PREMIER LEAGUE TITLE
yet! With 2 Premier Players on a REST SEASON, we go to post in the
SHOWCASE LEAGUE
with only 8 Players!
shoop76 'The Goat'
(3 Premier + 1 Championship Titles and Current CHAMP) and
Wheelwright 'The Canadian Cricketer'
(Championship and League 02 Titles) are on a REST SEASON! So, maybe after YEARS of trying, this could be 'The Mouths' Season...................
But 2 Fewer Player does not mean the quality is deteriorated! Average Rank of a Super League Premier RISK Player is 2,526 and has the
highest AVERAGE RANK
of all Leagues.
Let's have a look at the runners and riders...............Among them, the
BEST 2 PLAYER RISK
Players who can play any map and any settings that CC has to OFFER:
-
maroshka851 'The Knife'
is back on form! The Player who completed a 6 TIMER to rise through the Super League like a hot knife through butter (after starting late), lost his form for a few Seasons. But this Season he is BACK and will start as the SHOCK 4/1 JNT FAV to lift his 1st Title!
-
'The Mouth' Clanlord Carl
, The Player who sounds like he has won 3 Super League Tites is actually still in the hunt for his first. Currently holds the Record of a 7 TIMER when he also started late in the Super League, Carl will be wondering why he is not starting as the clear FAV. But the truth is, after so many missed chances, people are starting to question his nerve. But, a LEGEND OF THE BOARD no less, he starts as the 4/1 JNT FAV to also lift his 1st Title!
-
aad0906 'The Butcher of Stalingrad'
is undoubtedly the form player! He's never actually lost a League! L3, 6, 9, 12, 15 + 18 Won in the last 6 Season is BLISTERING FORM! Can he do it at the top though???? Not only does he go after his 1st Premier Title, he also goes to complete a RECORD EQUALLING 7 TIMER! 5/1 2nd FAV
-
big jumbo 'Jet'
is the only ex-Champion running this Season! Premier, Championship, L4 and 7 Titles to his name He is probably another player who is questioning why he ain't starting as the clear FAV to take down a 2nd Title! 11/2
-
Bilbo1_OC 'Lord of your Ring'
, 6 Titles (not in a row), L2, 5, 8, 13, 16 + 21 makes him a solid player but has so far failed to win any of the Top 3 Leagues. 13/2, see above, he is not fancied to beat all of the players already listed.
-
The DARK HORSES
..................................
'Alaka' joshzam
, only 1 League 01 Title to his name, this is a big step up.
Devante 'The Devil'
, a League 01 and 02 Title to his name and has always hovered around the Top Leagues.......
weaselshane 'The Fixer'

, User of
The DARK ARTS
, Leagues 1, 2xL2 + L6 Titles under his belt, narrowly avoided losing his Premier Place due to a Points Deduction...................All Priced at 10/1
This promises to be an
IMMENSE TOP DIVISION
this Season!
Other Leagues to keep an eye on:
League 01 Average Rank: 2375 Runners: 10 Prize: 100 Cr
Ranked 2,719, Avi8or 'Is Flying' is the TOP SEED
to lift League 01, and if he does, he equals 'The Mouths' 7 Timer! He's up against 9 Great Players though, one of whom is currently leading the
ALL TIME HALL OF FAME
:
Craig25 'aka Lex fuc*ing Luther'!

League 02 Average Rank: 2076 Runners: 10
'Lucky' luxbock
is also after his 7 Timer! And he is only SEEDED 6th to do it! With a starting Rank of 2045 in a League with an Average Player Rank of 2076, there are actually 5 HIGHER RANKED playersout to stop him! The League also carries 1 Promotion spot to The Premier, this is going to get interesting!
League 23 Average Rank: 1527 Runners: 10
The Top Ranked New Player is starting his Super League Career here!
Caymanmew, nicknamed 'The Fish'
because he swallowed Carl's Bait hook, line and sinker to join The Super League is up against 9 experienced existing players. His starting Rank of 3255 brings the Leagues Average Rank up to 1,527. 'The Fish' is expected to waltz his way to his 1st League Title. But, pretty mutch evrybody wants him to fail! Without playing a game, of all the players who I like to see getting PUMPED every Season, Caymanmew 'The Fish' has inserted himself right up there alongside 'The Mouth' Clanlord Carl. And that is quite a feat!
League 25 Average Rank: 1616 Runners: 10
This is the League that most
New Players
are starting in. 5 of them, 1/2 the League. As such, it is actually the
HIGHEST RANKED
Lower League in The Super League! With 10 Players with an average Rank of 1616 the competition will be stiff. But, who is going to come out on top, The
Journeymen Super League Players
, or the
New Blood????
Only time will tell......
For Everybody else, go to The
'LIVE' Scoreboards
, then......:
1. Check out this Saeasons Tables to see where you ended up.
2. Go to the S14 Set Up Tab to make sure you are heading for the correct League next Season, Check out your competitors.
3. Check out the Average Rank of all Super Leagues in the S14 Av Rank Tab to see how your League compares.
KICK OFF:
Season 14 is set to
KICK OFF
on
MONDAY 3rd JULY.
Match Days 01-03
will be set up for all players. 3 Match Days comprise
12 Games
.
AWAY
Players will be invited 1st and
HOME
players are invited last. For New Players, read the
HOME
and
AWAY
Rules so you know what your doing:
https://www.conquerclub.com/forum/viewtopic.php?f=90&t=239478
From now The Super League Team is working on next Season to make sure it runs smoothly.........
Anila8
: Building the Tournament Management Platform and Auto Game Set Up App on Excel.
Softbelly
: Working on New Graphics (to be ready in time for the following Season in 2 months time).
EweBasher
: Continually working to improve The Google Sheet.
Craig25
: Reading all my old Joke Books for new material.
Bilbo1_OC
: Hopefully buying his 1st Joke Book.
Clanlord Carl
: Ramping up the Trash Talk to insane levels on the Super League and Super Cup Forums!
Okay Troops,
GOOD LUCK
for the coming Season. For
New Players
, if you have any questions, just ask!