V13
(page 11 )
large
small
______________________________________________________________________________________________________________________
This is a map of the supercontinent
Gondwana
from around 200 Mya when it was created due to the split of Pangea into Gondwana and Laurasia.
Since there has been some talk of this map but none actually made I though it was a good opportunity to create one. The parts of Gondwana that will eventually become the countries we know today can be seen easily in the supercontinent however i had to brake them up for better gameplay.
I have also added a Island at the top of the map as a sort of gate way between corners of the map. The idea is that no one can hold it, as it is a killer neutral 1, but allows people to get around/adds more borders as you can travel to and from it from specific places on the map(ports). Though humans were no existent at the time i have added bridges and ports to create links over rivers and a way to get to the island.You cannot travel directly between ports but holding all gives a bonus 5. Another way to do this would be to draw natural bridges (fallen trees or something) and water currents/whirlpool type things to get to the island and back.
There is 52 territories + the Island
9 Regions
6 Ports
Rivers, Mountain Ranges, and forests have been added to restrict territory borders
No starting locations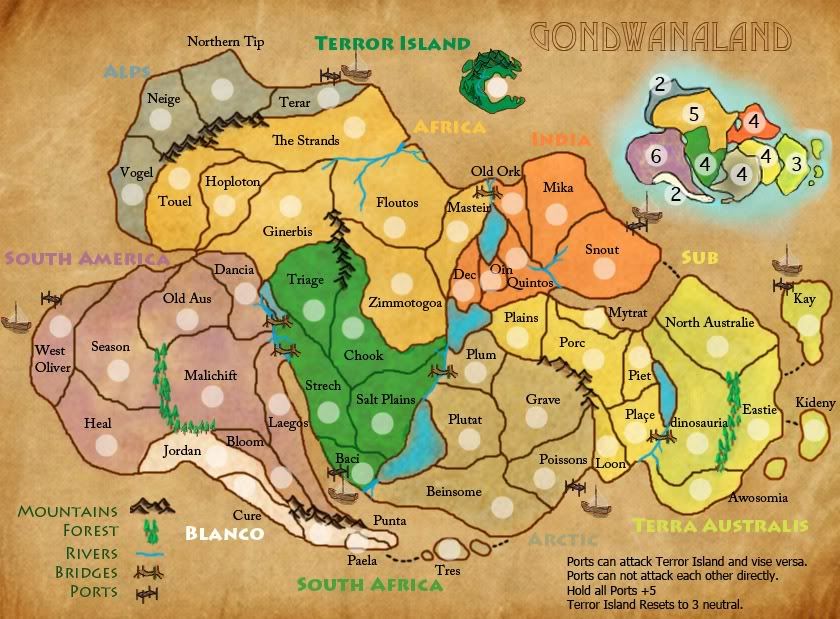 map created on Photoshop
reference to this map:
http://commons.wikimedia.org/wiki/File: ... ap_ger.png