stamps:


NEW GAMEPLAY
usually the dice decide the winner of a game. i have seen it many times. unlucky guy starts game deploys 3 attacks 6v3 and it ends 2v3. lucky guy attacks 6v3 and takes it with few or no losses. in some cases 2 rolls in the first round of the game already decide the winner. that's bad. but what can we do as map makers to balance the game and try to remove the random aspect? well a first step was the conquest gameplay where initial deployment doesn't matter and nobody can complain the opponent started with australia from round 1. but even on those maps a few bad rolls still matter a lot.
well what does anybody tell you when you start complaining about dice? "it's just a streak it will even out in the long run"
based on that assumption i have decided it's not worth losing 3-4 games because of bad dice until you reach the good streak of dice. so i have decided to cut the long run short and bring it to the present. how? by increasing the number of armies on the map.
imagine a 5v3 attack. roll once and if you lose 2 you stop the attack. that's crap. what if instead of rolling 5v3 you roll 50v30. will it matter if the first roll you lose 2 armies? heck no because you'll still have 48 left.
so i have decided to multiply all the armies on the map by 20 as well as changing the gameplay a bit by returning to the original idea of owning just a home and a shop in round1.
so here are the details:
each player starts with a home and a shop of his home color.
house = +40 autodeploy (starts with 40)
shop = +40 (starts with 60)
sub starts with 60
non important terits start with 40
arsonist starts with 100
manor and mall start with 300.
whole block = +60
matching shops = +40
as for the terit # bonus it will be zero because i like the rent idea. how about each non important terit gives +10 as rent? and it's autodeployable cause you have to go collect it there.
DiM wrote:here are the final images + xml

small

http://i178.photobucket.com/albums/w250 ... copy-5.png

large

http://i178.photobucket.com/albums/w250 ... opy-13.png

small88

small8888

large88

large8888

xml:

http://www.sendspace.com/file/x84f8b

i know the quadruple digits on the small version look a bit cramped but that's the best i can do under the circumstances. but basically such occasions will probably never exist because there's no point having thousands of armies next to eachother.
V18
removed the cc manor arsonist
made part of the xml. i still have to do the army coords and yeti has to do the bonuses.
small
large
v17
large and small with a lower opacity middle fingerprint.
large: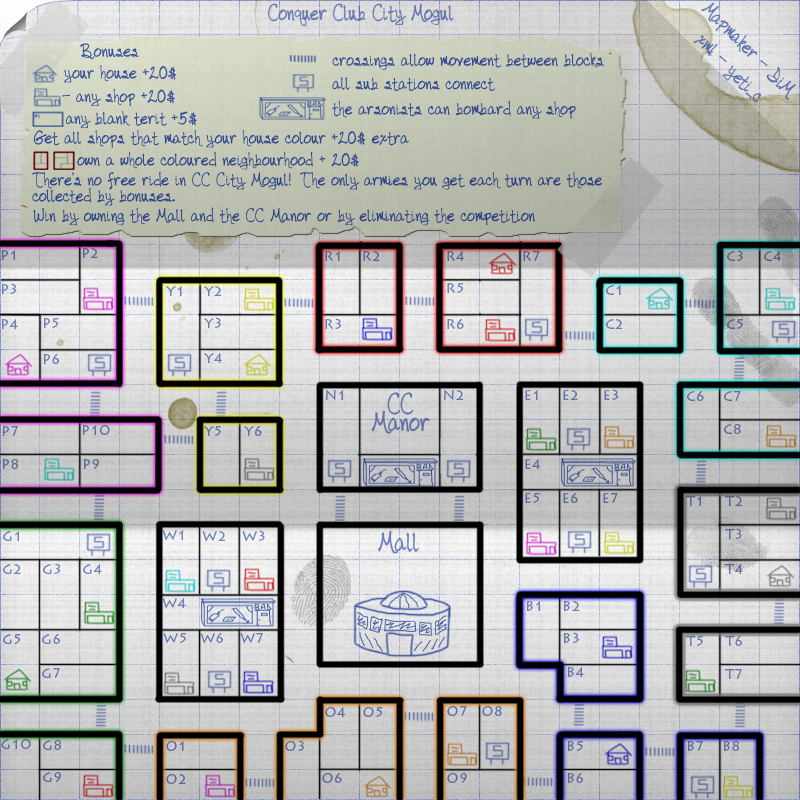 small:
v16
small and large with solved transparency for the sticky tape
i don't really want to make the paper look any older than it is for 2 reasons.
1. it isn't some kind of ancient treasure map it's just a simple 5 years old whiteprint
2. the coffee stains, the fingerprints, the creases folds and curled corner are enough for the old and used feeling.
large
small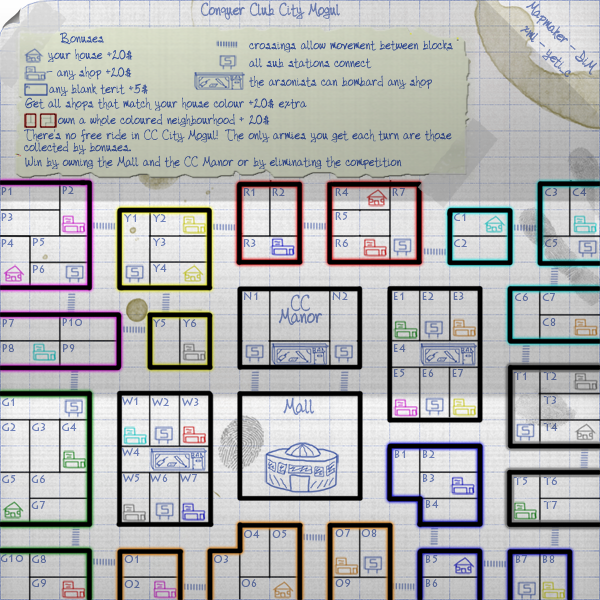 V15
fixed text
created small
large: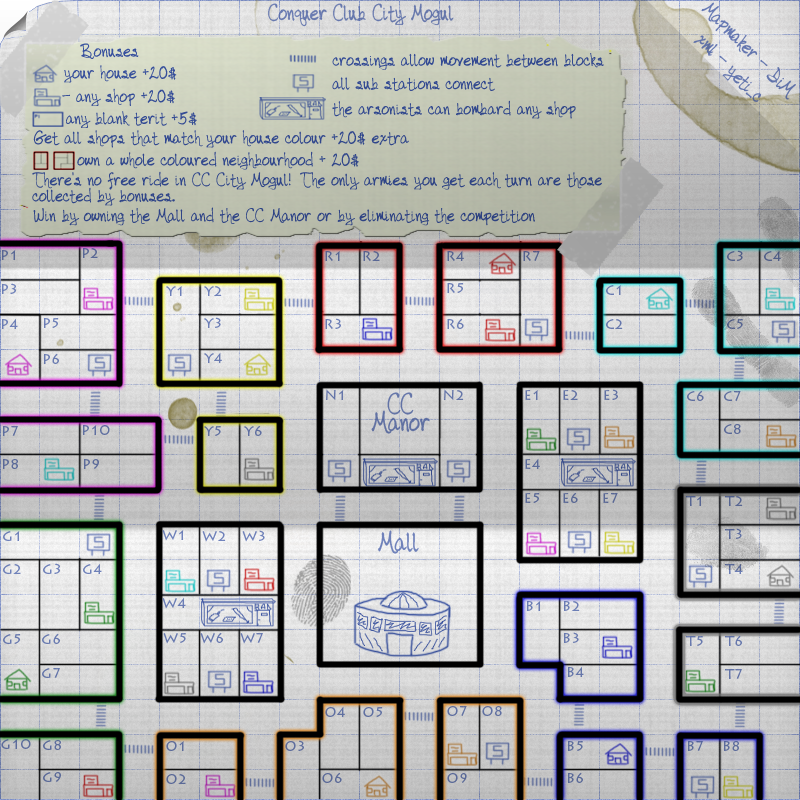 small: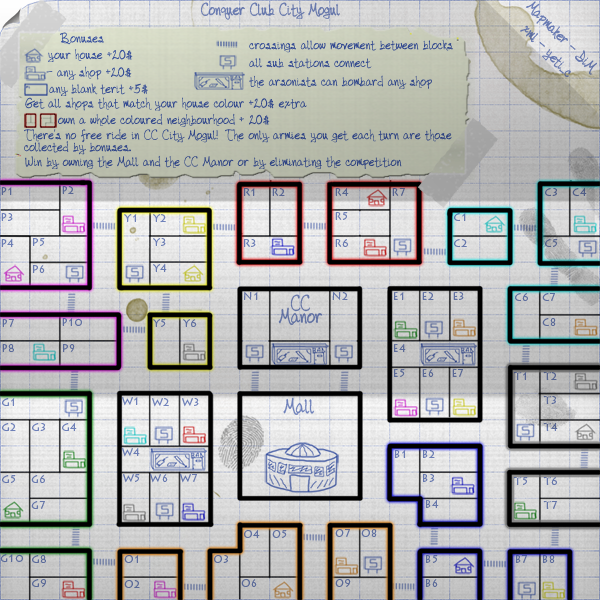 v14
*changed the legend to reflect that there's no terit bonus.
V13
ok so i have managed to play just a few games with my friends but i played other games with myself (don't think dirty thoughts). to be honest i haven't managed to reach a conclusion. i have tried the map with a 20 multiplier with a 10 and with 5 and it played almost the same (a bit more aggressive with the 20). not knowing exactly what needs to be done here i'm deciding on the lowest multiplier. that's 5. after a few games are played perhaps i will up it to 10 or more based on feedback received. i guess it's better to start low and then increase if necessary. so here's another update with a 5 multiplier:
-changed the multiplier to 5
-changed the neutral values
-changed the neighbourhood bonus.
-tweaked the curled corner.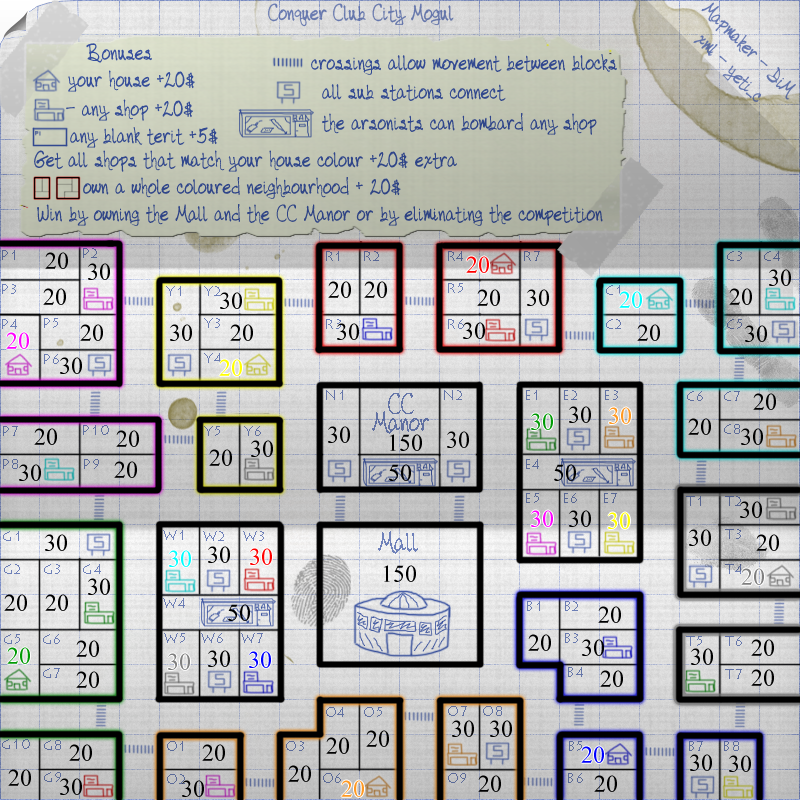 V12
removed the cookie and dice
moved the hand print
fixed legend
changed neutral values and bonuses
image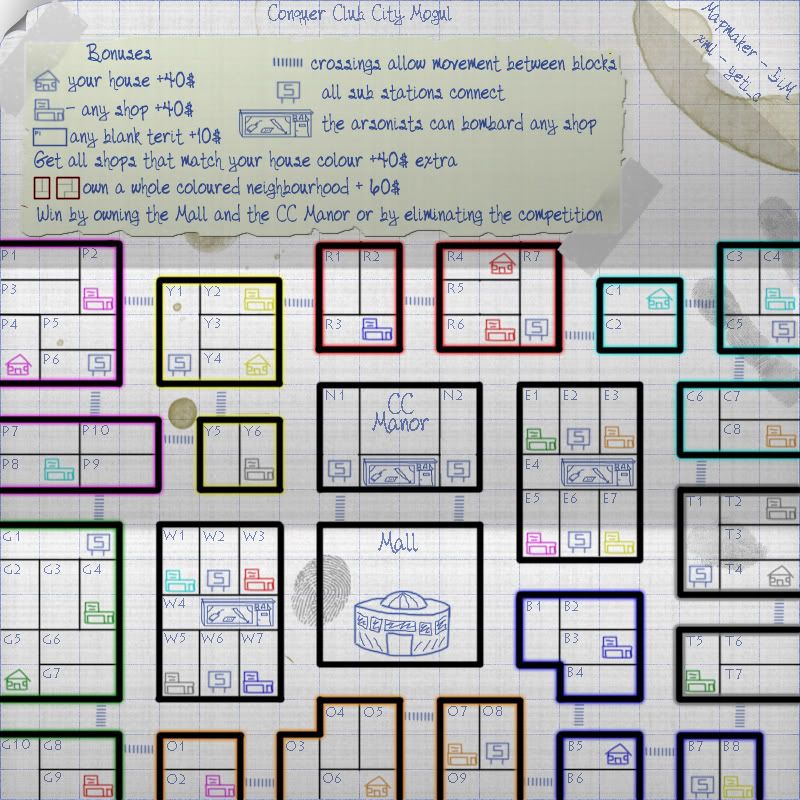 v11
after trying glows and strokes and stuff like that on icons i found nothing that looked good. so i started tweaking the background but by making it lighter and lighter i totally strayed from the blueprint feeling so now i give you the whiteprint (cairns and yeti please shut up)
if anybody still has issues seeing icons or text then i'll officially tell you you're blind as a bat.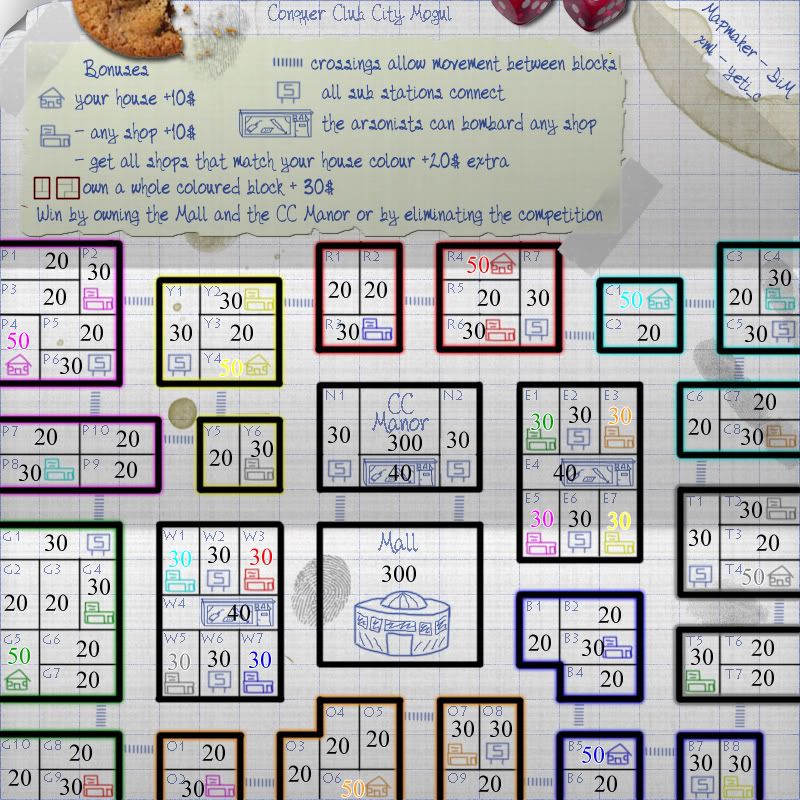 V10
tweaked the gameplay and changed some borders. now the enemies are right in next to you in a very weird situation.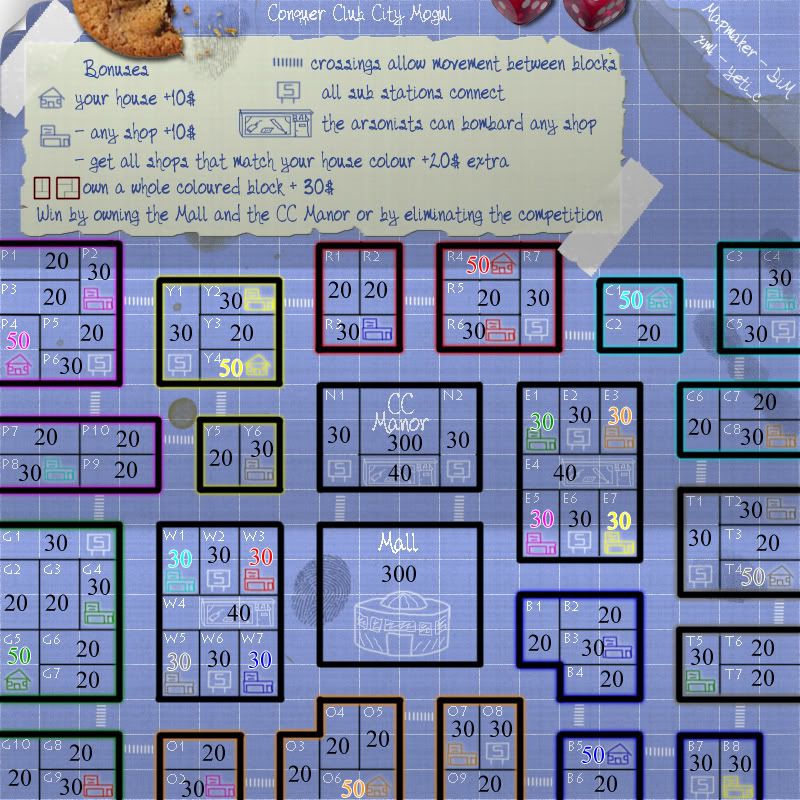 here is V9
updated gameplay
fixed crumbs shadow.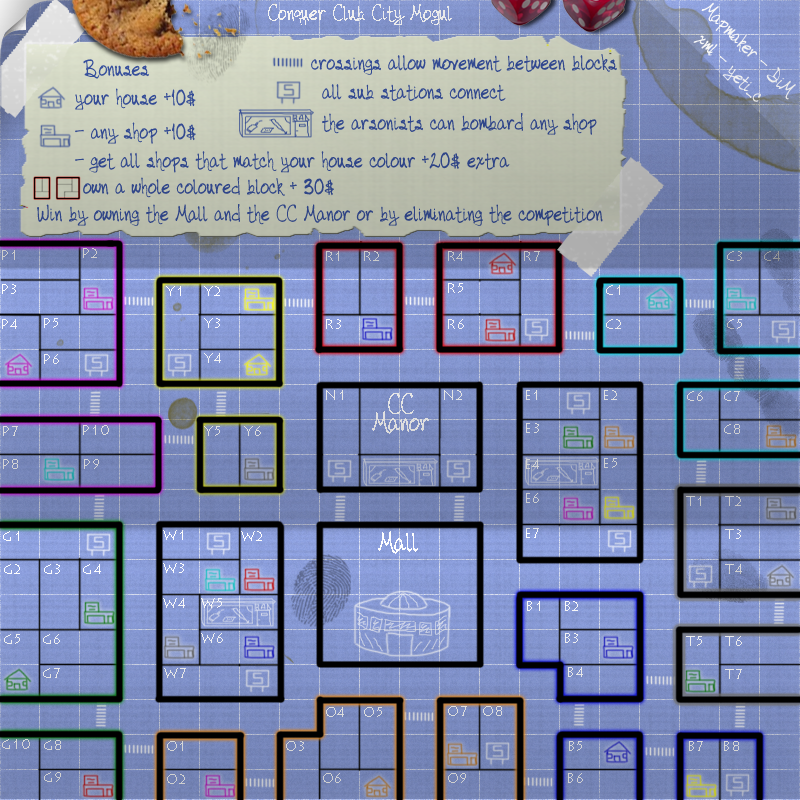 total # of terits: 84
each player will have a home and several other terits that aren't declared as starting neutrals.
each home will have 5 troops.
the following terits will start as neutral:
mall - 15
manor - 15
arsonist - 5
subways - 3
shops - 3
you got an apartment and dad's old trinket shop in CC City. the shop only makes around 1k per month. barely enough to survive let alone fulfil your dream of being the richest man in town. so using those money and cunning strategy you start taking over other small businesses. get more profitand ultimately get yourself the dream house CC manor and a mega shop in CC mall.
to help you along the way there will also be various "individuals" that once under your payroll will sabotage the competition. as they say all is fair in love and war. and this is both love (for the money) and war (to kill the competition).
the image is crappy. i know. don't even comment on the graphics they will come in due time. what i want is GAMEPLAY feedback.
there will be around 100 terits. the terits will have 1 or 2 squares. for example the subway is 1 square but your home is 2 squares, etc.
each player starts with a house and a shop all the rest are neutral.
your shop will give you 1k$ per month.
1k$=1 troop.
1 month=1 turn.
all the subway stations will connect
no diagonal attacks inside a block.
movement between blocks is made via subway or by crossing the street where marked with a crossing sign.
all over town there will be various other shops to buy (conquer) and each will bring a small profit of 1k. getting a whole block will mean you have managed to get loyal customers in that block and that will double the income from the stores you own in that block.
there will be 5 store types in the city each with 4 shops. get all the shops of the same kind an you have a monopole on that certain product. profit goes up 50%. so instead of getting 4k$ you get 6k.
also to help you on the way to glory there will be various "not so legal" businesses that can "take care" of competition.
arsonists, thieves, extortionists, etc. they can bombard any shop of the competition but because the police is watching closely 10k$ you leave on the premises of those "shops" will be given to the police as bribe each turn. (this actually means there will be a decay of 10 troops per turn on those terits

)
here's the image. and again please i don't want comments on graphics. i want feedback on gameplay. i know the image lacks even the basic stuff like terits and names but before i add those i want to see if the idea is liked, then i'll add those and we'll fine tune the gameplay.
V8
changed all colours to the new ones introduced on CC
added cookie
added 2 more arsonists on E4 and W5
reduced map to 800*800
various other tinkering.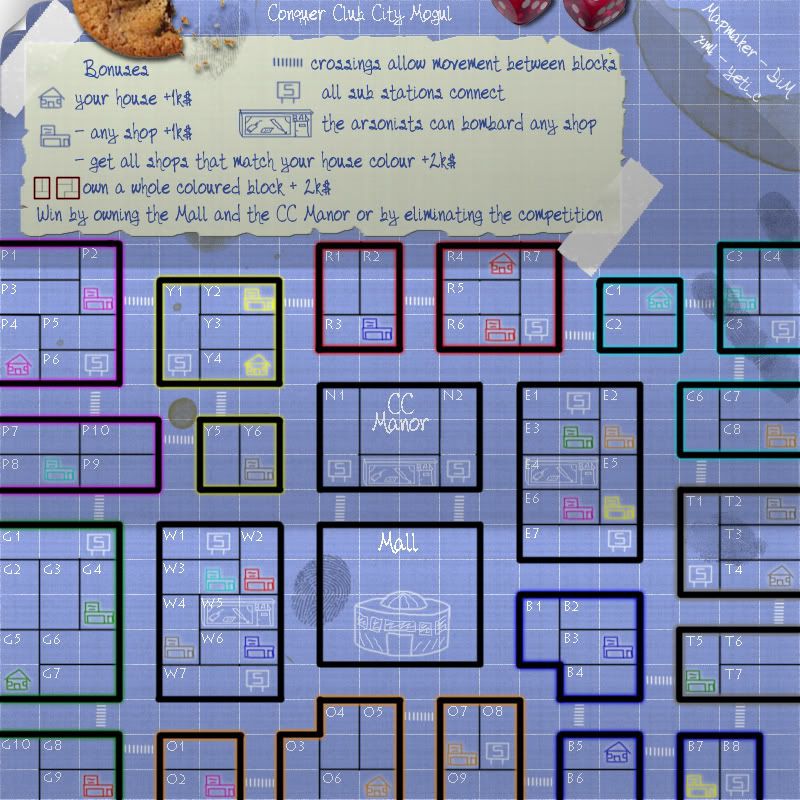 V7
curl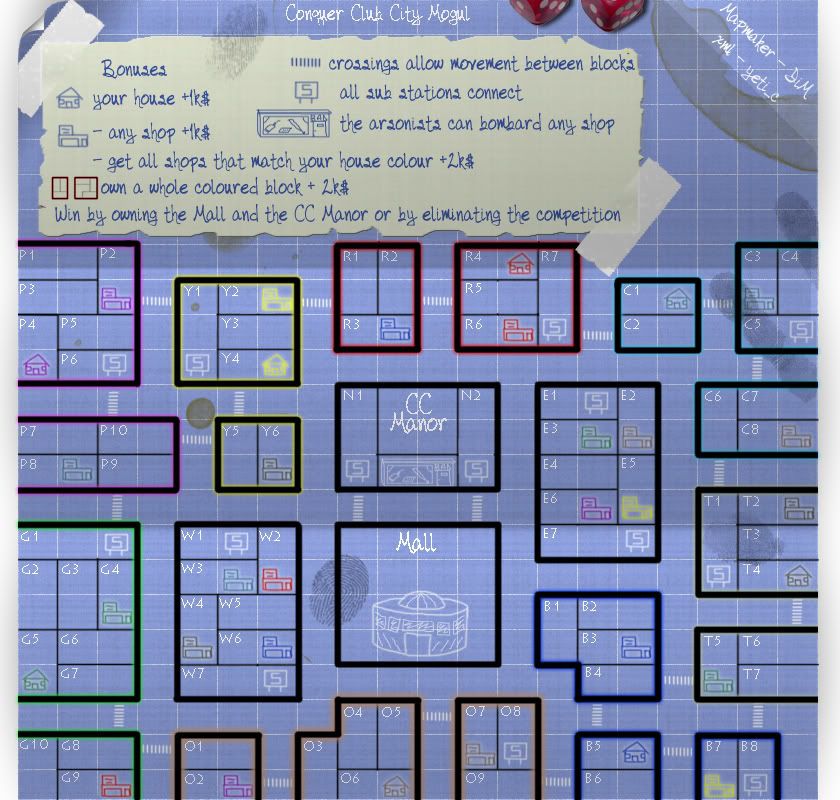 V6
new coffee stains, fingerprints and dice.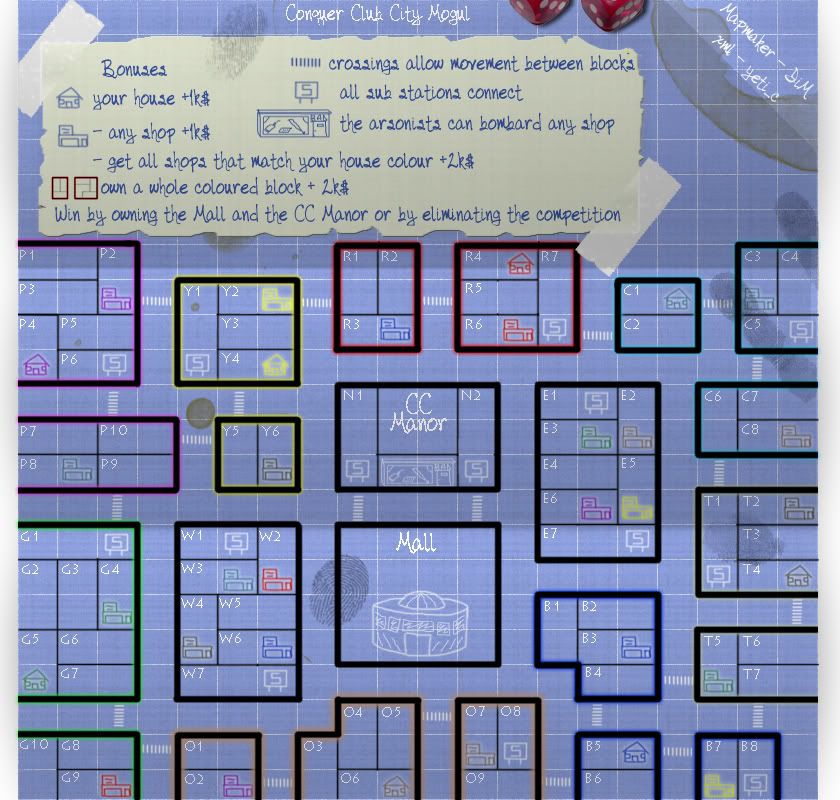 V5
added a few folds and creases to create a 3d aspect to the blueprint

V4
i added terit names. removed the park, and that's about it.
the following terits will start as neutral:
mall - 15
manor - 15
arsonist - 5
subways - 3
shops - 3
each player will start with a home and the rest of the terits will be randomly divided.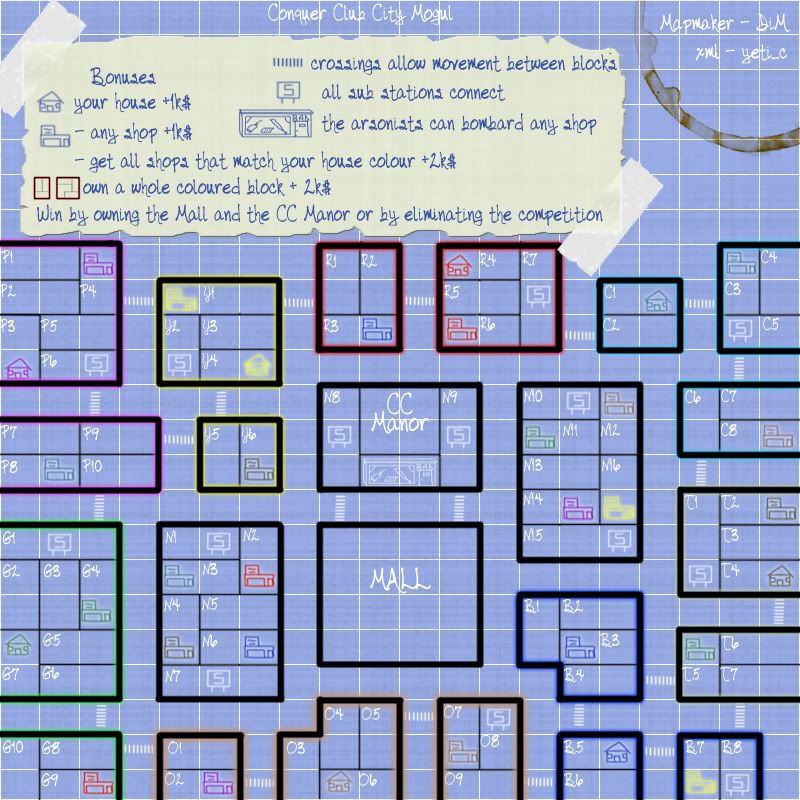 v3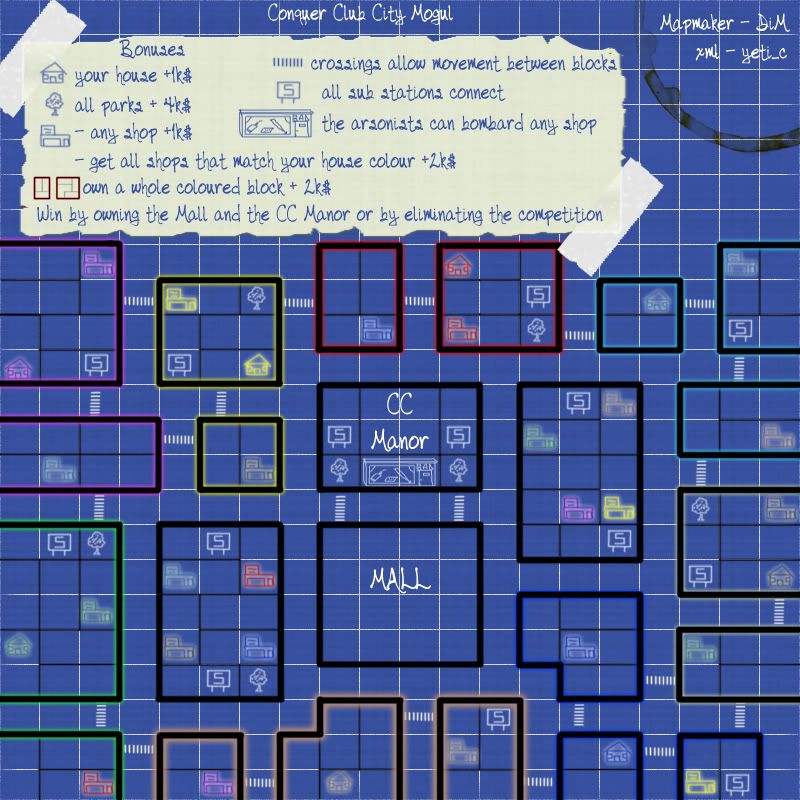 v2 new gameplay: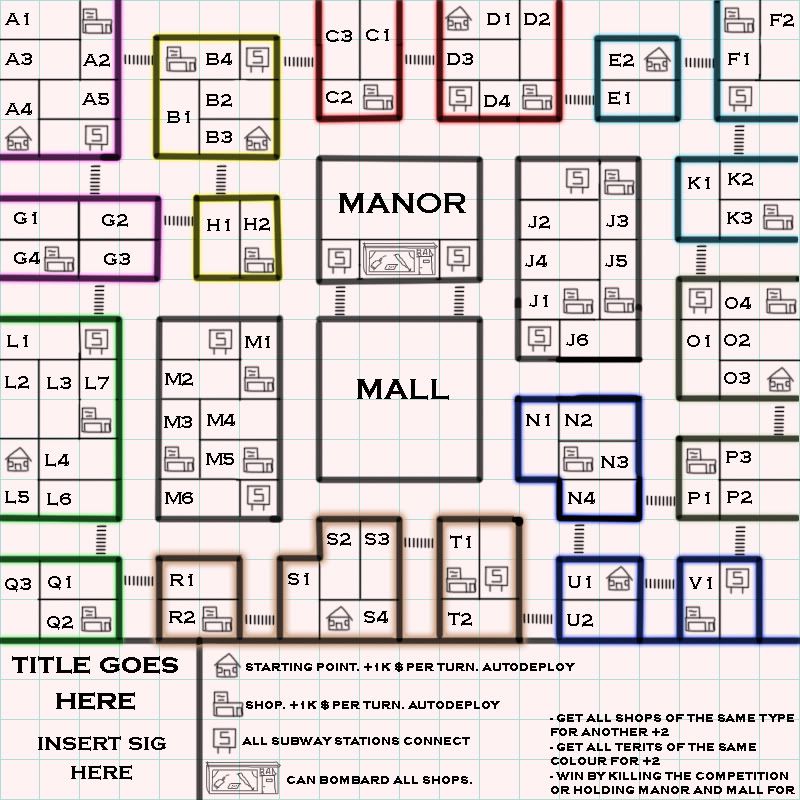 v1. new image with shops homes crossings,etc.