CAIRNS METRO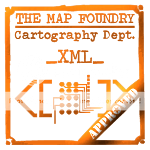 Current Version 17
Starting Neutrals
City View, Kamma and Lake Morris East are the starting neutrals as of 6 Jan 2010.
This has not changed for several months since shortly after the map went live.
Original Version 1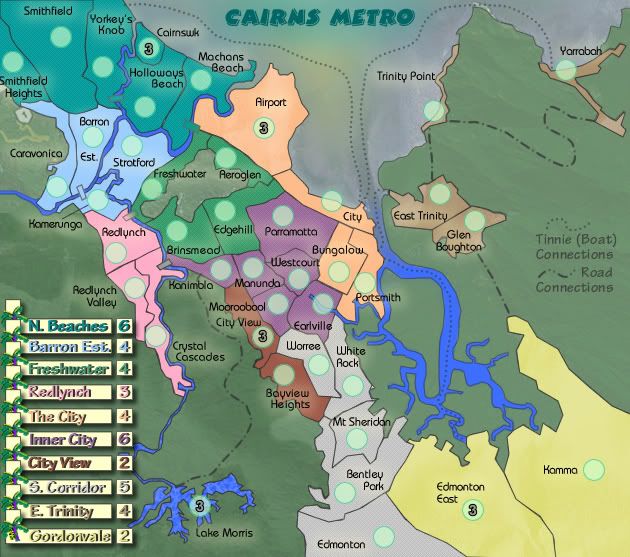 Why?
A map to accompany Cairns Coral Coast, and possibly part of a Metro around the World series suitable for tournies. Some of the territories will be familar from the Cairns Coral Coast map.
1. The number of territories currently on the map.
43 - 5 coded neutral starters - marked (flexible)
N. Beaches 6
Barron Est. 4
Freshwater 4 (now Mt Whitfield)
Redlynch 3
The city 4 (now CBD)
Inner City 6 (now Central)
City View 2
S. Corridor 5
E Trinity 4
Gordonvale 2
Lake Morris 2
2. The number of continents.
10 continents - lots of grabbing for everyone.
3. Descriptions of any unique features or areas.
Classic gameplay with some rivers and inlets providing barriers.
A Tinnie is a small boat, that what a lot of people have here in their backyards and it's suitable for mud crabbing and light-fishing in the river mouths and inlets.
The background sea area is the natural photo from Google and underneath the green non-playable areas are the mountains surrounding Cairns.
4. Possible Bonuses
Bonuses are not yet calculated. (now calculated)
Two poissible bonuses might include Lake Morris, Cairnswk (yes that's where i live) or the airport. See what's suggested.
Andy's banana tree from the Cairns Coral Coast map features in the legend <- well it used to, it's gone now, been chopped down, replaced by road signs instead.