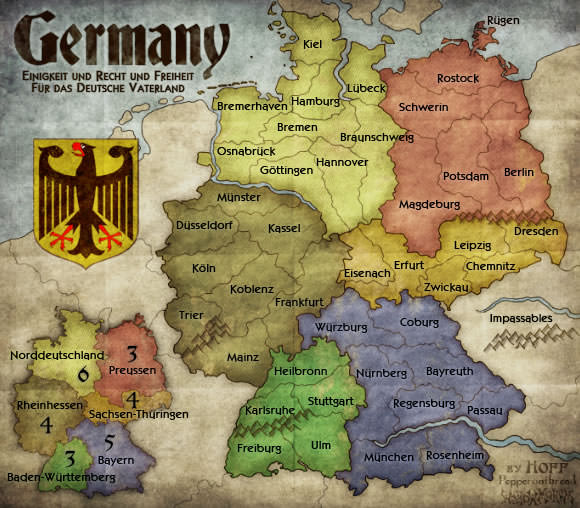 NOTE: This is a series of tournaments
This will be a massive tournament project that will consist of 64 qualifying tournaments that will see each winner advance to Kuma's CC Grand Championship Tournament
If you would like to be sent a notification when future qualification tournaments are posted, be sure to PM me and let me know. Participants will automatically be on the list unless I'm asked otherwise. New tournaments will be posted each Saturday to allow for open sign ups for all people. On each Friday, an update will be sent to the mailing list to update where each tournament stands and what tournaments are still open for sign ups.
Here are the basics on both tournaments:
QUALIFYING TOURNAMENTS
We will run 64 qualifying tournaments, each on a different map. Each will use the exact same settings and will be 4 player games with a max of 32 entrants. The focus for this tournament will be
GERMANY
Settings for all maps: Auto / Sunny / Escalating / Chained / Sequential
Winner and second place in each game move on until there is a final group of four. Winner of that match wins the qualifying tournament and advances to the Grand Championship once all the qualifying tournaments are finished. The runner up will be saved as a reserve should the winner not want to compete in the grand championship
GRAND CHAMPIONSHIP
Format will be 1 vs. 1 in an NCAA Tournament style bracket with each match consisting of a match on the map that each of the participants won on. Should the matches be split, a tiebreaker will be run on a random map. Winner advances.
THE PLAYERS