Official Monthly Challenge for November 2016
Brought to you by the Community Team
.
CLICK HERE TO JOIN WAITING GAMES - GOLD
CLICK HERE TO JOIN WAITING GAMES - SILVER
US Admiral, Richard Evelyn Byrd, with the assistance of his first pilot, Bernt Balchen, became the first person to fly over the South Pole on November 29, 1928.
The Ceremonial South Pole is an area set aside for photo opportunities at the South Pole Station. It is located around 180 metres (590 ft) from the Geographic South Pole, and consists of a metallic sphere on a short bamboo pole, surrounded by the flags of the original Antarctic Treaty signatory states.
The first attempt to find a route from the Antarctic coastline to the South Pole was made by British explorer Robert Falcon Scott on the Discovery Expedition of 1901–04. Scott, accompanied by Ernest Shackleton and Edward Wilson, set out with the aim of travelling as far south as possible, and on 31 December 1902, reached 82°16′ S. Shackleton later returned to Antarctica as leader of the British Antarctic Expedition (Nimrod Expedition) in a bid to reach the Pole. On 9 January 1909, with three companions, he reached 88°23' S – 112 statute miles from the Pole – before being forced to turn back.
The first men to reach the Geographic South Pole were the Norwegian Roald Amundsen and his party on December 14, 1911. Amundsen named his camp Polheim and the entire plateau surrounding the Pole King Haakon VII Vidde in honour of King Haakon VII of Norway. Robert Falcon Scott returned to Antarctica with his second expedition, the Terra Nova Expedition, initially unaware of Amundsen's secretive expedition. Scott and four other men reached the South Pole on January 17, 1912, thirty-four days after Amundsen. On the return trip, Scott and his four companions all died of starvation and extreme cold.
In 1914 Ernest Shackleton's Imperial Trans-Antarctic Expedition set out with the goal of crossing Antarctica via the South Pole, but his ship, the Endurance, was frozen in pack ice and sank 11 months later. The overland journey was never made.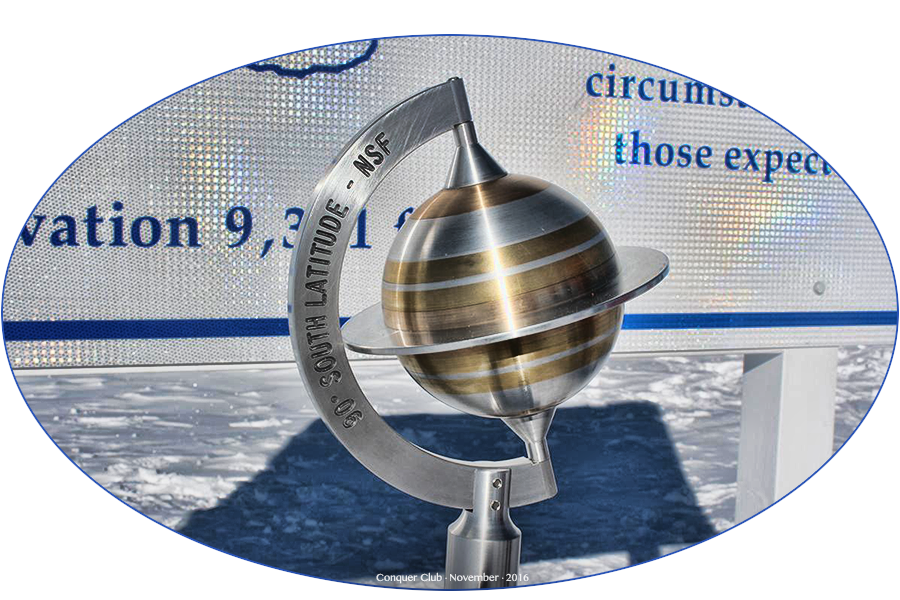 Rachael Kelly wrote:On January 1 of each year, scientists at The Amundsen-Scott South Pole Station spear a ceremonial pole through the snow to mark the newly-surveyed location of the geographical South Pole. Pictured is the 2016 pole marker, designed and built by machinist Anton Brown and engraved by Jeremy Bloyd-Peshkin. It was unveiled by the Canadian winter site manager Craig Knott. (Photo: Darren Lukkari/National Science Foundation)
Sources: Antarctic Sun, Wikipedia, Canadian Geographic
NO SIGN-UPS REQUIRED - Everyone is eligible!
Games must start between November 01 and November 30.
Settings
Maps:
Antarctica
Players per game:
4, 6, 8
Game Type:
Doubles
Initial Troops:
Any
Round Limit:
Any
Play Order:
Any
Spoils:
Escalating, Nuclear, or No Spoils
Reinforcements:
Any
Special Gameplay:
FOG - MANDATORY

; TRENCH - optional
Round Length:
Casual [24 Hour]
Medal Criteria
Tokens are for
WINS
only.
73 points
are required for a medal.
Each

GOLD

Token is worth 11 points
-
NO SPOILS or NUCLEAR SPOILS
Each

SILVER

Token is worth 3 points
-
ESCALATING
Wins will be counted until December 31.
NOVEMBER SCOREBOARD
Notes