Official Monthly Challenge for June 2017
Brought to you by the Community Team
.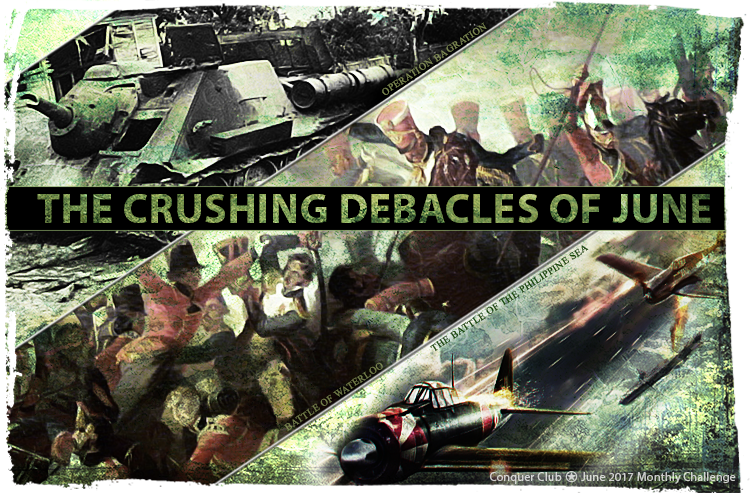 The Crushing Debacles of June
Some battles are really close. Many are so close they are essentially inconclusive. Others are decisive victories, but the losing army manages to retreat in good order and pulls itself back together somewhere down the line. And then, there are those monstrous, crushing defeats from which there is no coming back -- defeats so totally cataclysmic, so utterly ruinous, that it seems as if Woden himself has strapped on a pair of steel-toed boots and is stomping on your nation's gonads.
This month's challenge focuses on three of the most decisive beat-downs in military history, three knockout punches so brutal and hard that the loser never really got back up again.
WARNING!

Read the rules completely before joining any games.
THE RULES
One win is all it takes for a medal, BUT, you may only make one attempt on each map. That's right. One attempt at each map, or three total. These are cataclysmic defeats from which empires did not recover. Neither will you. Once you lose, you've lost all hope forever. On that map, anyway. Join a second game on the same map and you've just disqualified yourself on that map.
Sometimes we have spam-a-thons where you can play hundreds of games to qualify. This month, you cannot. This is a choose carefully, play your best, and accept when you're defeated kind of Challenge.
Because we know that people have unavoidable commitments to Tourney, Clan, Tribe, or Usergroup games, none of those will count. Only games in the public pool are available for this Challenge. Any games with these settings started as a "random map" will also not count this month.
JOIN A MAXIMUM OF ONE GAME ON EACH OF THE DESIGNATED MAPS!
Click here to join Waterloo Games
Click here to join Oceania Games
Click here to join WWII Eastern Front Games
NO SIGN-UPS REQUIRED -- EVERYONE IS ELIGIBLE
Games must start between June 1st and June 30th, 2017.
SETTINGS
Maps:
Waterloo

,

Oceania

,

WWII Eastern Front
Players per game:
6 or more
Game Type:
Standard or Terminator
Initial Troops:
ANY
Play Order:
ANY
Spoils:
Escalating or Nuclear
Reinforcements:
Unlimited
FOG:
ANY
TRENCH:
NO
Round Limit:
30
Round Length:
Casual [24 Hour]
Joinability:
Public Only
Medal Criteria
One Gold, Silver, or Bronze token is sufficient to complete this Challenge and qualify for the Challenge Achievement medal.
In other words, one win = CA medal.
Gold Token -

Waterloo

Win

: +25 points
Silver Token -

Oceania

Win

: +22 points
Bronze Token -

WWII Eastern Front

Win

: +20 points
------------------------------
Orange Token -

Waterloo

Join

: -1 for first one, -75 for the second.
Blue Token -

Oceania

Join

: -1 for first one, -75 for the second.
Red Token -

WWII Eastern Front

Join

: -1 for first one, -75 for the second.
JUNE SCOREBOARD
Notes