Official Monthly Challenge for October 2017
Brought to you by takman2k and the Community Team
.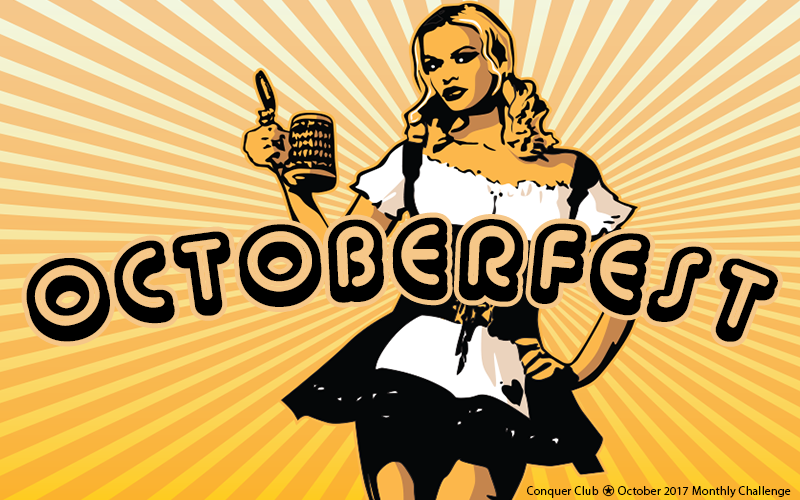 CLICK HERE TO JOIN WAITING GAMES - GOLD
CLICK HERE TO JOIN WAITING GAMES - SILVER
CLICK HERE TO JOIN WAITING GAMES - BRONZE
HISTORY wrote:Bavarian Crown Prince Louis, later King Louis I of Bavaria, marries Princess Therese von Sachsen-Hildburghausen. The Bavarian royalty invited the citizens of Munich to attend the festivities, held on the fields in front of the city gates. These famous public fields were named Theresienwiese—"Therese's fields"—in honor of the crown princess; although locals have since abbreviated the name simply to the "Wies'n." Horse races in the presence of the royal family concluded the popular event, celebrated in varying forms all across Bavaria.

The decision to repeat the festivities and the horse races in the subsequent year gave rise to the tradition of the annual Oktoberfest, which now begins in late September and lasts until the first Sunday in October. Alcohol consumption is an important part of the modern festival, and more than 1 million gallons of beer are consumed annually at Oktoberfest.
Source: HISTORY
NO SIGN-UPS REQUIRED
SETTINGS
Maps:
Germany

,

USA Great Lakes

,

Japan

,

Australia

,

Mexico

,

Three Kingdoms of China
Players per game:
2, 4, 6
Game Type:
Standard and Doubles
Initial Troops:
ANY
Play Order:
ANY
Spoils:
FLAT RATE OR NO SPOILS
Reinforcements:
ANY
FOG:
ANY
TRENCH:
NO
Round Limit:
20 or 30
Round Length:
Casual [24 Hour]
Joinablility:
Public Only
MEDAL CRITERIA
Tokens are for
WINS
only.
20 points
are required for a medal and at least
ONE of each token type
.
Each

GOLD

Token is worth 7 points
-
6 Player
Each

SILVER

Token is worth 3 points
-
4 Player
Each

BRONZE

Token is worth 1 point
-
2 Player
PRIZES AND FAQs
OCTOBER SCOREBOARD
Notes