A View to a Kill
Player list, groupings, and individual games listed by Phase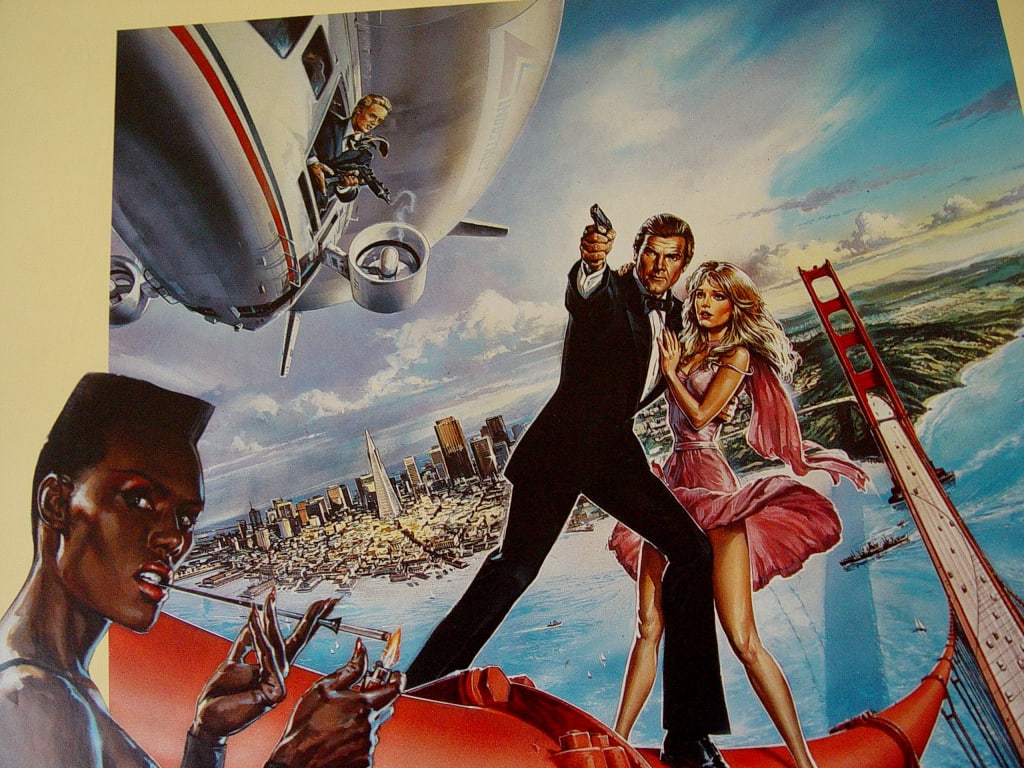 I've been given the tremendous honour of starting off the new reboot of the TPA series, and making this year's first TPA tournament. I decided to launch with a non-mixed tourney entirely composed of sunny assassin escalators. Assassin games a a big part of Conquer Club and fun to make tournaments with. When making assassin games, I much prefer sunny games to foggy ones. Playing assassin in the fog feels like Blind Man's Buff and has always been very unsatisfying to me; I much prefer to see what's going on and not have to make decisions by guesswork. I toyed with the idea of throwing in some nuclear games and some oddball forting options, but in the end I've opted to keep it simple and go with basic default settings -- automatic, sequential, escalating, chained, no fog, no trench. The only non-default settings are the choice of assassin rather than standard as the game type, and the addition of a round limit.
Once I had settled on sunny assassin, the title A View to a Kill, from the James Bond movie of that name, almost forced itself into my mind. The reasons should be obvious, but to make it explicit, View because it's sunny and you can see what's going on, and Kill since we are being assassins, just like 007.
Players:
48 players will be entered into the tournament. Some will be eliminated after every phase. Premium is recommended but not mandatory: if you wish to play you must explicitly agree to keep one slot open for this tournament. If you fail to accept your invites because you did not keep an open slot, you will be removed (see Basic Rules, below.) If and only if a freemium makes it to the Finals on his own merits, I will gift him 3 months premium so that he can participate in the Finals.
Basic Rules:
Each phase will feature Assassin games on maps as specified in the detailed phase descriptions. After every phase, the player that has been assassinated in each game will be removed from the tournament. Exceptions:
If someone kills the

wrong target,

the killer will be removed from the tournament instead of the player killed. It is recommended that if you are killed by someone incorrectly, you post in the tournament thread. I will be reading logs and looking out for incorrect kills, but mistakes do happen, so please help me out.
If a game goes to the round limit, the player eliminated will be the player with the fewest troops at the end. Try not to be a bonehead and let it go to the round limit -- the limit is there just as a failsafe mechanism. I really hope no game will go longer than 12 or 15 rounds.
In addition, deadbeats and players who do not accept their invites within a reasonable time will be removed from the tournament (generally accepted reasonable time is 2 invite attempts or 48 hours) but I will be flexible with this rule and
may
accept plausible excuses (at my sole discretion) that are promptly posted in the tournament thread.
All groupings will be randomized using the list randomizer on random dot org. Groups will be rescrambled after every phase.
Settings:
Assassin games, automatic, sequential, escalating, chained, no fog, no trench, 30-round limit.
Game Load:
Most of the tournament (every phase until the Finals) is just one game at a time, making this a nice light tourney. Only if you make it to the Finals will you be faced with a grueling final round of 11 games at once.
A View to a Kill, the phases:
At the beginning of the movie, we see 007 in Siberia. He recovers a microchip from the dead body of agent 003, who was killed while securing the chip.
8 groups of 6 players. Map: Transsib 1914.
The chip liberated from the Soviets turns out to be made by Zorin Industries. Max Zorin pretends to be a staunch anti-communist; Bond and his fellow agents begin to suspect that perhaps Zorin is something different than he pretends to be. Bond travels to the Ascot Racecourse to observe Zorin, who has a horse in the race.
8 groups of 5 players. Map: Circus Maximus.
Bond and another agent go to France to investigate Zorin more closely. Achille Aubergine, a private detective who gives them information, is murdered by May Day, Zorin's private bodyguard, leading to a chase up the Eiffel Tower and a car chase through Paris.
4 groups of 8 players. Map: France 2.1
In two different scenes, we learn that Zorin was working for the KGB, but has now gone rogue. In the second of the scenes, we find out that he is the result of steroid experiments conducted by Dr. Carl Mortner, a Nazi scientist who was scooped up by the KGB at the end of WWII.
4 groups of 7 players. Map: Stalingrad
Many clues lead to San Francisco. Bond is not sure what Zorin is up to, but it is nefarious and San Francisco is the key. Bond goes to California and investigates an offshore oil rig controlled by Zorin, which sets up the obligatory underwater combat scene. In an unusual twist, however, Bond is not a participant in the underwater fight, but a spectator, as a KGB agent trying to blow up the rig is captured and killed by Zorin's men.
4 groups of 6 players. Map: Treasures of the Galapagos.
Bond teams up with super-hot geologist Stacy Sutton, and together they figure out that Zorin is planning to flood the Hayward and San Andreas faults, triggering a massive earthquake and destroying Silicon Valley so that Zorin industries can corner the world's semiconductor market.
4 groups of 5 players. Map: California.
Having dispensed with the obligatory underwater fight a few scenes ago, we are now ready for the obligatory mining tunnel fight, as Bond attempts to infiltrate Zorin's mines. Everything from fisticuffs to explosions.
4 groups of 4 players. Map: Draknor - Level 1.
Zorin flees, but not before betraying most of his minions. He shoots a lot of them just for the sheer joy of watching them die, and then leaves the rest trapped in the tunnels, with the detonator on his main explosives batch counting down. May Day realizes that she's been betrayed, and she helps Bond try to remove the explosive trigger. It's not a nuclear bomb, but if it had gone off the catastrophe would have been just as bad as a nuclear strike on California.
4 groups of 3 players. Map: Duck and Cover.
Zorin takes Stacy hostage and escapes in an airship, but Bond manages to climb one of the mooring ropes and get on board.
2 groups of 4 players. Map: Steamworks.
After a nice cruise over San Francisco, Bond manages to wrap the airship's mooring rope around one of the cables of the Golden Gate Bridge.
1 group of 6 players. Map: San Francisco.
With the death of Zorin, not only are the British happy, but the Russians too! Bond is awarded the Order of Lenin for having helped to bring down this dangerous rogue KGB agent.
1 group of 5 players. Map: Soviet Union.
The Finals:
If you're keeping track, four players now remain. They will have a showdown, playing 11 games at once, reprising the 11 maps played previously. If and only if a freemium makes it to the Finals on his own merits, I will gift him 3 months premium so that he can participate in the Finals.
In keeping with the "player killed is out" theme, the winner of the tournament will not necessarily be the player who wins the most games in the Finals, but
the player who is killed the fewest times.
Finals Tiebreakers:
If there is a tie for "player killed the fewest times in the Finals" it will be broken as follows:
Player who won the most games in the Finals;
Player killed the fewest times in the main body of the tournament;
Player who won the most times in the main body of the tournament;
Player who won the California game in the Finals (saving California being a very important part of the plot!)
Player list, groupings, and individual games listed by Phase