EGYPT UPPER




Current Version V14
Original Draft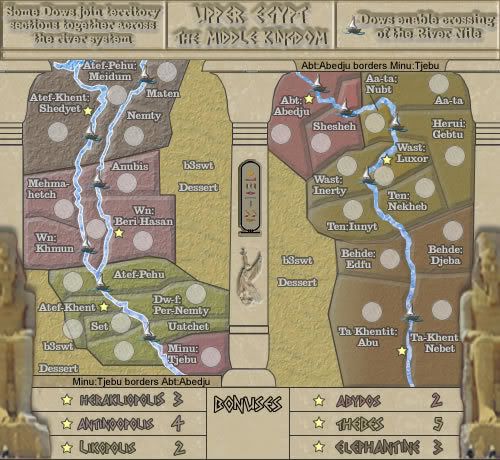 Why?
This is the second in the Quadtych series I plan on Egypt.
1. Lower Egypt
2. Upper Egypt
3. Nubian Kingdom
4. Valley Of the Kings (Already Quenched)
It is a continuation of the map recently started on Lower Egypt and has been started in the same graphical and gameplay position as where the Lower Egypt map is now up to.
1. The number of territories currently on the map.
Total 27
Herakliopolis - 4
Antinoopolis - 4
Linkopolis - 5
Abydos- 3
Thebes - 7
Elephantine - 4
2. The number of continents.
6 Continents
Bonuses are on the mini map.
3. Descriptions of any unique features or areas.
There are no particularly extraordinary features, except to say that the continents are named after re-knowned capitals for easy identification, and the territory names are from the 22 nomes of Upper Egypt, additioned to some of the major cities where two section of territory cross the river.
The cartouche in the middle is the same cartouche for the mapmaker, the symbol used below that is the winged vulture goddess of Upper Egypt Nehkbet. Other Glyphs will be added.
The columns will be style after the Lotus Flower columns prominent in Egyptian Architecture.
4. Map size.
Small - 580w x 442h
Large - 750w x 572h
Enjoy!