Sir. Ricco's WWII Tournament Series Presents…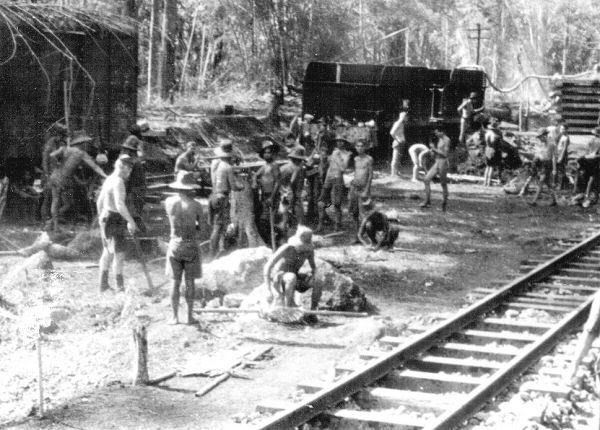 Bamboo Jack – The Death Railway
Time: June 1942
Location: Thailand and Burma
Story:
The Burma Railway, also known also as the Death Railway, the Thailand-Burma Railway and similar names, is a 415 km (258 mile) railway between Bangkok, Thailand and Rangoon, Burma (now Myanmar), built by the Empire of Japan during World War II, to support its forces in the Burma campaign.

Forced labor was used in its construction. About 60,000 Asian laborers and 100,000 Allied prisoners of war (POWs) worked on the railway. Of these, around 9,000 Asian laborers and 16,000 Allied POWs died as a direct result of the project. The dead POWs included 6,318 British personnel, 2,815 Australians, 2,490 Dutch, about 356 Americans and some Canadians.
Copied From Wikipedia.org
***Note This tournament will only feature "Bamboo Jack"***
Description
Welcome to "Sir. Ricco's WWII Tournament Series" or WWIITS. Their will be several tournaments in this series that feature a WWII map:
WWII Western Front – All Quiet on the Western Front [Winner: killmanic | Runner-up: colson]
WWII Eastern Front - War of Extermination [Winner: MostMackinest | Runner Up: Risky_Stud]
Pearl Harbor – A Day That Will Live in Infamy [Battle 3]
Bamboo Jack – The Death Railway [Battle 3]
WWII Gazala – The Fox Hunt [Sign Ups]
Battle For Australia – He's Coming South
D-Day: Omaha Beach! - The Longest Day
WWII Iwo Jima – Flag Raisers
WWII Ardennes Offensive – Battle of the Bugle
Berlin 1961 – Greater Berlin
The winner and runner up of each tournament will be asked to a final tournament, to decide the winner of the "WWII Tournament Series".
Status and Extra Information
This Tournament will only use the "Bamboo Jack" map

Number of players:

32

Requirements:

You must be Premium

Starting Date:

Once 32 Players have joined.
Game Play
There will be 32 players in this tournament. The 32 players will randomly be divided up into 8 divisions of 4. All games will be standard.
See the rest of the settings below

Battle 1 - Divisional Play
You will play 4 four player games in this battle.(All at once) The two players with the most points (See below) in their division will move on. You will also be seeded for the bracket in the next battle.
Score:
1st(4)
2nd(3)
3rd (2)
4th (0)
Battle 2 – Bracket Play
Form here on out the tournament will play like a 16 player bracket. All games will be two-player.
The remaining 16 players will be seeded against each other and play one game.
Winner advances!
Battle 3 – Quarter Finals
The remaining 8 players play one game.
Winner advances!
Battle 4 – Semi-Finals
The remaining 4 players play one game.
Winner advances!
Battle 5 – Finals
The remaining 2 players play three games. (All at once)
Winner Wins Tournament! Both players move on to Final Tournament!
Settings
The settings have been picked by cairnswk
Play Order: Sequential
Bonus Cards: Escalating
Fortifications: Chained
Fog of War: Yes
Final Note
Since all games are Fog of War the PMs will be sent in twos. Battle 2 through 5, the lowest seeded player will be asked to join first. Once he has joined the highest seeded player will then be asked to join.
Sign Up
Drunk_Idiot
Army of Achilles
Darin44
ilarry
dimeat
poptartpsycho18
peanutsdad
Risky_Stud
mrbang
lagger-no-1
ralphcptc
AtreidesHouse
R0k0v
BENJIKAT IS DEAD
lanyards
geigerm
Aggbock
erikiscool
killmanic
Wiggin
qwert
brandoncfi
Kimi Raikkonen
LLC22
sd031091
Lindax
Fix
testaxa
MudPuppy
Godd
AtreidesHouse
spidey
Reserves
Clericgs3
peanutsdad