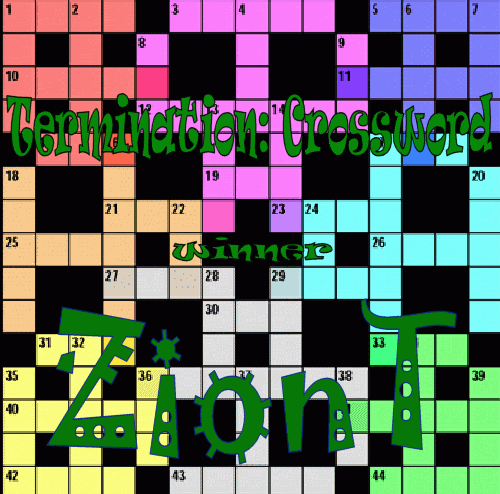 Termination: Crossword
Part VIII
***Opened for premium members only***
Termination tournaments have been a great series for me and I was always happy to see that they filled fast and people enjoyed them. But sadly they have depleted themselves for me and running them isn't fun anymore. Perhaps I will re-arrange the setup and continue them at some point later but right now I will make a pause in them. If there's somebody who is responsible and wishes to continue with this series then I'm happily sharing my data sheets and experience (I would actually be very glad if they were continued). For now, this will be my last termination tournament and, of course, what could be a better map for a grand finale than my favourite map - Crossword. This is also the only Termination tournament that I will take part in.
Setup
There will be 3 divisions
Each division has 12 players
Best 2 (highest score) from each division will advance to Final Termination (aka final 5 games) and the person who gets most points from those games is the winner of the tournament -

Crossword Terminator

.
Divisions will be put together according to players' points (score is checked an hour up to a few days before first games are made).
All games are made with the List Randomizer of http://www.random.org
Settings
Map:

Crossword


Players per game:

6


Play Order:

Sequential


Cards:

Escalating


Fortifications:

Unlimited


FoW:

Sunny


Number of games: 3 games per week,

overall 12 games

(for some, +5 final games)
Points
Terminating a player = 1 point
Tiebreakers
In case of a tie, a 5 game series will be played. Unlimited Reinforcements will be changed to Chained in here.
Just post to this thread that you wish in. Simple as that!
Notes
It's (still) a fairly simple tournament but if I missed something or you have any questions then PM me or post to this thread.

Foe List is ignored. If you wish to play in my tournament then you have to play with anybody who stands in your way
If you wish to drop out from the tournament then be polite - let me know about it. Don't just deadbeat!
If you need more time to joining games then let me know. I'm sure we can work out something
Notification list! If you wish to get a message when I launch a new tournament then please let me know about it (post about it to this thread or send me a private message)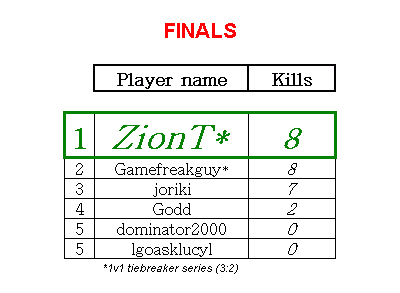 Previous Termination Tournaments: