CAESAR (THE ROMAN WORLD)
WINNER:
Pajarito




















Una historia apasionante
A gripping story
[mod edit]Image removed[/mod edit]
César ha sido asesinado. El gran Caudillo ha muerto. Roma se debate inquieta, la guerra civil se aproxima. ¿Podrás convertirte en el próximo César? Tu primera misión es hacer frente a la Guerra Civil inminente!
Caesar has been assassinated. The great leader is dead. Rome is concerned, the civil war is coming. Can you become the next Caesar? Your first mission is to fight in the impending Civil War!
MAP: IMPERIUM ROMANUM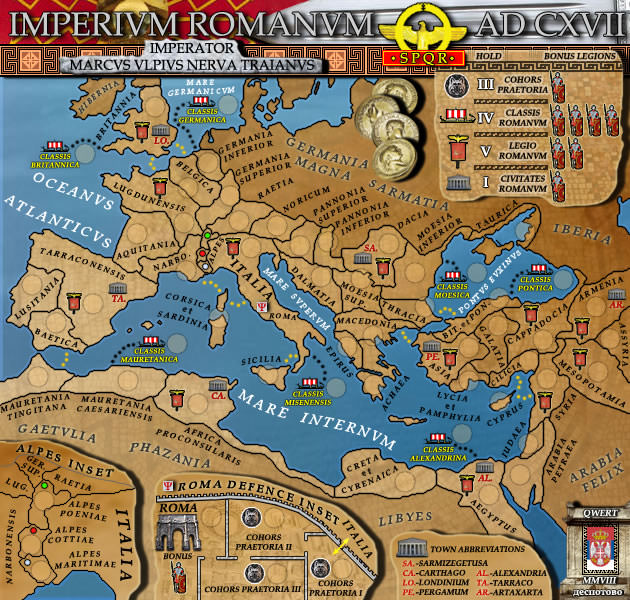 Estás ganado la guerra...pero la batalla decisiva será naval: Actium!
You are winning the war...but the decisive battle will be at sea...Actium!
MAP: ACTIUM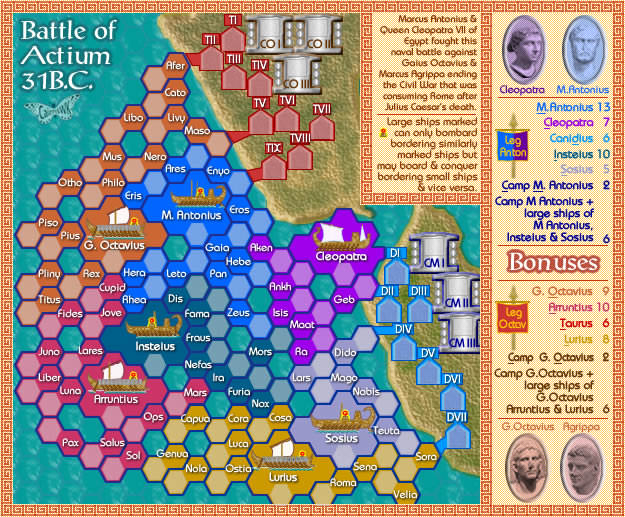 [mod edit]Image removed[/mod edit]
VENCISTE!!!! Los traidores han sido destruidos! Ahora debes organizar un Triunfo para hacer que el populacho de Roma sea feliz. Organiza los mejores Juegos que puedas, de ello depende tu futuro político. Si fracasas la plebe se pondrá en tu contra!
YOU HAVE WON THE WAR! The traitors have been destroyed! Now you must organize a triumph for the Roman populace! Organizes the best Games you can, it depends on your political future. If you fail the populace will be against you!
MAP: CIRCUS MAXIMUS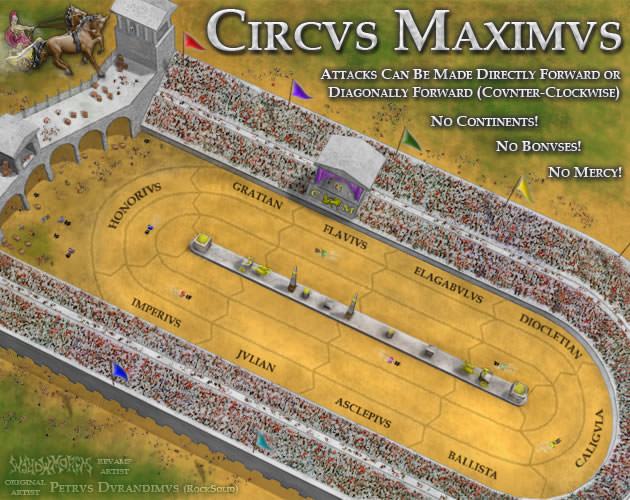 Los Juegos fueron un éxito! El populacho te adora!!!
Inicias el gobierno, pero pronto comprenderás que el peligro acecha. Entre los banquetes y las bacanales hay serpientes y venenos!!!
The Games were a success! The crowd loves you!
You start the government, but you soon understand that the danger lurks. Among the bacchanalian feasts are snakes and poisons!
MAP:POISON ROME
[mod edit]Image removed[/mod edit]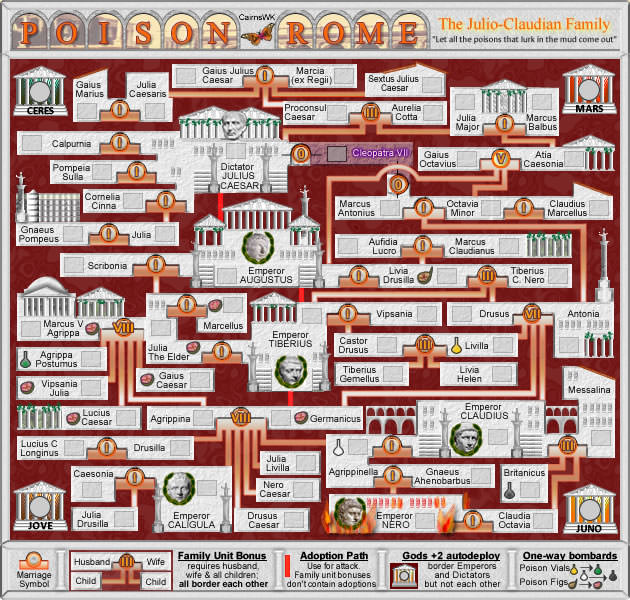 Has sobrevivido...ahora podrás descansar. Un momento, llegan malas noticias de Germania. En sus oscuros bosques un caudillo ha osado desafiar el poder de Roma. Debes reunir a las Legiones. Es la Guerra...de nuevo.
You survived ... now you can relax. Wait, bad news coming from Germania. In his dark woods a leader has dared the power of Rome. You must meet with the Legions. Here is the War ... again.
MAP: CONQUER ROME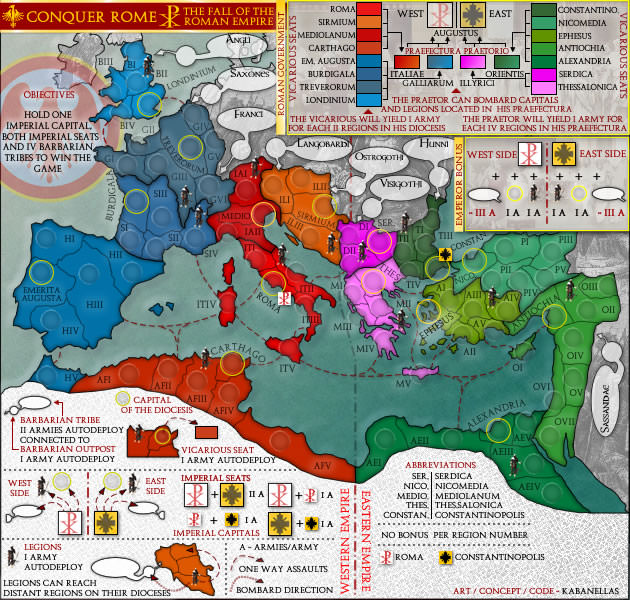 GRACIAS A LOS DIOSES!!!!
TODOS TUS ENEMIGOS HAN SIDO DERROTADOS!!! Ahora podrás gobernar tu vasto Imperio. Serás conocido como Octavio Augusto y la Nueva Era de Paz y Prosperidad que se abre ante tí será conocida como LA PAX AUGUSTA.Tu único enemigo será...el Aburrimiento!
THANK THE GODS!!!
ALL YOUR ENEMIES HAVE BEEN DEFEATED! Now you can rule your vast empire. You will be known as Augustus and the New Era of Peace and Prosperity that opens before you will be known as the Pax Augusta.Your only enemy will be...boredom!
MAPS
Imperium Romanum
Actium
Circus Maximus
Poison Rome
Conquer Rome
SETTINGS
Nuclear
No fog
Chained
Braket
32 players
Sequencial
EXCEPT: Circus Maximus will be foggy, escalating and round limit 50!
PLAYERS:
ROMAN CIVIL WAR
1.-
RUBENIUSSS
-babagonosh
2.- nesterdude-
Turu2001
3.- korda1-mr. CD
4.- cptebeefalo-
Tezka
5.-
Pajarito
-joriki
6.-
camel33
-sandman175
7.- Alas-
uckuki
8.- dersu-
dumhic
9.- SoyoKaze-
D00Mand3A7H
10.- solar
-Roussalier_
11.
-puppydog85
-crazycolin
12.-
DimnjacarStef
-Dukasaur
13.-Keredrex-
ubeman64
14.-Walslaf-
Ratrin
15.-Grimberht-
ultraman
16.- Googilibear
-lenesu
ACTIUM: THE DECISIVE BATTLE
1. RUBENIUSSS-
Turu2001
2.mr. CD- Tezka
3.
Pajarito
- camel33
4. uckuki-
dumhic
5. DOOMand3A7H---
Roussalier_
6.puppydog85
---DimnjacarStef
7.
ubcman64
----Ratrin
8. ulraman-----
lenesu
Reserves:
ENJOY THE TRIUMH!
1.Turu2001-
mr. CD
2
.Pajarito
-dumhic
3
.Roussallier
-DimnjacarStef
4
.ubcman64
-lenesu
POISONS AND SNAKES!
1.-
Pajarito
-mr. CD
2.-
Roussalier
-ubcman64
THE LAST BATTLE
Pajarito-Roussalier
NEW EMPEROR:
Pajarito