UPDATE:
Version 2.2: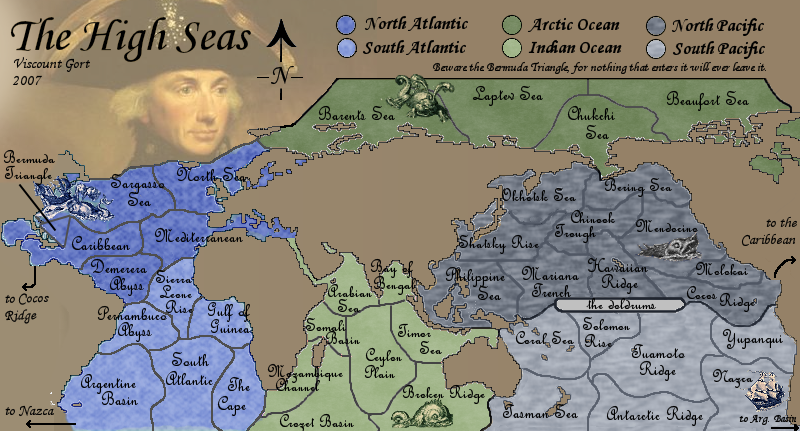 There's no longer any need to vote in the poll as the layout of the map has now been set as it is, with the split down the Americas (i.e. neither poll option).
[Results of the poll for the records...
Where should the map be divided?
Down the midatlantic 39% [ 26 ]
Down the middle of Africa 60% [ 40 ]
Total Votes : 66 ]
===========================
=====ORIGINAL POST BELOW=======
===========================
I thought it would be interesting to create a map in which the territories are not land areas at all, but rather regions of the oceans.
Below is a draft of the sort of structure I had in mind.
See above for current updated image.
The original can be viewed here.
6 continents, 40 countries. Bonuses still to be decided.
The Midtlantic Ridge and Midpacific Seamounts provide impassable boundaries lying between the E & W Atlantic and the N & S Pacific. These are both real geographical features.
Clearly it still needs considerable work visually, but I wanted to gauge early opinion on whether or not this could become a workable map.
Any comments welcome.
EDIT::
I've just discovered that another map exists in suspended development based on exactly the same idea, which I didn't know while I was producing this map or even when I posted it up here an hour ago. By coincidence some of the territories have the same or similar names.