Titled: CC Master of Magic (CC-MoM)
Map so far (12th of July):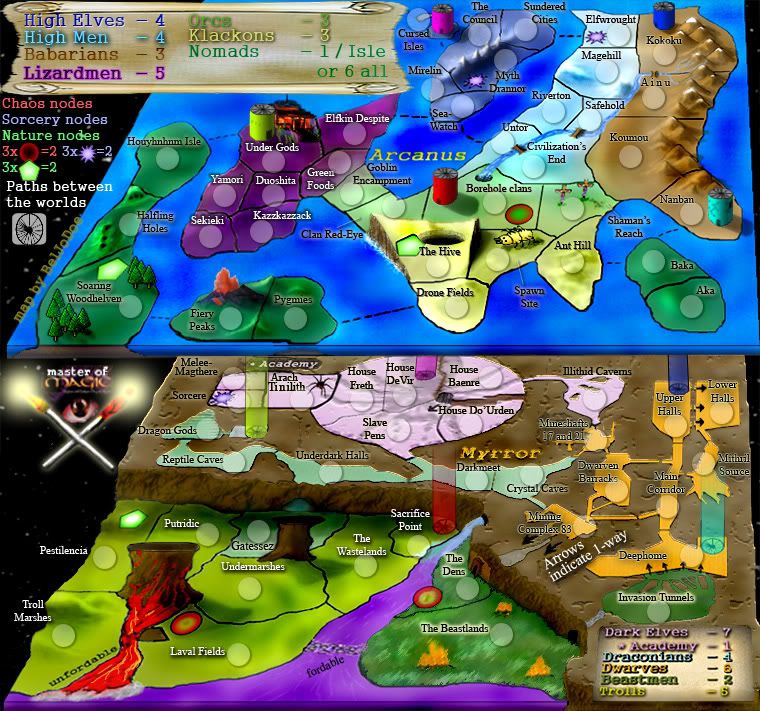 POLL: (possibly funny to Pythonists)
71 'countries'.
Used this image (from Wikipedia):
http://upload.wikimedia.org/wikipedia/e ... fmagic.png
-
I've placed 4 1-way attack locations on the map, they are marked by arrows.
-
I've marked as fordable or unfordable, any borders that might be difficult to tell based on the shoddy artwork (sorry!)
-
There are 3 'specials' called nodes. Nodes were a way of generating power in the original MoM game, this power was then used to cast spells and summon things like magical armies. I've represented all three but red, green or blue symbols. If a played controls all three of a particular variety, he will generate 2 extra armies (or at least, that's how it's so far designed).
-
Partialy based on an R.A.Salvatore series, named "The Dark Elf Trilogy", I've designed the map to include the academy mantioned in the books. Holding only the academy will generate an additional 1 army a turn but once the full Dark Elf 'continent' is completed, that bonus will instead become 7 armies.
-
The last unusual thing on the map are the Nomad Isles. I intend to merge the nomads from the game with the Halflings (also from the game) and some Wood Elves (You can never have too many people with sharp pointed ears... perhaps Spock may make an appearance!?). As such, I've made 3 Islands... holding any of these islands completely will grant an extra 1 army, holding all 3 will give a 6 army boost (though I think holding all 3 will be nightmarishly difficult).
The idea is based around an old game called (unsurprisingly) "
Master of Magic
" This was a civ-type, TBS game I enjoyed a great deal and one of the main things which set it apart was the way armies could pass between the two worlds, Arcanus and Myrror (surface world and sub-surface world).
I've made this map as a homage to that old Microprose-made game.
I look forward to your responses.[/b]