NHL Season 2 Tournament
IMPORTANT: To join this tournament, you must have premium.
Also, this league will be a long one. You'll be playing an 82 game regular season schedule. Games are handed in blocks of 3 home games a week, meaning you may play between 3 and 9 games a week, for approximately 14 weeks.
IF YOU DO NOT WANT TO COMMIT FOR SUCH A LONG TIME, PLEASE DO NOT SIGN UP.

All sign ups must be done in this thread.
TOURNAMENT SETTINGS
All games will be 1v1, sequential, flat rate spoils, chained forts, and sunny. Each player must pick a team to represent and a home map that uses standard gameplay only. No maps with gimmicks or complex/confusing gameplay will be allowed. I reserve the right to veto any map choices. Map and Team choices will be given in order that they arrive.
Please look carefully to may sure don't select a team or map that is already taken.
A list of approved maps is provided below.
REGULAR SEASON
The regular season will follow the 2008-2009 NHL schedule - meaning each player will play 82 regular season games. You will receive new games each week. I will make 3 home games per team. This means on average, you will be playing 6 games a week (3 home, 3 away). However, since this will follow the actual NHL schedule, there will be some weeks when you play more, some fewer, than 6 games total.
PLAYOFFS
12 teams will make the playoffs from each Conference. The 3 division winners, and the fourth place team will each get a first round bye. The first round matchups will be 5-12, 6-11, 7-10, 8-9. In the second round, the #1 will play the lowest remaining seed, #2 plays the second lowest, and so on. All rounds will feature best-of-7 series, in the 2-2-1-1-1 format. Home ice advantage goes to the team with the better regular season record. In the event of ties, tiebreakers will be determined first via head-to-head, then by conference record.
STANDINGS
Standings will be updated weekly, or as often as I make a new batch of games. The standings will be posted at the bottom of this post.
THE TEAMS
Eastern Conference
Atlantic Division

New Jersey Devils -
denominator
, Space

New York Islanders -
deanof7
, Australia

New York Rangers -
mviola
, Ireland

Philadelphia Flyers -
Revlisd
, North America

Pittsburgh Penguins -
mcshanester29
, Siege!
Northeast Division
Boston Bruins -
azak848
, Italy
Buffalo Sabres -
skepticCS
, WWII Eastern Front

Montreal Canadiens -
rishark1969
, Montreal

Ottawa Senators -
Didacus
, Castle Lands

Toronto Maple Leafs -
BunnRee
, Iberia
Southeast Division

Atlanta Thrashers -
vykingsfan64
, Great Lakes

Carolina Hurricanes -
Vaicius
, Hong Kong

Florida Panthers -
ckyrias
, Indian Empire

Tampa Bay Lightning -
IR1SH ACE
, Haiti

Washington Capitals -
Conchobar
, Oceania
Western Conference
Central Division

Chicago Blackhawks -
rmjw10
, USA Southeast

Columbus Blue Jackets -
dazzla35
, Scotland

Detroit Red Wings -
Serbia
, Midkemdil

Nashville Predators -
hagardunor
, Classic
St. Louis Blues -
ghirrindin
, Midgard
Northwest Division

Calgary Flames -
amazzony
, Crossword
Colorado Avalanche -
RedBaron0
, South America

Edmonton Oilers -
spidey
, Canada

Minnesota Wild -
SNARF17WD
, WWII Iwo Jima

Vancouver Canucks -
Night Strike
, Vancouver
Pacific Division

Anaheim Ducks -
chapcrap
, Mexico

Dallas Stars -
Tripitaka
, Bamboo Jack

Los Angeles Kings -
Tomod
, Nordic Countries

Phoenix Coyotes -
Moya
, Germany

San Jose Sharks -
deantursx
, Japan
STANDINGS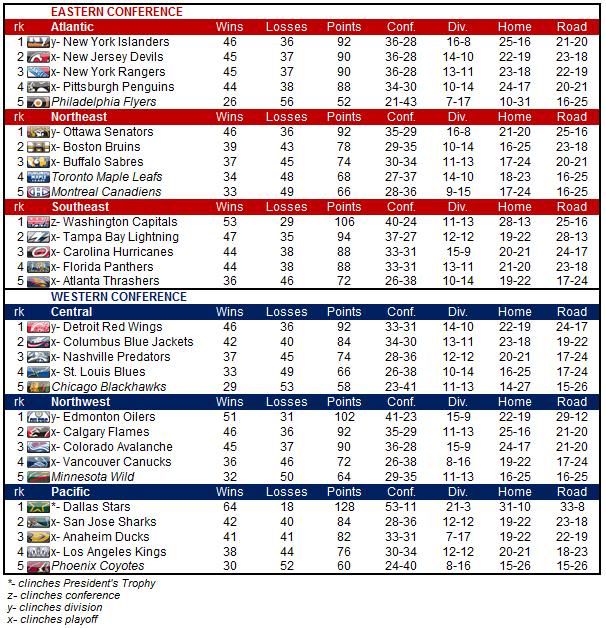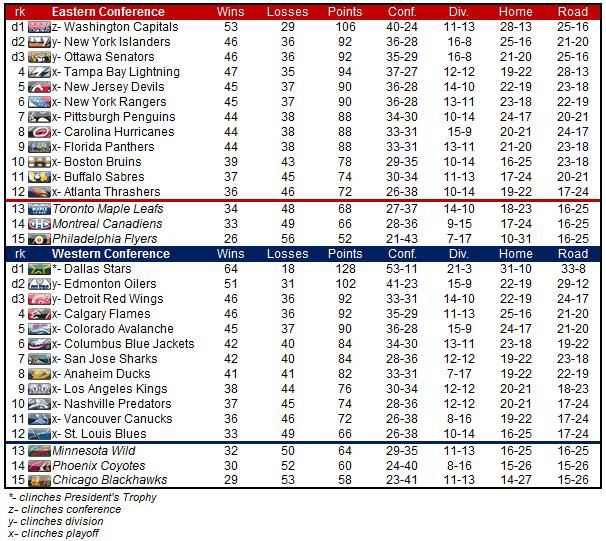 Notes on the final standings:
Islanders over Senators on head-to-head
Devils over Rangers on head-to-head
Hurricanes over Panthers on better divisional win record
Hurricanes and Panthers over Penguins on better conference win record
Blue Jackets over Sharks on head-to-head