edit: mc29. This Tournament has been rescued by Dukasaur
Scores and updates can be found here:
Scores and Updates
Four

premium-member

reserves are needed in this tournament!

To join, simply click on "Post Reply" above and let me know you'll play.
WARTIME NEWS
Current Scores for the Nostradamus Award
Standings Board (click here)
List of Fronts and Battle Scenarios (click here)
Most Recent Post by Organiser (click here).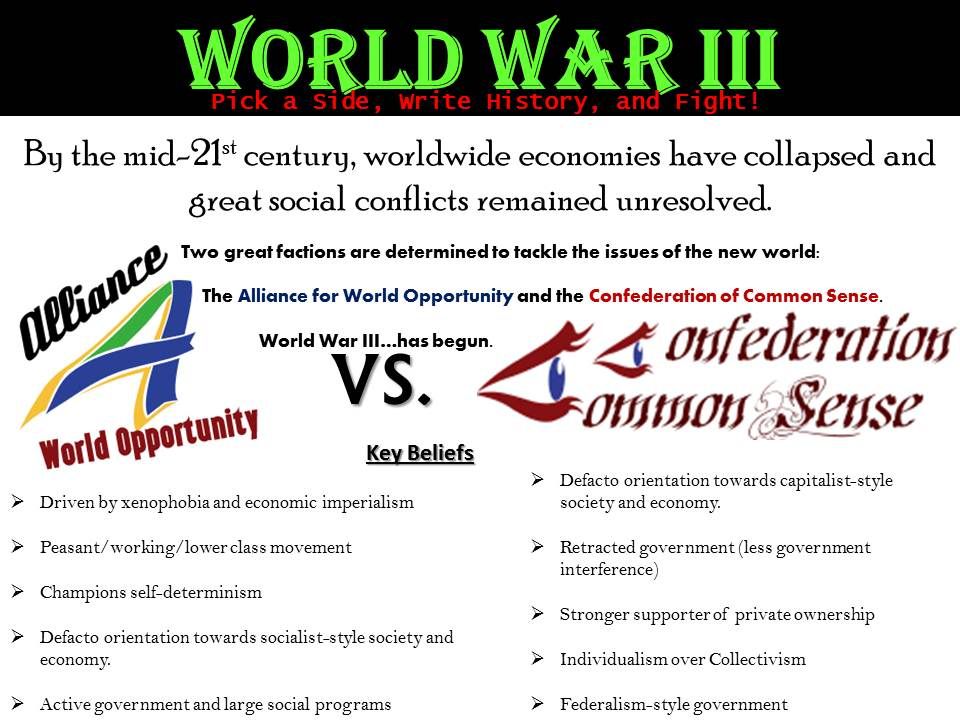 These are the basic factions I have come up with on my own, based on my sense of history and the dynamics of the functions of nations.
Obviously, these are very generic, because they have to be encompassing of many countries or groups that may be involved in this great conflict.
If you would like to contribute and have a better idea, I would be more than willing to check it out!
Introduction
"War makes rattling good history; but Peace is poor reading."
--Thomas Hardy
Ever thought about World War III? With the advent of nuclear weapons, it's easy to contemplate the calamities and the disasters that a third global conflict could bring about. Certainly in the future, more countries will get their hands on, or develop, nuclear technology capable of decimating millions of people and causing mass ecological damage. World War III is indeed a haunting idea (as a nuclear and/or conventional war).

Have you ever thought of writing the storyline, the plot, to World War III? Maybe you already have?
Here's your chance to do so on Conquer Club!

In this creative, community-driven tournament, 70 players will compete in 8 battles that make up our World War III.

Each battle will be a two-sided skirmish/conflict/invasion that will be ENTIRELY decided by players' votes.

Each player will be allowed to submit their idea, their battle, to the tournament page, and players will be allowed to vote for their favorites.

The maps and the settings will be stated in the battle. For instance, if your idea is an invasion of Antarctica, you can make Antarctica the map. Is it a covert invasion? You can make all games for the battle have Fog of War. Will there be nukes involved? Throw in nuclear spoils.
It's all up to you: as long as you develop your idea and secure the votes, you can write history!

After all 8 battles, the 16 Medal of Honor Candidates will then battle in a best-of-7 single elimination tournament to determine the ultimate World War III warrior (the winner of the tournament)...

Whoever has the most pieces of history approved may be awarded a GA Medal.
Writing History
There will be 8 opportunities for each of you to write history, in the sense that there are 8 major events, "battles", in our World War III, and each of you have the opportunity to contribute if you'd like, though it's not necessary!
Detailed Format of the Battles
Medal of Honor Cup
Who knows what life will be like after the third Great War? Every facet of society will be radically changed.
Map: Random
Settings:

Automatic Initial Troops
Sequential Play Order
Escalating Spoils
Chained Reinforcements
No fog of war
Casual Round Length
After all 8 battles, 16 players have advanced into the Medal of Honor Cup.

The winner of the Final wins the tournament (is awarded the Medal of Honor) and is proclaimed the most Ferocious WWIII Warrior.
Thank you for your attention, I know it is a lot and I surely don't expect you to read over 5% of it




If you find any horrific holes in the format let me know

Please join. NOW

Sincerely, have a great day,
James