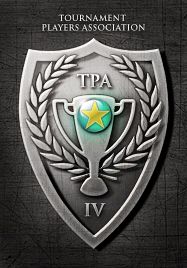 This is a Tournament Players Association Year 4 [TPA4] event, and is governed by its rules, guidelines, and judgments which are detailed here:
https://www.conquerclub.com/forum/viewt ... 3#p4278332
All are welcome to join and participate in the association. You do not need to do anything more than join one or more of the TPA4 events that will be announced on Mondays. Check back on the scoreboard to see how you're doing:

A GA Medal is available in this tournament. It will be given to the quaterfinalist with the highest overall winning percentage. One year of premium is also on the line. That prize will be awarded by me to a player who loses no more than 3 games during the entire tourney, provided that we start with at least 75 players.
Welcome to the first tourney for TPA4. It is a TPA premium tournament. This will be a double elimination 1v1 tourney. All games will be best of three. Freemiums welcome - I would prefer that you leave at least 2 spots open during the tournament. I am aining for at least 60 players for this tourney. Absolute maximum is 95 players. After 95, no more signups will be accepted. Signups will remain open until September 16, 2013 (unless we hit the maximum). If we have hit the minimum by September 16, I will post a 24 hour notice for signups to close.
Settings for all games will be auto, sequential, escalating, chained, no fog/trench. 30 round limit will apply to all games. You will be placed in the bracket via seeding based on your CC score at the time that I put you in the player list. I am hosting this bracket on challonge.com and will determine matchups/byes, etc based on their bracket.
Your map for this tourney will be chosen by me before the tourney begins. You will keep this map throughout the tourney. I will map rank you at some point before the tourney begins. I will use the settings set above (except for the round limit), and then pick the map that you have the third most points on using those settings. I chose the third map to make it a little more challenging. Most of us have one or two maps that we really like and play a lot. This tourney will test those maps that don't get played quite as often. Each round will consist of a game on your map, your opponents map, and one on classic (if either your map or your opponents map happens to be classic, the 13 colonies map will be used). In the event that you do not have three maps that you have played on using these settings, or the third map is one you have negative points on, you will be assigned the USA map.
DEADBEAT POLICY: You have 24 hours to accept your invite. In the event you do not accept your invites, I may automatically count that as a loss for you. I also have the discretion to attempt to contact you and resend invites. After 2 invites and no response from you, it will automatically be counted as a loss. For purposes of the GA medal, deadbeats games will be scored 2-1 against the deadbeat. For purposes of the premium, a deadbeat will not count against the person.