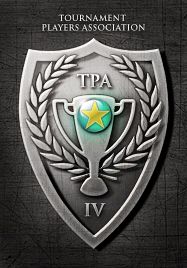 This is a Tournament Players Association Year 4 [TPA4] event, and is governed by its rules, guidelines, and judgments which are detailed here:
https://www.conquerclub.com/forum/viewt ... 3#p4278332
All are welcome to join and participate in the association. You do not need to do anything more than join one or more of the TPA4 events that will be announced on Mondays. Check back on the scoreboard to see how you're doing:

All we hear in the US is that nothing gets done in Congress, or that things are done very slowly. Let's make a tournament around that theme. We'll be using the Map US Senate for this tournament. I am looking for 25 players for this tournament.
Edit 9.12.13 - TPA tournies require at least 32 players, so we'll take at least 35. You will still play 5 player games.
We will divide the 25 contestants into 5 groups of 5. Each group will play 3 games on the US Senate map. Settings will be terminator, auto, sequential, escalating (since Congress seems to get escalating perks), unlimited, FOG TRENCH (since no one really seems to know what is going on and things are done slowly). In an effort to keep this tourney moving along (unlike Congress), we will keep a 20 round limit.
After each group has played 3 games, I'll take the 10 highest scorers and form 2 new groups of 5. They will again play 3 games, and I'll take the 5 highest scorers to the finals. The finals will be 5 games. Points will carry over from round to round.
Even though this is terminator setting, points are scored based on where you finish - 6 points for finishing in first, 5 for second, 3 for third, 2 for fourth and 1 for fifth.
In the first round, the 25 players will be ranked by CC score. I'll put the top 5 in pot 1, the next five in pot 2, etc. I'll use the UEFA Champions League draw format to put players into groups. So, I'll draw a player from pot 1 and then a letter A-E. I'll then draw a second player and then a letter from the remaining choices. Repeat for all pots/players.
In the second round, the players who finished 1st, 2nd, 8th, 9th and 10th will be in one group. Everyone else will be in the other group.
DEADBEAT POLICY: Miss 2 sets of invites and you're out. In the first round, I will attempt to find a replacement. After that, I'll just bring back the first contestant that was eliminated.