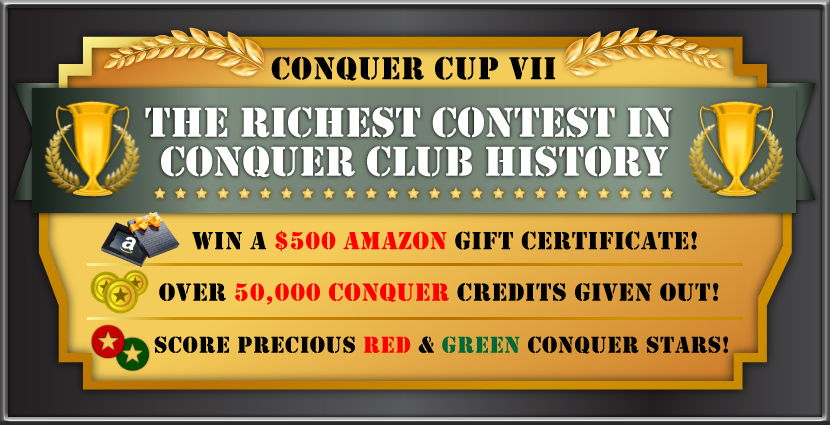 Link to registration: http://www.conquerclub.com/public.php?mode=cup1

This Conquer Cup goes to

Midgard

! And as in that classic coming of age tale by K.S.S. Bobkin, there are great prizes for the brave, the cunning, and the lucky.

In fact Midgard has the
most precious 1st place prize
in a Conquer Cup ever...
Winner: $500 USD Amazon Gift Certificate + 1 Red Conquer Star + 3000 Conquer Credits + Gold Super Achievement Medal

Finalists: $50 USD Amazon Gift Certificate + 1 Green Conquer Star + 2000 Conquer Credits + Silver Super Achievement Medal
Semi-Finalists: 2000 Conquer Credits + Bronze Super Achievement Medal
Quarter-Finalists: 500 Conquer Credits
The Conquer Cup VII will have 640 participants, first come first served. The Conquer Cup is fully automated, which means the games will automatically be created and players will be automatically matched and placed into games.
Good Luck and fair travels to ye all!