edit: mc29. This Tournament has been rescued by redspyder
CARCASSONNE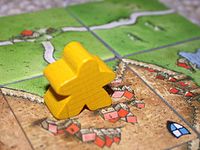 Carcassonne is a tile-based German-style board game for two to five players, designed by Klaus-Jürgen Wrede.
This Tournament will follow on the rules in the basic game with a few changes to allow this tournament to work.
The gameplay will be as follows:
All Games Special Rules will be Auto/Seq/Flat/Chained
1v1 Games will Be set to 20 Rounds while Field will be set at 30 and Cloister being Unlimited
Winner will Receive a 3 Month Premium Prize
"Please state when you say I'm In, The amount of City wins you wish to go after. There is 17 games to be played on this round. You may change this at anytime before Round 2 starts by pm'ing me."
As this is an in depth tournament, feel free to ask any questions via here or pm, i will be more than willing to help and update this post if needed to clarify.