===
If anyone else wants to take this up feel free. I discovered I don't have the time/skill for graphics editing.
(There you go Rev
)
===
Something I came up with on my train ride home-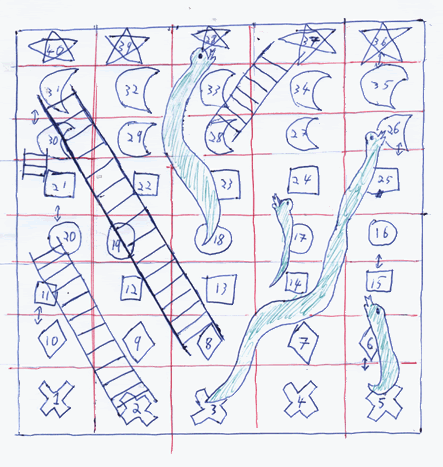 Explanation of movement
: Movement goes in traditional snakes and ladders fashion, except that you can now attack down numbers as well as up. So 4 can attack both 3 and 5. Vertical movement can only be made if the number is either one greater or lesser than the one you're attacking from, so 5 can attack 6, but 6 cannot attack 15. Snakes and ladders are one way movement, up the ladders and down the Snakes.
So what do people think of the concept is what I'm more interested in. The map can be tinkered with lots, and this is obviously not the final image. I provisionally stuck down continents, to get an idea of the map.
Bonuses went something like this (from bottom to top)
Crosses-2
Daimonds-2
Squares (Spans 2 seperated rows) - 6
Circles-3
Moons-4
Stars-2
...thoughts? (Aside from how I can't draw snakes to save my life)