Brought to you by the

Community Team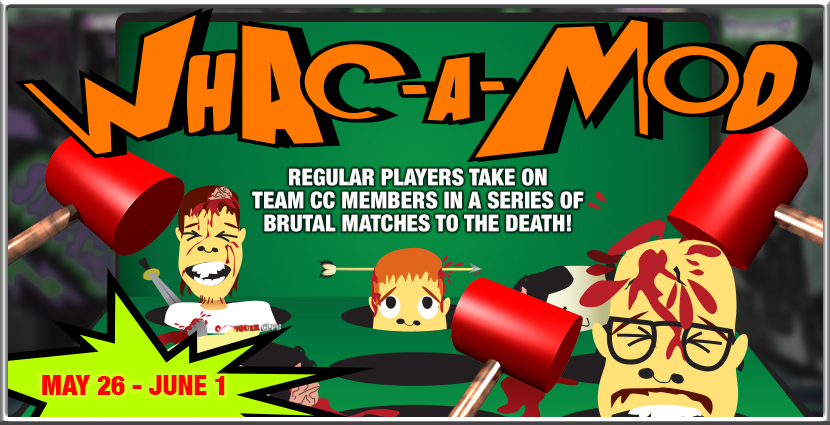 Whac-A-Mod 2014 Is Here!
Regular Players get their chance to take on Team CC by joining Whac-A-Mod Games from May 26 to June 1.
Stand up and give these despicable Mod beasts some serious smackdown!
The Mods may think they are running the show, but now you can show them where to run... away! From your games! In trembling fear! With a series of mortal wounds!
Top Whackers will get a place in the Whac-A-Mod Showdown, a final all-in team tournament to decide who rules CC - The Mods or The Players.
How Whac-A-Mod works:
Games are joined from the Whac-A-Mod event banner on the top of My Games (starting May 26)
Get Play Tokens when Games Start (on or before June 1) and Win Tokens when you Win (on or before June 30)
Scoring is via Whac % (Wins Tokens/Play Tokens) with a qualifier of 7 Play Tokens
Collect 7 Play Tokens + 2 Win Tokens and score a General Achievement
The Top 7 Players with 40 Play Tokens or more win a Challenge Achievement
The Score Leader gets a Green Star
Top 32 Players and Top 16 Mods gain entry to the Whac-A-Mod Showdown!
Whac-A-Mod Scoreboard