Brought to you by the

Community Team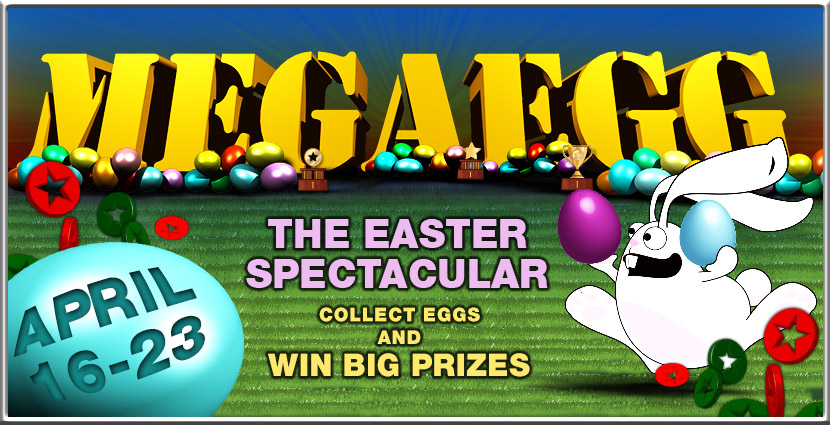 M - E - G - A - E - G - G
The Easter Bunny is back, and it's as mad and egg-laden as ever!
Congrats to our Egg designers from
MegaEgg Design Contest
:
Your Easter Goal will be to score 100 Bunny Points. Each Egg is worth 1 Bunny Point, however
you will need 20 Eggs of each type
to score any points and get into the

MEGAEGG FINALE - The Red Star Spectacular

tournament to win a Red Star and a bunch of other great prizes.
MEGAEGG Scoreboard
Also, we have the following Prizes for scoring Bunny Points:

General Achievement: Anyone that gets 100 Bunny Points will get a General Achievement medal

Challenge Achievement: Top 5 Bunny Point collectors above 200 Bunny Points will get a Challenge Achievement medal

Green Star: The player that collects the most Bunny Points will win a Green Star. [In the case of a tie Blue Stars will be won by each tied player].
Where did the Bunny leave its eggs...
MegaEgg Design Contest
Easter Crossword Puzzle
Easter Chat-A-Thon
Games!
Starting and Winning Games will reward players with Eggs in the following descending order of likelihood:
Easter Map (only available for duration of event!)
Regular Games (the more players the higher your chances)
Non-event Tourney Games (highly reduced chance)
Bot Games (very low chance, Bots don't believe in Bunnies or Eggs)
Bunny Scenarios
Whereupon the Easter Bunny finds himself in a variety of peculiar circumstances.
Bunny Burrow Battle
Sniper Eggs
Houses vs Eggs
Bunny Hopper Featured Games
Featured Games will appear in the Event banner on My Games. They will be first in first served and have highly increased Egg Drop Rates.
Battle Royales
Test your luck in Easter-themed Speed Battle Royales running throughout the event with highly chocolatey Egg drop rates.
Wild Egg Rides
Speed AutoTournaments will run throughout the day, with Eggs for prizes. Check out each tournament for a listing on what types of Eggs it carries.
Conquer Gods
The Conquer Gods saw a white, furry, ferret like creature, manically hopping along one of Conquer Club's many trails to nowhere, dropping an assorted array of about 1 gazillion Eggs all over the place.
You may catch them as they wake up in the morning!
If you are lucky they might share... but will you get the type of Egg you want?
Hoppy Hour
During certain times, perhaps due to ingesting some type of illicit bunny juice, the Bunny gets a jolt of manic energy and eggs begin to literally explode from every pore in his body. During Hoppy Hour, Eggs will be dropping out of the sky at a vastly increased rate.
Scheduled Hoppy Hours:
2017-04-17 00:00:00 CCT
2017-04-17 12:00:00 CCT
2017-04-18 18:00:00 CCT
2017-04-19 02:00:00 CCT
2017-04-19 07:00:00 CCT
2017-04-20 14:00:00 CCT
2017-04-20 20:00:00 CCT
2017-04-21 07:00:00 CCT
2017-04-21 11:00:00 CCT
2017-04-22 16:00:00 CCT
2017-04-22 23:00:00 CCT
2017-04-23 10:00:00 CCT
2017-04-23 11:00:00 CCT
[TBA]
MEGAEGG FINALE - A Red Star Spectacular
The grand finale of MEGAEGG
, collect your Eggs and get in the running for a Red Star and other prizes!
Bunny Droppings
Bunny Droppings
is the Easter consolation tournament and your last chance to drop your eggs, and snaffle a consolation green star.