Players - College/University
1. Ertai - Vrije Universiteit Amsterdam
2. SNARF17WD - University of Minnesota
3. Darin44 - University of Oregon
4. actorday - Eastern Michigan University
5. Liliputanac - FSB, University of Zagreb
6. b00060 - University of Maryland
----------------------------------------------------------------------------------------------------------------------------------------------
----------------------------------------------------------------------------------------------------------------------------------------------
----------------------------------------------------------------------------------------------------------------------------------------------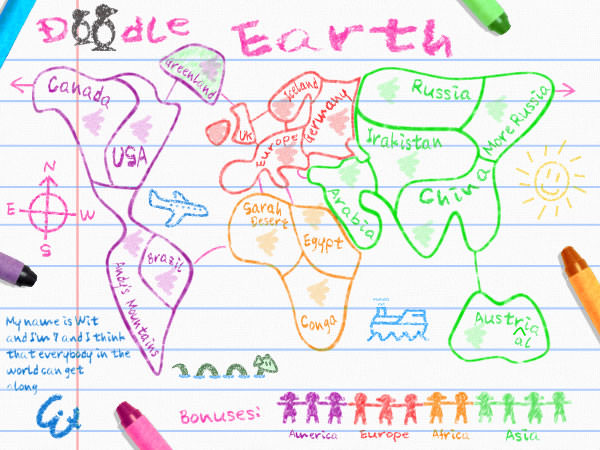 Hello once again everybody! This tournament will be played 100% on the Doodle Earth map. There is no limit of players, however I will close the registrations at Feb. 4th (unless there are less than 16 players), one month from now.
The idea of this tournament is quite simple: March-Madness-styled competition. You win, you advance. You lose, you're out.
Since there is no fixed number of players, I do not know how many rounds there will be. 16 players = 4 rounds; 32 players = 5 rounds; 64 players = 6 rounds, etc. The most likely scenario is that we will not have a number of players that is are between the geometric sequence numbers (16, 32, 64, etc.), therefore we will very likely need to have a couple of qualifying rounds. In the First Qualifying Round, the players are randomly seeded. Winners qualify immediately for the First Round of the tournament. The losers will enter the Second Qualifying Round, where they will face off against one-another in one (or more, if necessary) big x-player game in order to decide the last players that will qualify for the tournament.
Since March Madness is a college competition, I would like February Madness to be like that as well.

So, when you sign up, just say what university / college you would like to represent.

Tournament rules
For most of the tournament: 2 players; Round limit 20; No Spoils; Chained Reinforcements; No Special Gameplay.
For the 2nd Qualifying Round: 2 or more players; Round limit 20; Escalating Spoils; Chained Reinforcements; Fog of War.
Good luck everybody, I hope this tournament will be fun for all!