Movie Rental Mania
Congratulations to

Family Video (mrkaris and petewins1368)

for winning the Movie Rental Mania Tournament in a 3-0 finals series.
It will be

Movie Gallery

meeting

Family Video

in the finals, with

Movie Gallery

holding home field advantage. Games have been created and PMed.
Congratulations to the following players on advancing:



Blockbuster: Gozar & FORZA AZ




Movie Gallery: Night Strike & bigbullyweedave




Netflix: edbeard & jennifermarie




Family Video: petewins1368 & mrkaris



To all the players advancing, please decide on your doubles home settings with your partner and post it here in the forum. I need them ASAP!!!! I will create all the games (3 home games each) at the same time because of the business of my upcoming schedule.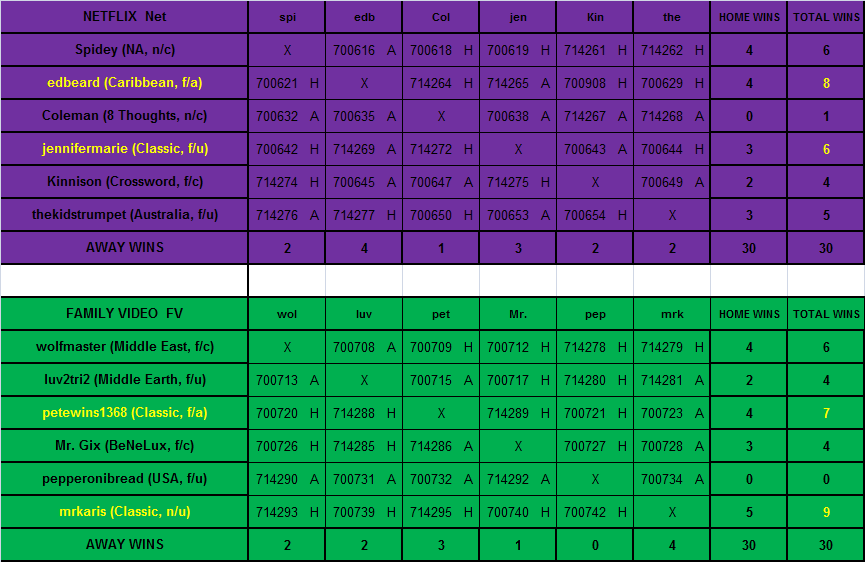 This tournament is to decide the bragging rights among the major movie rental providers in the United States. The companies have gone back and forth among themselves, so now it's up to Conquer Club to decide their fate for them.
Premium Members Only.
Up to 24 players (and 4 reserves).
Round 1 – 1 v 1 Round Robin Games
*The 24 players will be divided into 4 divisions representing 4 rental providers. They are
Blockbuster
,
Movie Gallery
,
Netflix
, and
Family Video
.
*Each player, when signing up, will choose a map, cards, and fortification of his/her choice. ALL games will be sequential.
*With 6 players in each division, each player will play a home game and an away game against every other player for a total of 10 games. I will start 5 games at the beginning and then the other 5 a few days later. Each player will have 48 hours to join each game from the time I send the PM otherwise the store's reserve will take his/her place.
At the end of the round, the top 2 finishers by record will advance to round 2. If there is a tie, it will be broken as follows: away wins, home wins, coin toss.
Round 2 – Doubles Round Robin Games
*The 2 winners from each store will pair up to take on the other 3 stores. This will be done in another home/away round robin series (total of 6 games each).
*The 2 players will agree upon settings (still sequential) for their home games.
*After all games have been completed, the top 2 teams will advance to the Finals. Those two will be seeded according to record. If there is a tie, it will be broken as follows: Round 1 combined wins, Round 2 away wins, Round 2 home wins, coin toss.
Finals – Best of 5 Doubles Series
*The top two teams will go head to head in a best of five series. The higher seed will have home field advantage by hosting games 1, 3, and 5 (if necessary) on the same settings that were used in Round 2.
*Games 1, 2, and 3 will be created and played at the same time. If necessary, games 4 and 5 will be played one at a time until a team reaches 3 wins.
*The winning team will be crowned the Rental Champions.
Blockbuster
1. Optimus Prime – USA, no cards, chained
2. Gozar – Middle East, no cards, chained
3. BeastofBurson – Classic, no cards, chained
4. Forza AC – Battle for Australia, flat rate, adjacent
5. Gilligan – Alexander's Empire, flat rate, unlimited
6. Ghost_Rider – Alexander's Empire, flat rate, unlimited
Movie Gallery
1. Night Strike - Africa, flat rate, chained
2. bigbullyweedave – USA Apocalypse, flat rate, chained
3. DimnjacarStef – Age of Merchants, no cards, chained
4. Skittles! – Middle East, no cards, unlimited
5. Demon666 – Classic, flat rate, unlimited
6. MarVal – BeNeLux, no cards, chained
Netflix
1. Spidey - North America, no cards, chained
2.edbeard – Caribbean Islands, flat rate, adjacent
3. Coleman – 8 Thoughts, no cards, chained
4. jennifermarie – Classic, flat rate, unlimited
5. Kinnison – Crossword, flat rate, chained
6. thekidstrumpet – Australia, flat rate, unlimited
Family Video
1. wolfmaster – Middle East, flat rate, chained
2. luv2tri2 – Middle Earth, flat rate, unlimited
3. petewins1368 – Classic, flat rate, adjacent
4. Mr. Gix – BeNeLux, flat rate, chained
5. pepperonibread – USA, flat rate, unlimited
6. mrkaris – Classic, no cards, unlimited
Reserves: atr1989