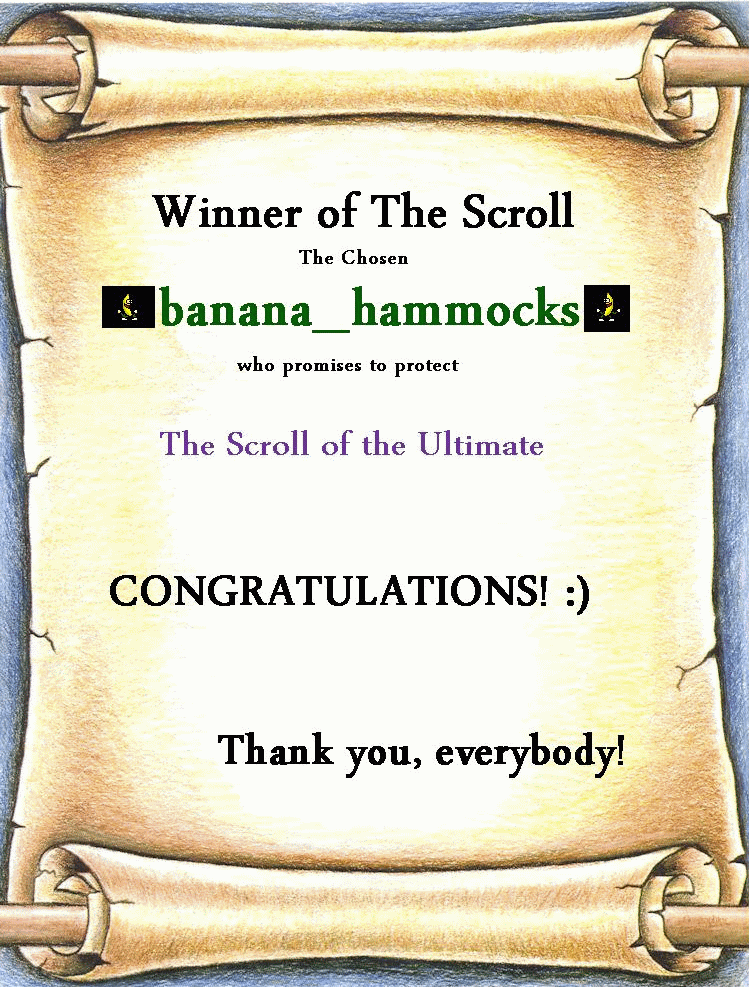 The Scroll
Inspired by Bulletproof Monk
If you are brave and powerful enough to fulfill
3 Nobel Prophesies
then you will be
The Chosen
who will have to protect
The Scroll of the Ultimate
that in wrong hands can turn everything that we know into a living hell. Enter the fight and become the holder of the most powerful artifact ever known to mankind. Or be a coward who will leave the future of the world to hands of others. This tournament is based on the movie
Bulletproof Monk
and will consist of
3 rounds/Prophesies
. Each round, a certain number of players fills the prophecy and therefor is one step closer to become The Chosen One. Each prophecy has different settings and setup (read below) and in the end, there will be only 1 left who is worthy to receive The Scroll.
Premium is not required but you must have

all

your

4 spots

reserved for this tournament.
All games are Sequential, Casual, No FoW.
Prophecy One
He/she will defeat an army of enemies while a flock of cranes circles above
6-player Singles
Map:
Extreme Global Warming
(why? Wiki: "most species of cranes are at least threatened, if not critically endangered")
Escalating, Unlimited
36 players are put into groups of 6 according to rank and each group plays 4 games. 3 best (highest score) players from each group will fulfill the prophecy (i.e. advance to next round)
Scoring:
1st – 10 points
2nd – 8 points
3rd – 6 points
4th – 4 points
5th – 2 points
6th – 1 point
Prophecy Two
He/she will battle for love in the palace of jade
3-player Singles
(which will symbolise the love triangle)
Map:
Siege!
(castle or palace - what's the difference)
Flat Rate, Unlimited
Prophecy Two groups will be made according to points received from Prop. One (highest point person in group 1, second highest and third highest also in group 1, 4th, 5th and 6th highest to group 2; etc).
18 players will be put to groups of 3 and each groups plays 4 games. Best player (highest score) from each group will fulfill the prophecy (i.e. advance to next round)
Scoring:
1st – 5 points
2nd – 3 points
3rd – 1 point
Prophecy Three
He/she will free brothers he/she never knew with the family he/she never had
6-player Doubles
Map:
Draknor - Level 1
(what would be a better place for saving than a dungeon)
No Cards, Unlimited
Everybody will play five 6-player doubles (every game with a different partner). Player with the most points in the end will be announced as winner.
Scoring (both players in a team get points equally):
Win – 5 points
Second eliminated team – 3 points
First eliminated team – 1 point
**********************************************
Common sense rules
1) I am the organisers. If something is wrong or needs to be taken care of/changed then I have the right to do it.
2) Ignore list will be ignored in our tournament (i.e if you have somebody in the list who you need to play then for tournament games you need to remove him/her from your ignore list).
3) Alliances are not allowed.
Any questions or problems? Post to this thread or message me.