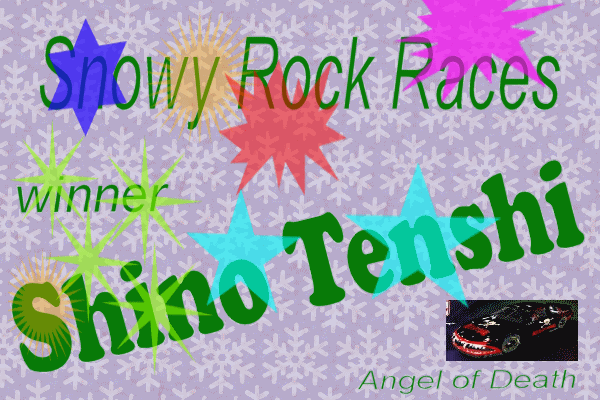 You need a fast car, good reactions and a sharp mind to beat all other racers and become the
Champion of Snowy Rock Races
. If you feel that you have all the qualities that are needed for a good driver to challenge others in a face to face competition then this tournament is for you and for your metal horse.
**Opened for premium members only**
Setup
Overall I'll be looking for 18 players.
Everybody will be playing maximum 3 games per track. Which games and against who are up to you. During first week, I'll be making 17 games, sending out messages that games are made and each driver has to join 3 games on their own choice in a given time limit (I'll give exact instructions how to join so it will be quite easy). If you fail to join the games then you will get punished for that. People who reach zero points, drop out of the tournament. According to the number of players, the number of games will be made (number of games is calculated with the following formula: number of players * 3 / 2). In some cases, there won't be exactly 3 games for everybody. When it happens then those who join, will play; those who are either too slow or don't join for other reasons, won't play 3 games on that track.
When there's only 4 players left, a double elimination bracket will be played between those 4 to decide the winner.
Settings
Standard, Sequential, Casual
1v1
Singles
Track/Map: different each week
Tires/Cards:
Flat Rate
Gear box/Fortifications:
Chained
Weather: Sunny (
No FoW
)
Scoring
Tournament starts with 180 points (10 of each player).
Points disappear or move from one player to another.
Losing a game/race: 3 points from loser to winner
Not joining after 1st message: -1 point
Not joining after a reminder: -2 points
Not joining after 2nd reminder: -3 points
Joining more than 3 games: -2 points per opponent (wins don't count, each opponent receives 2 points)
Notes
*
I'm your Goddess (:lol:), the organiser, and if I feel that something needs changing then I have the right to do if it's fair to everybody and is in the benefit of the tournament.
*
Secret alliances are not allowed. Discussion in this thread and setting up matches is allowed if they are done publicly.
*
Ignore list is ignored in my tournament. If there's anybody that's in your IL then you have to remove him/her while playing in my tournament.
*
Next track begins when previous one ends. Standings will be updated after (almost) all games of that track have ended.
*
For any questions, problems etc you have this thread or you can PM me.
**FILL THE FORM TO JOIN**
Driver (either your username or let your fantasy fly):
Car (either real car or let your fantasy fly):
Notes (add a description of your car or picture or whatever you wish):