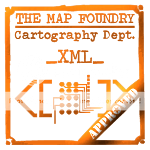 What you are looking at is a map based loosely on the War of the Triple Alliance, South America's bloodiest war, which cost around 300,000 lives between the years 1864 - 1870. The balance of power shifted in the region, borders were forever redrawn, and Paraguay lost over half of its pre-war population. I say based "loosely" because not all of the land portrayed here saw action, but all of these regions were players in the war... Argentina, the southern half of Brazil, Paraguay, Uruguay, and the disputer region called the Gran Chaco.
What you need to know:
• territories: 52
• bonus regions: 9... tentative bonuses are in the legend, and are more or less settled, though further discussion is never discouraged.
• impassables: rivers and mountains, with two river crossings, one of which is one-way.
• gameplay: classic all the way; the only oddity is the Rio de la Plata territory which is a river that can attack, and be attacked by, the capitals - as noted in the legend.
• starting neutrals: none
• image size: large 800x800, small 600x600
• development plan: I do everything

Stamped for graphics and gameplay, so we're in the home stretch.
XML is awaiting a look-see.