It gives me great pleasure in announcing HighlanderAttack as the winner of the 2009 AFL TOURNAMENT LEAGUE.
Congrats HighlanderAttack!
A big thankyou to all who participated especially those who stuck with it from the start. It took almost 2 years but we finished it!
It's been fun.
Cheers!
THE 2009 AFL TOURNAMENT
This is a 16 team league, playing everyone once and half the teams twice. You pick a team and we follow the 2009 Australian "Australian Football League" league. Playing 1V1. The full draw can be found here
http://media.perthnow.com.au/common/PDF/2009Fixtures/afl-fixtures-template_AFL.pdf
And here is the Top 8:

The first three weeks are home team advantage, with the grand final being a best of 3. 1 on each home team, then (if required) a Classic, Chained Escalating, to decide the Premiership!
Here's the final ladder after the home and away series: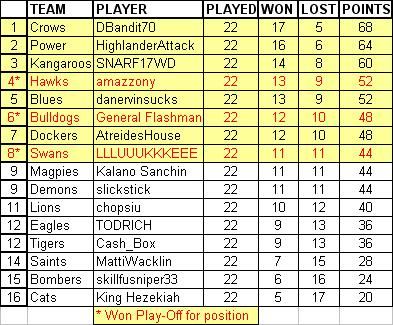 And after 22 rounds, if there are any equal spots, they will play in a play-off on the Australian map.