LOWER EGYPT



Current Version 19
Original V1.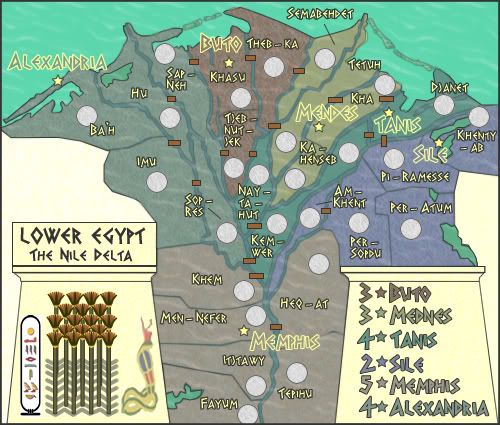 Why?
There have been several attempts in the past to get an Ancient Egypt map done without much success. I wanted to make a simple (is that a shock for cairnswk) map with a small number of terts due to the market forces at play in CC. This should be a good map for speed games.
This could be the start of a quadtych!
1. The number of territories currently on the map.
Now Total 20 - (Was Total 26)
Imu 3
Khasu 4
Djedet 4
Tjaru 4
Memphis 4
2. The number of continents.
Was 6 Continents - Now 5
3. Descriptions of any unique features or areas.
There are no particularly extraordinary features, except to say that the continents are named after egyptian capitals.
The cartouche on the left is the cartouche for the mapmaker, the symbol used is that of the lotus flower in the Nile, and the snake God of Lower Egypt Wadjet with the red crown of Lower Egypt the Deshret.
4. Map Size
Small - 580w x 505h
Large - 750w x 653h
Enjoy!