This tutorial is not what I intended - but I'll post it anyway. These mountains sort of came
out abstract and sort of water-color painting style. But I'll post my screenshots and psd
anyway. I just sort of created these as I went.
I started with a background layer. I added a new layer and drew a curved line.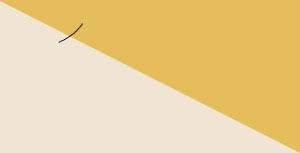 I duplicated that layer, then flipped horizontal, then positioned to make the mountain.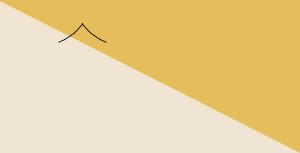 Then I duplicated that layer 9 times, and positioned those mountains so...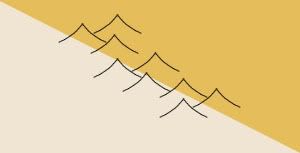 Then I added a few smaller mountains.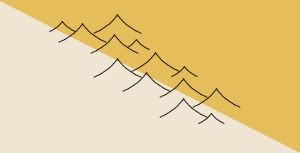 Then I adjusted the background colors so they were not a hard edge.
Normally a map wouldn't have a hard diagonal line for a border. Also, I didn't add the actual
border along the colors. I forgot, so it looks a little strange with the mountain borders.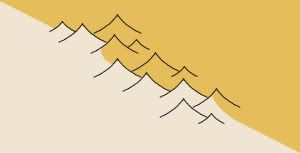 So here I took a 4 or 5 pixel brush and just painted black along the sides of the mountains.
I was being a little quick with my strokes so it would look a little natural. I actually like them
at this point. It looks like a pen and ink style map. Maybe in the Japanese tradition. (New Layer)
And.. looking back, I didn't need to adjust those backgrounds pattern, cause the black covered them anyway.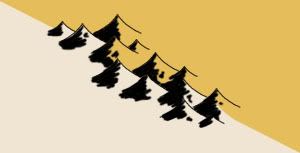 But instead I added a color to that layer. A brownish color, which is meant to blend into the
color scheme of those 2 map background colors.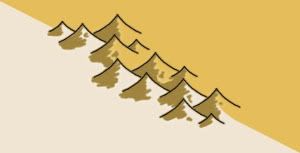 I also did something similar to add highlights. This is another new layer. I dropped the opacity also.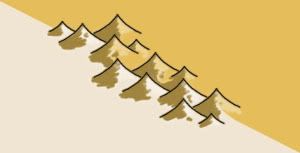 Okay here's where things take a turn. I didn't like the hard borders so I hid the border layer.
The mountains looked okay without. But I wanted them to blend into the map more, so I used
the smudge tool. I just smudged all the edges down to give the effect you see below.
I also added another black shadow layer, which was just a thick brush along the shadow side
of the mountains, lots of gaussian blur, blend as overlay, and opacity real low - like 10 or 20.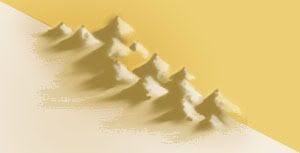 Of course, to give it something special I added the grungy overlay to the whole thing.
I'm noticing that many of the newer maps in production have this effect, and they are
looking A+! Anyway - here's what I came up with. Not necessarily great for CC maps, but kind
of cool nevertheless.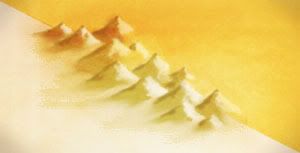 Here's the file (zipped PSD CS3):
http://www.rjbeals.com/files/mount-rjb.zip