Issue #13: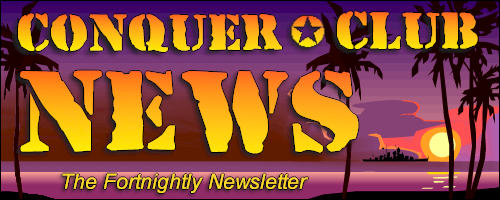 Hey CC lovers,
It's been another busy fortnight around here, i know a lot of you have been posting your thoughts about the newsletter in the General Discussion thread, and believe me when i say we've been listening.
There is nothing i would like more than to have the community happy with what the newsletter offers. We are looking into getting a dedicated interviewer, who can take interviews to a whole new level, we are just awaiting his reply. As a result of this and your other responses, this issue's interview with
Optimus Prime
will be the last Moderator interview for a little while.
Other changes include a shuffle around in reporters.
thenobodies80
has resigned from the tournament section of the newsletter and will now be working with
the.killing.44
to pump out some awesome Foundry articles.
As a result,
Night Strike
has agreed to take over the tournament section and give that part a bit of a revamp

All of these changes will become effective as of next issue.
We are also looking to hire some other people to be freerange writers. Who don't hold back and tell it how it really is. So if that sounds like you, feel free to apply to
samuelc812
.
Hope you enjoy this short edition of the newsletter

samuelc812
-
News Director











This section helps you the member gain a little more understanding about Team CC and parts of the site that you may be unclear with.
Note: The views expressed in the article are solely those of the writer and do not necessarily express the views of the other moderators or administrators.
a.sub wrote:what do you feel is the best stance on foe lists?
should there be limitations? what constitutes abuse? can there even be abuse? should there be a punishment if so? etc.
I think these questions should be answered in two different ways: as a player and as a moderator.
For players, I think the foe list may be under-used when it comes to forum and game complaints. I would like to see more players buck up and take matters into their own hands when someone makes a comment they don't like. The foe list and PM permissions were built into the phpbb software for members to take care of themselves. There would be far fewer complaints to and about the moderators if people would utilize the foe list. If you can't stand a few curse words, or even some rude comments, you should be putting people on your foe list
before
contacting a moderator.
In the gaming aspect, I think that people who put players on their foe list just because they can't beat them or some similar reason is pretty low. It could be considered abusive, but I don't think there should be a rule against it (mainly because it would be impossible to enforce). People with a bunch of foes tend to say more about themselves than the people they're foeing.
For moderators, I think the foe list should only be used in extreme cases. This could be people who are very rude in game chats or play very poorly (lots of suiciding, throwing games, etc.), or it could be people or are being just plain annoying on the forums or in PMs. All the moderators are volunteers, so I think they should reserve the right to ignore members who are being annoying. It does make it harder to moderate though because the posts are hidden without clicking on them.
I will answer more questions next issue. If you would like to submit a question, please post them in the
Ask A Mod
thread.
~
Night Strike

TABLE OF CONTENTS
Fast News
Current Signups
Editor's Note
FAST NEWS
A new helpful update for tournament organizers. Now is possible to "reserve" a spot for a player in a game!
Tournament organizers have access to game invitations to their tournament games via the game finder. Now they can control more precisely who goes in which game and even on which team, with no more problems with wrong games joined or wrong passwords.
If you want more informations about Game Invitations go here
Tournament Newsletter, a new issue released. (here)
Interview with Steelhorse - submit your questions (here)
CURRENT SIGNUPS
Here below the last week current signups:
Colton24's 1st Annual " Rule the Galaxy " Tourney
Organizer:
colton24
Tupence's Birthday Bonanza!
Organizer:
Tupence
2009 NFL 1v1 Challenge
Organizer:
superkeener
The Epic story of Feudal war
Organizer:
36
kyle and murphy's double trouble tournament
Organizer:
kylegraves1
Worlds Greatest Assassin:Classic Art !
Organizer:
It.pie
Qwert Bracket Tournament VIII
Organizer:
qwert
NHL 2009-10 SEASON 2
Organizer:
SNARF17WD
EDITOR'S NOTE
If you have some interesting ideas or suggestions about, please contact me with a PM.
Thank you
Thenobodies80
Clan History was made this week as the
1st Clan League
declared its winner,
The Horsemen of the Apocalypse (THOTA)
. A number of clans led the league early on, however, it was the Clan Wars undefeated clan that outlasted all other clans involved.
The clan league is the largest publicly known private tournament comprising of 1350 games, and would have not been possible without the support of the clan leaders involved and all of the hard work by all of the clan league contacts. A number of players stepped up and I know many players have a new appreciation for what clans do on this site, and what it takes to manage and run an event like this. It certainly made my job of stats boy and scheduler so much easier. Thank you all very much.
So after making clan history, what next? Well, the league will now move on to Season 2 in early September (and better follow the school year for those still in school). The settings and setup discussion currently resides in the Clan Leaders Association forum, and then will move on to the public forums, for comments in about a week. It appears that the league will almost double in size in terms of clans, along with adding additional features like Triples, Quads, Playoffs, Promotions & Relegations and the naming of All-Star Teams. Some exciting things in the works and only looks to get better.


Unfortunately at this point there won't be any interview in the next issue. However if this is to change, keep you're eyes out for a thread in the Newsletter forum.
Submitting Your Own Articles
If you have a story you think the Conquer Club Community would find interesting, you can submit your articles to
samuelc812
or
gimil
. If the CC News Team enjoy it than you may just see your article published in the Newsletter!
Subscription
Did you enjoy this Issue? Have you subscribed to the Newsletter yet?
If you want each and every issue of the Conquer Club Newsletter delivered right into your Inbox, then
Subscibe Here!
Conquer Club News Team
samuelc812
-
News Director
gimil
-
Advisor
Night Strike
-
Ask a Mod
thenobodies80
-
Tournament Reporter
the.killing.44
-
Foundry Reporter
jpcloet
-
Clan Reporter
ubersky
-
Suggs and Bugs Reporter
InsomniaRed
-
Community Opinion Reporter