Game Link
by
Foxglove
Tired of having to click on a game link to see its settings (map name, play type, spoils, etc.) and players?
Game 1
What does it do?
Displays a when you mouseover a gamelink, and hides itself when you move your mouse away.
Where do I get it?
Install the greasemonkey script from here:
http://userscripts.org/scripts/show/292538
User Guide
Game Link User Guide
Changes in version v 1.6.0 (2014/02/07): by dgz345
- Added all the new gameplay changes
How does it look?
In the forums: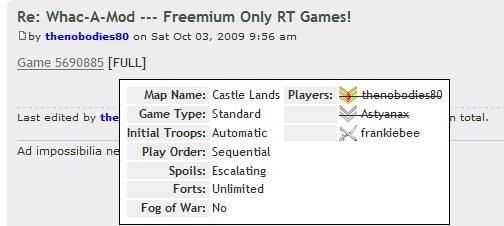 In your inbox: