How To Install Clickable Maps
, by
ljex
(making the guide) and
iamkoolerthanu
(allowing for it to be posted online)
In order for clickable maps to work you must first have Firefox installed. The link for this is
here
.
After you have installed Firefox you will need to install greasemonkey. The link for this is
here
.
Now that you have all this you are ready to install a variety of different scripts to enhance your conquer club experience. However this is only dedicated to installing Clickable Maps.
In order to install clickable maps, click on
this
link and then click install. You now have clickable maps.
However there are many things you need to do to utilize clickable maps to their fullest potential. What you need to do now is go into any active game you have. Once in the game look for the clickable maps menu on the left side of the screen(Boxed in red)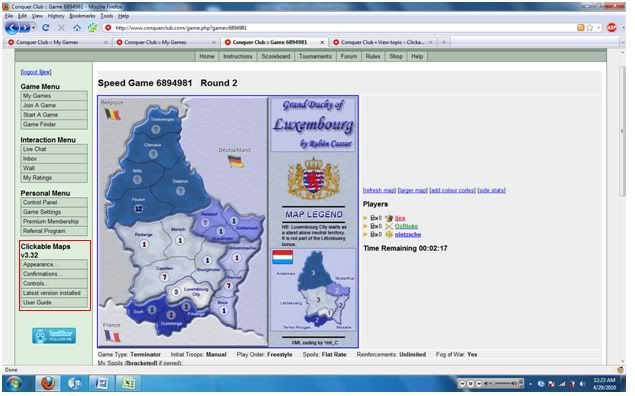 Now hover over the Appearance tab and when there change it to these settings. This will make them a little more complicated to use at first but it as good long term benefits.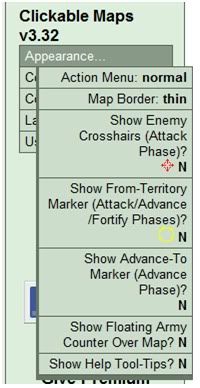 Next you need to hover over the conformations tab and change them all to N (no) this will allow you to be faster in making moves. At first you may make a few mistakes but give it a few games and you will be much better off without the conformations.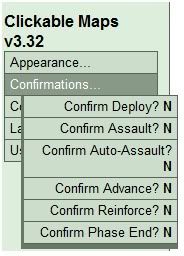 After you have completed this there is one more thing you need to change (In my opinion) I don't use the mouse scroll to change troop amounts as it is not useful in my eyes and causes enough mistakes that it is not worth it those few times you need to use the feature.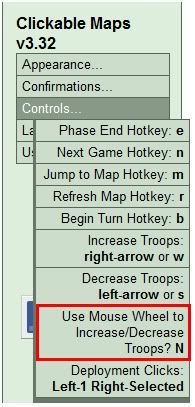 Now you have successfully installed and set up clickable maps. There are a few things you still need to know however to get the most out of clickable maps. These are the hotkeys that come with clickable maps.
B
= Begin Turn
E
= Phase End so e causes you to end assaults and then e again causes you to end reinforcements
Alt
= auto advance, once an attack is won you will automatically advance all of your troops
R
= Refresh

Deployment Phase
Right Click
– Deploy Selected (what has been selected in the dropdown menu this will start at all available troops to deploy)
Left Click
– Deploy 1 troop
Assaults Phase
Right Click
– Auto Assault
Left Click
– Single Assault
Reinforcements Phase
Right Click
– Reinforce (after you have clicked on a region right click on the region you want to fort too)
Left Click
– Select Region (left click the region you want to fort away from)
This is everything I could think of, there may be stuff I left out or a place where I skipped a step. Please feel free to PM/Wall
ljex
with any questions you may have or something you wish I had included in this tutorial. It is also suggested that you read the User Guide(located
here
) as this will explain everything in more detail and may explain things I left out.