Official Monthly Challenge for July 2017
Brought to you by the Community Team
.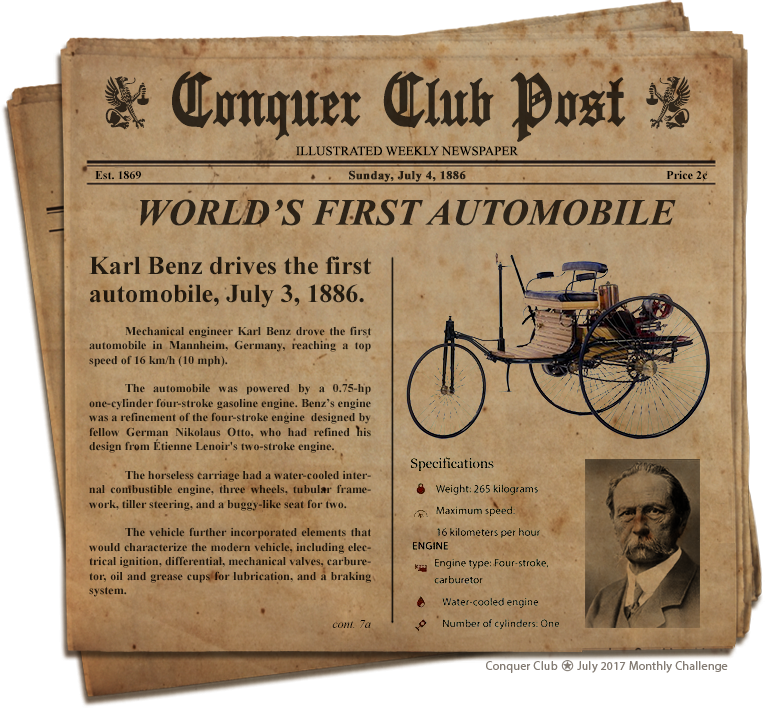 CLICK HERE TO JOIN WAITING GAMES - GOLD
CLICK HERE TO JOIN WAITING GAMES - SILVER
CLICK HERE TO JOIN WAITING GAMES - BRONZE
EDN Network wrote:On July 3, 1886, mechanical engineer Karl Benz drove the first automobile in Mannheim, Germany, reaching a top speed of 16 km/h (10 mph).

The automobile was powered by a 0.75-hp one-cylinder four-stroke gasoline engine. Benz's engine was a refinement of the four-stroke engine designed by fellow German Nikolaus Otto, who had refined his design from Étienne Lenoir's two-stroke engine.

The horseless carriage had a water-cooled internal combustible engine, three wheels, tubular framework, tiller steering, and a buggy-like seat for two.

The vehicle further incorporated elements that would characterize the modern vehicle, including electrical ignition, differential, mechanical valves, carburetor, oil and grease cups for lubrication, and a braking system.

As is often the case, Benz was not the only person working on such a design. However, Benz patented his work first. As such, he patented all the processes that made the internal combustion engine feasible for use in an automobile. In 1879 his first engine patent was granted to him. In 1886 Benz was granted a patent for his first automobile.
Source: EDN Network
NO SIGN-UPS REQUIRED
***ANNOUNCEMENT***
When I designed this challenge it slipped my mind that July is also Whac-A-Mod month. In light of this realization, the WaM tournament is added to the list of acceptable games for the challenge. Meaning, if a mod creates a WaM game that also fits the specified settings for the July Challenge that game will count towards both the WaM event and the July Challenge scoreboard.
SETTINGS
Maps:
Unification Germany
Players per game:
2+
Game Type:
STANDARD
Initial Troops:
MANUAL
Play Order:
ANY
Spoils:
FLAT RATE OR NO SPOILS
Reinforcements:
ADJACENT
FOG:
YES
TRENCH:
ANY
Round Limit:
20, 30, OR 50
Round Length:
Casual [24 Hour]
Joinablility:
Public Only
MEDAL CRITERIA
Tokens are for
WINS
only.
40 points
are required for a medal.
Each

GOLD

Token is worth 9 points
-
6+ Players
Each

SILVER

Token is worth 3 points
-
3-5 Players
Each

BRONZE

Token is worth 1 point
-
2 Players
JULY SCOREBOARD
Notes