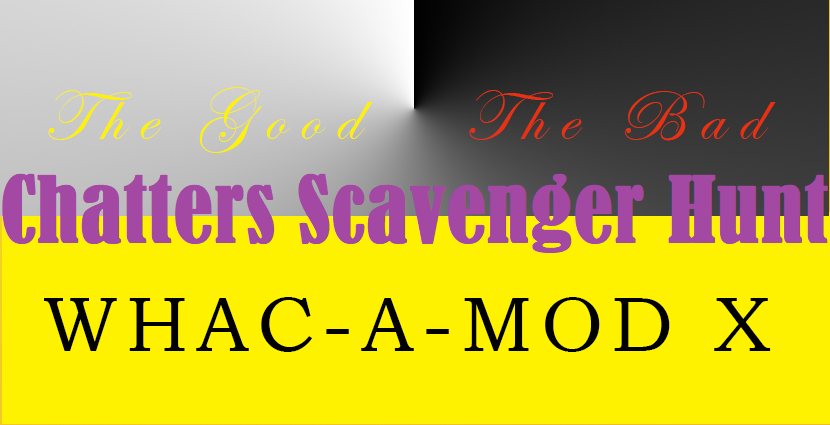 Whac-A-Mod X Chatters Scavenger Hunt
During the Whac-A-Mod Event, Scavenger Tasks will be announced in Global and the Chat Rooms.
Participation may gain you

PRIORITY ENTRY

into the

2nd Chatters Tourney

to be hosted by riskllama and D3A7H
with prizes from the Chat Department, at a later date.



Example

: "Provide the wall link to the current Conqueror"

1st to do this receives priority entry to the Chatters Tourney and a Clue to a Mod Avatar location of your choosing.
Those who answer these Scavengers in the Chat Rooms will receive the

Exact location

to a Mod Avatar.
Mod Avatars have been hidden throughout the Forums
IF you find one, you get the opportunity to challenge that Mod to a Whac game of
YOUR MAP CHOOSING AND SETTINGS
(Send the details to me, I will be setting these games up)
You can only challenge a Mod

ONCE

.
NO SPEED GAMES or FREESTYLE GAMES
Each Mod will have a restricted limit to the games that they will accept. (See Below)
You may save your discoveries up and challenge the Mods to a Team Game with friends, BUT REMEMBER


Once the Mods reach their game limit they cannot be challenged, so you may miss out
What am I looking for

?
The images are large, when you find one you will know.
How do I get Clues to the locations

?
Participate in the Live Chat Scavenger Hunt
______________________________________
Discovering the Complete set of 21

:
1st:
....

+

+

1000 Credits




2nd:

._

+

+

500 Credits




3rd:

__

+

+

300 Credits
You have until CC Time: 2019-07-08 23:59:59 to send your complete collection, with EXACT forum locations to Razorvich
______________________________________
HINTS

:
Some are easy to find... others.. not so much.
You may share your discoveries between yourselves, in PRIVATE Chat Rooms, or by PMs.
Posting Avatar locations in GLOBAL is NOT COOL, will be considered
CHEATING
, Chat Bans will then be enforced.
Mods are the only ones that are exempt from this rule, and this will be if the effected Mods available game limit has been reached.
______________________________________
The Mod Avatars and Game Limits

:
GOOD LUCK TO ALL THAT CHOOSE TO PARTICIPATE