There was a previous Monopoly map thread started by BananaStomper, but his map was abandoned. So let's try a clean start: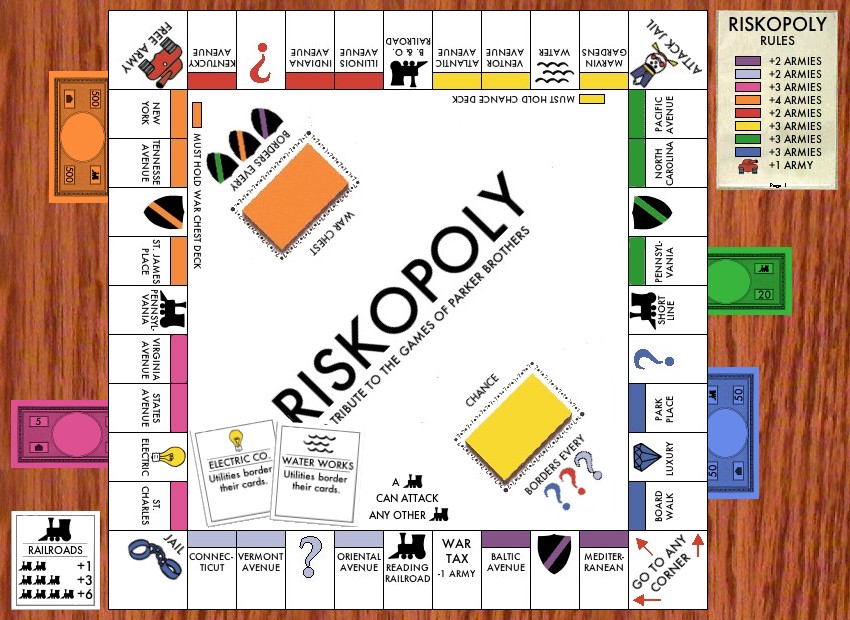 As explained on the map, all of the trains connect. "Attack Jail" is a one way attack to the opposite corner. "Go" can attack any corner. All Chance spaces (question marks) are connected to the deck of Chance cards, and likewise all War Chest spaces (shields) connect to that deck (spaces can attack the deck and the deck can attack the spaces). The Chance/Chest spaces are part of their color's continent, and the decks are part of the orange and yellow continents.
The utilities (Electric Co. and Water Works) can attack their deed cards laying in the lower left corner of the board. These two deed cards can also attack each other. The bills are also territories connected to each space they touch, and the bills are part of their color's continent.
This is NOT a one directional board, attacks can go in either directions (except for the special corners as described above). There are 48 territories all together.
This is made entirely with original art, built from scratch. There is no copyrighted material on the map. The names of the spaces are all street names found in Atlantic City. The Parker Bros. patent for Monopoly expired in 1985.
I plan to add some more decoration (some dice and maybe a drink on a coaster...), but will wait until any further structural or game play issues are worked out.
Ideas floating around that could be discussed: make it one way, use Risk country names instead of the street names, no bonus for "free army" space, no penalty for tax space, more money around edge of board, make it a deck of "risk" cards instead of "chance" cards, put "just visiting" back in, etc.
I'll be play testing the layout this weekend on a monopoly board (although I'm still trying to come up with a way to use the cards without drawing little soldiers, cannons and horses on them all!).
I look forward to any comments.