While I was waiting for my last map to be accepted or rejected, I came up with an idea for another one, so I started working on it. I don't know how many of you are familiar with the Discworld, but it's the setting for a series of humorous fantasy novels written by Terry Pratchett. Unlike Earth, which is a globe, the Discworld is flat and rides on the back of four giant elephants, who in turn stand on the shell of an enormous space turtle. Over the years it's become a rather detailed and complete world in itself, so I thought it might make a good basis for a realistic but fictional Risk map.
Here's my current draft ("small" version). The thicker borders represent uncrossable mountains.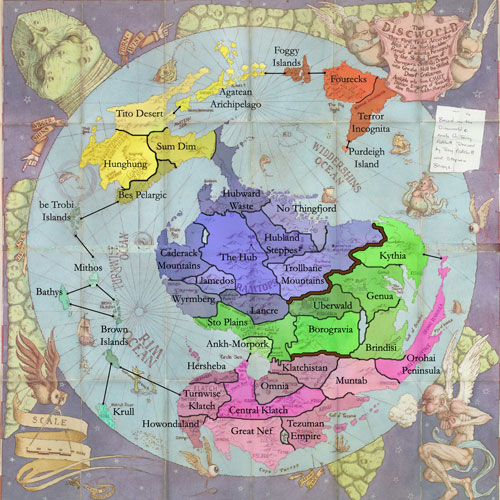 For continent bonuses, I'm currently thinking something like:
Counterweight Continent (gold): 3
XXXX (red): 2
Oceana (cyan): 2
Ramtops & Hub (blue): 4
Unnamed Continent (green): 4
Klatch (pink/purple): 6
I'm wondering if maybe the Unnamed Continent should be 5, though. It doesn't have that many countries, but it looks like it might be somewhat difficult to hold (and it happens to have Ankh-Morpork in it, which seems like it should be worth something).
Also, I'm a little worried that the image is a little bit tall. I'm not sure how much I can do about that, though, since scaling it down much more would make it difficult to read.